| | |
| --- | --- |
| Published on 7 Oct 2010 | All rights reserved. |
| | |
| --- | --- |
| | All-new Swift makes little difference |

The Suzuki Swift shown here seems like a minor facelift of the outgoing car. Compare with that car, its nose is a little rounder, its headlights a little sharper and, in 5-door form, the rear side windows a little less rectangular – more like the old 3-door. Gentle curves have been introduced to the lower part of its doors. In fact, behind these subtle styling tweaks is actually an all-new generation Swift. Surprise ?

Yes, I notice many car makers now claim "all-new generation" to what we used to call "facelift". For instance, the latest Volkswagen Golf and Passat are doing updates in this way. However, when you see Suzuki Swift gets a wheelbase stretch of 50mm (from 2380 to 2430mm), you know it is a true new generation, because this involves redesigning the chassis hence considerable engineering cost. Apart from longer wheelbase, the new Swift is also 90 mm longer overall, and runs slightly wider tracks. More usage of high-strength steel improves its crash worthiness as well as limiting the overall weight gain to 40 kg. It is still smaller and lighter than most European superminis.


| | |
| --- | --- |
| | It is still a frill-free basic transport for young people. |

Just don't expect any innovative ideas or fancy packaging. The new Swift follows the formula of the old car. It is still a frill-free basic transport for young people. To keep price low, its cabin is still trimmed with hard grey plastics, lacking the quality feel of European alternatives. Unlike Honda Jazz, its rear seats do no more than split fold, and the resultant load bay is non-flat. Accommodation is okay for four regular size guys, whereas luggage space biases towards the small side.

On the road, there is noticeable improvement in running refinement as the chassis appears to be stiffer and the suspension isolates from big bumps more effectively. It isn't as refined as the latest European rivals though, because the suspension setup is still at the sporty side. On the plus side, the Swift is pretty fun to drive if you are on mood. It shows good body control, offers excellent grip and confident braking. With the wheels located near the corners, it maneuvers with remarkable stability. It's a pity that the electric steering is too light and not very feelsome at the straight ahead position. Otherwise the Swift would have been a good first car for young people to polish their driving skill.


| | |
| --- | --- |
| | Cabin plastic still cheap; Refinement improved. |

In order to improve fuel economy and emission, Suzuki replaced the old car's 1.3-liter engine with a new 1.2-liter unit, which comes with aluminum head and block, 11.0:1 compression and dual-continuous VVT. It is a sweet revving engine. 94 horsepower and 87 pound-foot of torque just eclipse the old engine's, though peak torque now takes 4800 rpm to realize. On the road, this peaky manner needs the driver to work hard on throttle and gearshift to keep the engine boiling. This could be tiring in town or noisy on highway. A light-pressure turbo could have solved its problems easily, but it seems that Suzuki has no such plan.

Just as its appearance suggested, the new Swift is not radically different from the old car. It still trades quality and refinement for low price and sporty ride and handling. The world of superminis will be more differentiated with this car, but I doubt if it can make an impact to the market, whose trend is pursuing quality, versatility and greenness. While it is a better car than before, it has not made enough progress to stand the next 5 years or so.
Verdict:



| | |
| --- | --- |
| Published on 4 Nov 2011 | All rights reserved. |
Swift Sport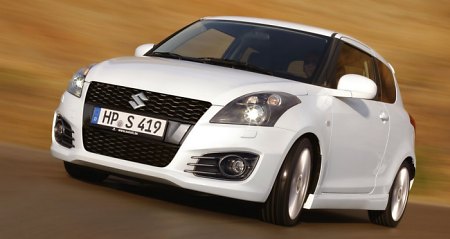 A turbocharged engine with up to 200 horsepower, CO2-reducing automatic engine stop-start, a quality interior, twin-clutch gearbox, intelligent torque vectoring and adaptive dampers are becoming the norms of small hot hatches. They certainly make the vehicle more capable and practical, but also push up the price beyond the reach of young enthusiastic drivers. Moreover, the chase for sophistication usually comes at the price of driving fun. As we found out in many cases, sophistication actually kills the raw excitement of driving a car at full effort. This explains why Peugeot 205GTi is still widely regarded as the greatest hot hatch ever made.

Suzuki Swift Sport is no 205GTi, of course, but we should praise its courage to resist the industrial trend and follow the old-school way of making hot hatches. Its exterior and interior remain honest, without the over-decoration found on many rivals. Its engine remains the same fast-revving M16A 1.6-liter engine as the 2005 model, just modified with higher valve lift, revised variable inlet valve timing (still absent on the exhaust side) and the addition of variable-length intake manifolds to make another 10 horsepower and 9 pound-foot more torque. A total of 134 hp and 118 lbft are modest for a hot hatch these days, so its manual gearbox gets upgraded from 5 to 6 closely stacked ratios to help squeezing the most from the little motor while lowering fuel consumption by 11 percent by means of a higher 6th. The gearbox also gets triple-cone synchromesh at 1st and 2nd gear to ensure light and slick gearchanges.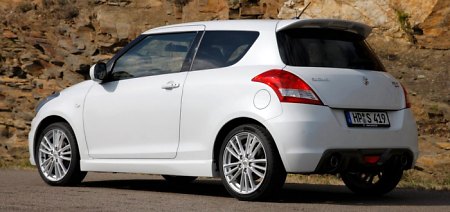 The chassis tuning is old-school, too. Stiffer suspension springs and bushings tighten body control while sharpening steering response. Each of the new alloy wheels is nearly 1 kg lighter than the old one, compensating for the stiffer suspension setup. But most indicative are the tires: it resists the temptation to opt for wider rubbers and retains the old car's 195/45VR17. No wonder the Swift Sport displays excellent balance in the twisty. It is one of the few hot hatches remaining capable of lift-off oversteer in the real world. You don't need to find a race track and absurd speed to overcome its grip. Just find any back roads with which you are familiar and you can enjoy an interactive handling. The motor is equally positive. It begs you to keep it revving beyond 4500 rpm – the closer to the 7000 rpm redline the better – and rewards you with a throaty soundtrack, if not quite the absolute power.

Compare with the old car, the new Swift Sport gets more matured. Its 6th gear makes motorway cruising far less noisy. Its stiffer chassis and suspensions lead to markedly less body roll and a more progressive oversteer yet, thankfully, without hurting ride comfort. Thanks to a more rigid mounting of the steering mechanism, the steering is more precise and refined. Moreover, the steering is communicative, a rare success for small cars these days.

However, the little Suzuki is not perfect. It could have been better with a more powerful 1.8-liter or 2-liter engine like Renault Clio RS. Its interior could be more special. Its exterior design could be more stylish. But all these requirements might work against the philosophy of this car, that is, an affordable, no-frill hot hatch that focuses on pure driving excitement. We are grateful that Suzuki has not forgotten what made hot hatches great.

Verdict: