Suzuki Swift

Debut: 2005
Maker: Suzuki
Predecessor: Swift (1989)

When Suzuki Swift was born in 1984 (the year I started reading car magazines), it was just an ordinary Japanese econo car. It caught my first attention two years later, when the Swift GTi was launched. Local newspaper advertisement compared it to a red hot chili. Yes, can you tell me which small car employed a high-tech, 8000 rpm-topping 1.3-litre 16 valves engine that produced 100 horsepower ? At that time, only a motorcycle maker like Suzuki could do it. In 1989, the second generation Swift excited me even further by introducing a stylish look, an independent rear suspension and a roomy interior. It became the standard of Japanese hot hatch.

Unfortunately, in the 90s the Japanese government loosened the regulations on K-cars, causing a boom to K-car market. Suzuki therefore concentrated all resources into K-car programs, letting the Swift to get outdated and relied on low price to survive. In year 2000, Swift was finally renewed, but this time it became merely an enlarged version of the K-car "Kei". Suzuki still resisted to join the European trend of "super mini".

The market situation changed again in recent years. Toyota Yaris (Vitz) and Honda Jazz (Fit) opened up the sub-compact market in Japan. On the other hand, Suzuki's overseas markets have been seriously threatened by the Korean invasion. It finally realized the Swift must go upmarket.



New Swift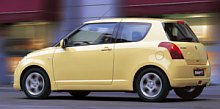 The third generation Swift was designed with European market in first mind. This is immediately revealed by its styling, which has strong European flavour. Suzuki sent its designers to Europe for 6 months to finish the design. The 1.5-box body incorporates a bold front end, a wide C-pillar and a strong shoulder line to deliver a perception of solidity. On the other hand, the curvy bonnet, flared wheelarches and blackened A-pillars deliver a sporty and aggressive feel unfound in the current generation mini cars.

The chassis profile is equally sporty – at 3695 mm long, the Swift is 100-200 mm shorter than other super minis on the market, but its 1690 mm width is about 50 mm wider than the class norm. This allows wide tracks to benefit handling. The height is 1500 mm, not excessive by today's standard. Wheelbase is 2380 mm, remarkable considering its length.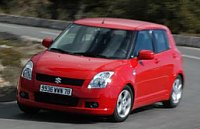 The chassis continues to employ MacPherson struts at the front, but now it is mounted on a sub-frame together with engine and steering rack. Suzuki used to employ trailing-arm (with 3 links) for rear suspensions. Now the Swift sees a switch to the more popular torsion-beam axle like other European mini cars. This not only improves wheel control but also reduces unsprung weight and frees up more luggage space. Expect the company's next generation K-cars will also have this change.

The Swift's chassis was tuned on European roads. No wonder it handles like a well-sorted European hatchback. It feels sure-footed in cornering, without the excessive body roll that usually associate with Japanese mini cars. Its electric power steering is quick, precise and delivers decent feel from the road. Its brakes have good stopping power and feel. Its gearchange is crisp. Moreover, the Swift is good at playing lift-off oversteering - a skill forgotten by many nowadays super minis. Fun factor is definitely high.

Performance is not so good. The Swift has a choice of two engines: a short-stroke 1.3-litre 16V (92 hp) and a long-stroke 1.5-litre 16V with VVT (102 hp). The smaller engine is actually the better, because it is smoother and more eager to rev. However, with just 84 lbft of torque available at a relatively high 4400 rpm, tractability is a problem. The 1.5-litre engine should have been the answer, but its torque delivery is no where as rich as its long stroke and variable valve timing suggested. Moreover, it sounds coarse at high rev, ruining the otherwise fine refinement.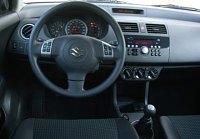 Sitting behind the steering wheel, you will find the minimalist dashboard design is pleasing. Although it doesn't employ any high-quality materials, it looks by no means cheap. The hard plastic used in the dashboard get fine grained. All parts are solidly fixed and tightly fitted together. No one else in this class has a steering wheel with built-in stereo control buttons like this. Nor any rivals have their audio player integrated smoothly with the dashboard. Suzuki cleverly uses design to achieve an upmarket feel, saving the need for costly materials.

Although the car is shorter than other super minis, its cabin offers plenty of room for 4 people. However, the cabin layout is very conventional, without the fashionable sliding rear seats or MPV-like flexibility that some rivals offer. The boot is also very small, but you can't have a compact car, a big cabin and a big boot simultaneously, can you?

In recent years, mini cars go increasingly like MPV. They might be versatile and flexible, but their added weight and height inevitably hamper driving fun. Thankfully, Suzuki Swift still sticks to the traditional hatchback formula. Its handling and ride put smile back on the driver's face. What a pity it lacks a good engine to match the rest of the car. If it were given a superb engine like the "red hot chili" did, it could have been a class winner.
The above report was last updated on 4 May 2005. All Rights Reserved.
Swift Sport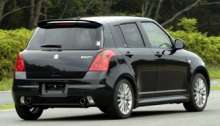 We know the new Swift is fun to drive, only its engines disappoint. Naturally, we hope its hot version would get a bigger and better engine. So, here comes the Swift Sport with its new 1.6-litre engine. Stroked out from the 1.5-litre and has compression ratio increased to 11.0:1, plus higher valve lift and freer exhaust, the hotter engine pumps out 125 horsepower at an exciting 6800 rpm and 109 lbft of torque at 4800 rpm. That's more than the 1.6-class norm - for example, BMW Mini Cooper can only muster 115 hp, while Citroen C2 VTS 123 hp and Renault Clio 115 hp. The engine revs cleanly towards 7000 rpm. This does not come at the expense of low rev tractability, thanks to variable inlet valve timing.

However, compare with the similarly weighed Renault Sport Clio 182, the Suzuki engine is too small. 1998 cc vs 1586 cc, 182 hp vs 125 hp. There is no contest at all. While the hot Clio runs to 60 mph in 6.3 seconds, the warm Swift takes 8.5 seconds. As for top speed, 139 mph versus 125 mph. A technical knock-out. Sadly, "red hot chili" is no longer that hot today.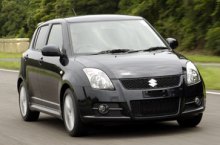 Luckily, the little engine sounds sporty and the gearshift - quick and short - is enjoyable. Moreover, the Swift Sport is noticeably cheaper than the hot Clio, i.e. £11,000 vs £15,000, with the £13,000 Mitsubishi Colt CZT slotting between them. For so little money, you won't expect firebreathing performance, will you?

Like the regular Swift, handling is the better aspect than performance. Unlike most other so-called "hot hatches" of nowadays, the Swift leaves old school lift-off oversteer for its driver to play. Of course, this is not as pronounced as the classic Peugeot 205 GTi, but entertaining enough. What a pity its electric power steering cannot match 205's in terms of feedback, especially when the front wheels approaching their limits. This means it does not give its driver as much confidence.

Unsurprisingly, the Sport has stiffer suspensions, bigger wheels, wider tires and stronger brakes than the bread-and-butter version. The result is a sporty handling. If you want to buy a hot hatch with very little money, this is the only choice in the view of keen drivers.
The above report was last updated on 10 Aug 2005. All Rights Reserved.