Mk1 (left) versus Mk2 (right)

History

Conventional car makers produce conventional cars. Revolutionary ideas usually come from outsiders. Smart is a good example. The idea of "smart car" was originated by Swatch, the Swiss fashion watch maker, in the early 1990s. Swatch saw that nowadays more and more people live in big cities. Our urban roads get increasingly congested, making fast and powerful cars useless. Big cars are difficult to find parking spaces. Moreover, most people only need to travel to work or shopping in short distances and they rarely need to take more than 2 people on board. So why do we need to drive a 4.5-meter long, 1.5-ton 5-seater everyday, drinking excessive fuel, generating excessive pollution and eventually find no space to park ? Swatch came up the idea of "smart car", a tiny city car measuring only 2.5 meters long, weighing 700 kilograms and seating strictly 2 people. It fulfills the needs of the 21st Century and sounds every bit politically correct. But more than that, Swatch succeeded to make the car looks tasteful and fashionable. Its monospace design looked funky and highly desirable. It had a two-tone color scheme made possible by painting the plastic body panels and the exposed steel chassis frame in different colors. You can order very fancy artistic graphics as well. When you get bored of the colors, you can have the clothes replaced easily at dealer shops, again an idea came from the fashion watches of Swatch.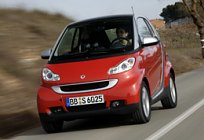 However, Swatch did not have the money and engineering / manufacturing expertise to realize the project. It found a partner called Daimler-Benz. At the time, the German giant was highly interested in expanding its business to small cars – not even the addition of A-class could satisfy it. It invested heavily into the Smart project and took 51 percent stakes in the joint-venture. This eventually raised to 100% as additional investment was found necessary to re-engineer the car and Swatch decided to withdraw. Since then Smart became a division of Daimler-Benz.

The rest is history. Although 770,000 units were sold in 8 years, Smart has never turned a profit for its mother company. DaimlerChrysler once tried to broaden its appeal by introducing Forfour and Roadster, but that only worsened the loss. In the end, the two newcomers were axed and Smart returned to its root as a 2-seater city car.

I always admire the idea of Smart very much. Even until today I still persist that the idea could work. So why did it fail ? very unfortunately, it got a wrong mother. The biggest weakness of Smart is the fact that it was seriously overpriced. It was overpriced because it could not share any parts with the luxurious cars of Mercedes-Benz. Put simply, Smart and Mercedes are two different worlds and they should not intersect. If it were purchased by Volkswagen or Fiat, it would have had a lower cost structure and would have probably succeeded already.



New Fortwo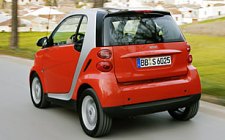 Dr. Zetsche, DaimlerChrysler's CEO, should know this too. When he decided to keep the division alive, he requested his men to redesign the car to lower production costs. The Mk2 Fortwo employs a new dashboard which is cheaper to build. It discarded the rear quarter windows and reduced the number of taillights from 6 to 4. It also replaced the in-house-built 600cc turbocharged 3-cylinder engine with a mass production, 999cc unit outsourced from Mitsubishi. It is cheaper to buy yet gives the new car better highway performance. The engine has 4 states of tune: 61hp and 71hp naturally aspirated, 84hp and 98hp (Brabus) turbocharged, all running twin-cam and 4 valves per cylinder.

Another way to improve profitability is to sell more cars. DaimlerChrysler wants Fortwo to appeal to more customers by improving practicality and by selling it in the North America. Some 55 mm and 40 mm are added to the wheelbase and width respectively to enlarge the cabin. Another 140 mm is added to the front and rear overhangs to pass newer EU and Federal crash protection regulations. The longer rear overhang also frees up boot volume from 150 to 220 liters. This is a practical little car for everyday use – as long as you need only two seats.

The basic architecture of the car remains unchanged. In other words, the engine is mounted at the rear axle and under the luggage space, driving the rear wheels via a clutchless manual gearbox with auto mode. However, the outgoing motorcycle-derived 6-speed gearbox was criticized for slow and jerky shift, thus it is replaced by a new 5-speed unit from Getrag. The suspensions continue to be MacPherson struts up front and de-Dion axle at the rear. However, a 30mm increase of tracks should improve cornering.



Exterior and Interior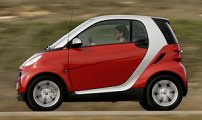 Design has always been the trump card of Smart. Most people are willing to pay premium for the little car simply because they love its design so much. Driving a Smart is a statement of taste, personality and environmental consciousness. Small car, big meaning.

The Mk2 Fortwo keeps much of such character, but quite sadly, it does not look as pretty as the old car. The extra space added to the front and rear hampers somewhat the integrity of the original monospace design. A faster hatchback in addition to the loss of rear quarter windows also degraded the visual impact a bit. The accumulated effect is not big enough to wipe out the Smart from enthusiasts' wish list, but we can't help feeling sorry that the new generation of designers at DaimlerChrysler fail to match those of the previous Swatch or Michael Mauer, the designer of Smart Roadster. The most beautiful parts of the new Fortwo are wherever it didn't alter. Wherever it altered, it became only uglier.


Open the doors, fans of the previous Smart must be shocked: the funky rotating center console has been replaced by a conventional-looking dashboard. The official explanation is to meet the US safety regulations, but to me the driving force seems to be lower cost. On the positive side, the new dash offers more storage spaces and the material quality seems slightly better. The cabin provides slightly more room for two. The passenger seat is still offset rearward to free up shoulder room. Seat comfort and driving position are superb.

Believe or not, the little Smart can swallow more luggage than a Mini or a Toyota Aygo – and by a considerable margin. There is 220 liters of space at the boot, or 340 liters if you store the luggage up to the roof. This should be more than enough for most usage. Some people may argue that its conventional rivals can easily find more luggage space once folded the rear seat. But those understanding the philosophy of the Smart city car will never ask such silly questions.



On the Road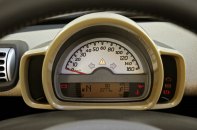 The old Fortwo never performed well in dynamic aspect. It is easy to understand why: its small engine and slow gearchange limited its performance. Its ultra-short wheelbase and non-independent de-Dion suspension were inherent disadvantages to ride quality. Its tall body and narrow track width seriously limited its handling. To prevent from rollover, engineers had to build heavy understeer into the chassis and set the steering very slow, so the car never felt as nimble as its tiny size suggested.

The new Fortwo is still purely a city car, but it is greatly improved in dynamic aspect. Its larger engines, no matter normally aspirated or turbocharged, can easily propel the 750 kg car to the regulated top speed of 90 mph. Its new gearbox shifts noticeably faster and smoother. Its longer wheelbase, wider track and modified suspension improved cornering and high-speed stability. The car is now more at home on highway, being less influenced by crosswinds or the vacuum effect from trucks running beside. In corners, the quicker steering rack feels more direct and the car understeers less – yes, it still understeers moderately. The ride is still hard over broken surfaces but not as harsh as the old car.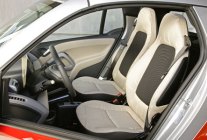 Everything is relative. Despite of the improvements, you still can't compare this car with a conventional mini car. For the same – or less - money, you can buy a conventional car with higher performance, better handling and ride and a couple of rear seats. They won't charge you so much for extra features too. But as the fans of Smart always know, what counts here is not objective measurement, but the fact that no other cars look and drive the same way as Smart. This hasn't changed much in the making of Mk2 – despite of that slight degrade in style. The only change is that it has far less weaknesses to put up with.

Undoubtedly, Smart will continue to split opinions. Some people will find it a silly deal while some people will be mad about its design and concept. As AutoZine always promote the diversification of cars and environmental consciousness, we welcome the arrival of Mk2 and hope it will finally make a profit for DaimlerChrysler.