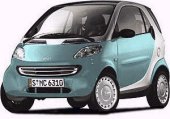 For 7 months since I created this page, the only comment in here is just "Smart, built by Micro Car Corporation, is a strictly 2-seats city car. More information will come soon....". It is a shame, not to me, but to the car itself. In January 1998, production plant in France was ready to go production, dealers were also setup and started promoting the Smart, suddenly, the incident concerning the roll over of Mercedes A-class changed its fate (See Mercedes A-Class rollover). In fact, Smart's dimensions is supposed to be even easier to roll over than the baby Mercedes, because its height exceeds the width. As MCC was 51% owned by Mercedes and 49% by Swatch (the watch maker), Mercedes held the production plan and started the 6-months long re-engineering.

Modifications including : Firstly, reduce ride height by 18mm, lower the seats by 20mm, increase the wheelbase by 12mm, increase front and rear track by 16 and 86 mm respectively. Secondly, makes the steering slower to prevent sudden change of direction, build more negative camber to the rear wheel in order to create understeer, strengthen the front anti-roll bar. Finally, install a so-called "TRUST" stability control, which cut engine power when the lateral acceleration is detected to be exceeding 0.85g.

What is the outcome ? More stable, yes. More fun, absolutely no.

The original idealogy of Smart is very revolutionary : people in 21st century need an economical and environmental-friendly vehicle. Since most people will use their car mostly in city, and mostly carry 1 to 2 people including the driver, they do not need a family hatchback weighing in excessive of 1 ton and create unnecessary pollution. A tiny 2-seater is much lighter, more frugal and greener, yet cheaper to be built and easier to park. This is what the Swatch ( now holds only 19% share of MCC ) thought in the beginning of the project.

However, after the incident, it might not think the same. Mercedes had to pour another 100 million pounds in the rescue plan, this inevitably reflect in the price tag of the Smart - in basic trim, it is only 500 pounds cheaper than the Ford Ka, which is sold at 8,020 pounds. If added with all the options, it could easily exceed 10,000 pounds ! ( all prices are based on German market ) The modification also add 40 kg to the kerb weight, now standing at 720 kg.

Smart still perform strongly in packaging, styling and individuality. Nearly everyone love its "Smart" and pretty exterior. The colourful, 2-tone plastic body panels are detachable and could be replaced in dealer's workshops, just like changing clothes. Now, your car becomes individual, it shows your own character. Swatch, originated this idea from their watches, hoped this could create a fashion, thus greatly increase the after-sale business.

Inside, there is a distinctive, colourful cabin with many pretty features. The rotatable center console is one of the most successful invention. Many equipments, including the beautiful CD storage, are available, but in price.

The cabin is rather spacious for two occupants, thanks to the high body (1530mm). Since Smart is very narrow (1515mm), the passenger seat has to be offset 175mm backward to frees up the shoulder room for both occupants. Considering the short length (only 2500mm, that is, 550mm shorter than a Mini !), the 150 litres boot is rather generous. More room can be obtained by folding down the passenger seat. However, it is not a real RV / MPV. Versatility layout of cabin is not its subject.

In dynamic aspect, Smart fails awfully. In fact, we did not expect it to be good, but we never thought it is actually so awful. The lowered ride height make the ride harsh. The inherent understeer accompany with the slow steering ( 3.9 turns lock to lock ) make the drive very unpleasant. There is too much understeer such an extent that, above 50mph, the driver must fight effortly against the steering. We expect this tiny car to be nimble to handle, no, it turn out to be very disappointing.

The rear-mounted, 599c.c. turbocharged three-pot engine might scores back a few points. There are two versions, both are single cam 2 valves per cylinder, one with higher boost pressure than another. The more powerful one has 54 hp, with 59 lbft of torque during the short period of overboost. Real power comes at above 3,500 rpm but at any rev it spins smoothly, quietly and eagerly. It drives through a clutchless 6-speed sequential transmission. Subjectively, it is faster than the real performance : 0-60mph in about 17 second. Top speed is only 84mph. It could not withstand more !

Many people would rather choose Ford Ka. The Ford is no dearer, handles and rides million miles better, offers rear seats for occasional passengers, a little bit faster, easier for servicing and inherently safer. Smart wins back in packaging and image, but it is not easily justify the price it paid.

Remark on 10 Mar 2004: since early 2004, this car has been renamed to "Fortwo" since early 2004. The company name MCC was dropped, now uses "Smart" as brand name.