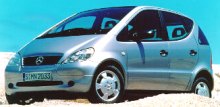 Mercedes started its small car invasion in the early 80's by introducing the W201 series ( 190E ). The result was very successful, which sees the 190E became its best seller alongside the bigger W124. In fact, the European market structure is changing. Bigger cars are no longer selling good while the market bias towards smaller cars. Therefore, in the fall of 1997, Mercedes stepped deeper into the small car segment by launching the new A class, a car which is set to compete with Volkswagen Golf.

To distinguish itself from other cheap hatchbacks, Mercedes has to emphasis its superior build quality and safety of which it is famous. On the other hand, it should not be much expensive than its competitors because a survey found customers are not willing to pay exceeding 10% more than other cars for Mercedes' quality. (Men are always greedy !) If Mercedes-Benz were another manufacturer, it would have chose a compromise solution and made a car with slightly better quality and slightly higher price. Obviously that will not do good to the company's image, because it has the reputation of making the best cars in the world, not the best compromise.

Luckily, Mercedes-Benz is no other manufacturer. Instead, it applied the most radical concept since Sir Issigonis' Mini : A tall body, near-zero overhangs and sandwich structure chassis. The structure is called "Sandwich" because the horizontal-orientated engine is placed above the floorpan but under the cabin. As a result, the cabin is raised by a massive 200mm and so is the roof. What is the advantage of such structure ? Firstly, because of the disappearance of the front engine compartment, it made the car more compact than any other cars but simultaneously offers class-leading cabin space (actually runs close to C class). Secondly, it provides exceptional crash-protection. Under crash, the engine will be pushed under the cabin instead of pushed towards the driver's legs as conventional cars. Therefore A class will pass any foreseeable crash test in the future. Thirdly, due to the inherent advantage in crash-protection, no additional crash structure is needed, thus a lot of weight is saved. Weight saving may benefit performance if A class has a proper engine (say, a 1.8 litres 16 valves unit), but instead Mercedes selected 2 tiny sohc engines ( 1.4 litres 82hp and 1.6 litres 102hp ) in order to enjoy lower cost and better fuel consumption.

A class is exaggerate tall - 1598mm ! At 1719mm, it is as wide as C class, but the height make it looks narrow. Its length is only 3575mm while wheelbase is as long as 2423mm. For comparison, Volkswagen's Golf has longer wheelbase (2475mm), less width (1690mm) but a lot longer length (4020mm). Although A class has shorter wheelbase, its rear seats are actually placed several inches back because the raised cabin is less obstructed by the wheel arcs. By some mathematical calculation, we can see both cars has similar cabin space, but the weight saving sandwich structure of the baby Mercedes enables an unbelievable weight of only 1020kg (A160), while Golf IV will probably weigh at 1150kg.

A class is a real one-box design. Its short front end extends straightly towards the windscreen, this made it like a MPV. Besides, clever details make it looks pretty in any direction. Young people must love its styling.

Inside, the cabin is nearly as spacious as C class, although the roof is not as high as the appearance suggests. ( Because the floor is raised, too. ) Equipments are OK, but the trim level is disappointing. No wood, no leather in this baby Mercedes are not what we have expected. The plastic dash and central console looks exactly plastic, unlike VW Golf's. The thick C pillar kills the airy scenery and rear 3 quarters vision. This cabin is very unfamiliar, with nothing suggesting it is a Mercedes.

When comes to road, the sandwich structure finally finds its disadvantage : excessive height leads to excessive body roll. Particularly in "Elegance" setup, the soft springs deals badly with fast corner, and the steering lack of feedback. To somebody who really want this car, I strongly recommend the sportier "Avantgarde" setup, which improved the roll and steering dramatically, though still not a hot hatch. Luckily, the sohc engines run lively, smoothly and quietly. Combine with the slick-changing 5 speed manual box or an optional 5 speed clutchless manual, A160 is capable of finishing 0-60mph in 9.6sec. In today, few 2-valves engines could be so lovely. We even suspect whether a 4 valves per cylinder engine could be more versatile and suitable for A class than this one.

Can A class revolute the future of cars ? Very possible. If it can improve further the road behaviour, our answer will be definitely positive.