Skoda Octavia

Debut: 2004
Maker: Skoda
Predecessor: Octavia (1996)

If there is any car threatening the success of Volkswagen Golf, it must be Skoda Octavia. Both cars are based on the same PQ35 platform, with the same steering, suspensions, gearboxes and engines, plus an identical wheelbase, they should drive very much the same way. What the Skoda has in advantage is price - it is produced in Czech Republic, taking advantage of German engineering and Czech labor costs simultaneously.

Compare with Golf, Octavia looks relatively conservative. For a starter, it is styled like a 4-door sedan instead of its actual identity (5-door hatchback). If there will be any new Volkswagen Bora or Jetta, they will look much closer to this, but I doubt if they will adopt a rectangular grille and headlamps like the Skoda. As these cars are mechanically identical, Volkswagen group needs to differentiate their styling as much as possible. Unfortunately, while Seat occupies the adventurous side of the spectrum, Volkswagen rest on the middle of the road, Skoda has to defend the Land of Conservatives.

It is not all bad though, because the conservative sedan profile contributes to a massive 560 litres of boot space, eclipsing a Mercedes E-class by 60 litres ! if you fold down the rear seats, it will grow to 1350 litres. Suddenly Skoda has become Czech's Volvo. Inside the cabin, the story is similar: while the hard points of chassis are identical to Golf, Octavia managed to squeeze out more space, especially rear head and legroom. The ambience is also more light and airy.

Quality of materials throughout the cabin seems generally good, although some small details reveals signs of cost cutting. Nevermind, because the build is solid and you know the reliability record of Skoda is good.

The sense of quality also spreads to road manner. Octavia's suspensions are set softer than Golf. The result is supple and quiet ride. More relaxed than the Golf but handling is still capable enough by class standard. Slick gearchange and refined steering (if slightly numb) extends the sense of refinement, so does the 2.0TDI pump injection diesel engine. Octavia fulfills the role as a comfortable car very well.

Octavia is enjoyable to drive - not for excitement, but for superb refinement. In many ways it is a smarter choice than the Golf, especially if you see style and image unimportant. Even if you don't, its keen price is still worth considering.
The above report was last updated on 10 Jul 2004. All Rights Reserved.
Engine udpate (2006-2009) and Octavia RS
One of the best things of being a member of Volkswagen group is that you can get access to a pool of state-of-the-art engines. During the period 2006-2009, Skoda Octavia received a range of excellent direct-injection turbocharged engines from its mother company, including 122hp 1.4 TSI, 160hp 1.8 TSI, 200hp 2.0TFSI (for hot model Octavia RS) and 170hp 2.0TDI turbo diesel (also Octavia RS). These engines provide remarkable performance, fuel economy and refinement compared with most other mainstream European rivals, keeping the Octavia competitive regardless of its age.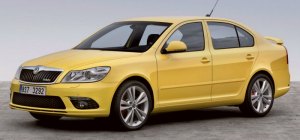 Octavia RS



British media has been especially fond of Octavia RS (called vRS there) as it combines Golf GTi engine with absorbent ride, which makes its performance highly accessible on their B-roads. However, its turn-in and steering aren't as sharp as Golf's, and its visual desirability falls short by quite a margin.

The above report was last updated on 15 Aug 2009. All Rights Reserved.
General remarks


Octavia 1.6MPI

Octavia 2.0TDI

Octavia 1.4TSI

Layout

Front-engined, FWD

Front-engined, FWD
Front-engined, FWD
Chassis

Steel monocoque

Steel monocoque
Steel monocoque
Body

Mainly steel

Mainly steel
Mainly steel
Length / width / height
4572 / 1769 / 1462 mm
4572 / 1769 / 1462 mm
4569 / 1769 / 1462 mm

Wheelbase
2578 mm
2578 mm
2578 mm

Engine

Inline-4

Inline-4, diesel

Inline-4

Capacity

1595 cc

1968 cc
1390 cc

Valve gears

SOHC 8 valves

DOHC 16 valves

DOHC 16 valves

Induction

-

VTG turbo

Turbo

Other engine features

-

Pump injection

DI

Max power

102 hp
140 hp
122 hp

Max torque

109 lbft
236 lbft
147 lbft

Transmission

5-speed manual

6-speed manual
6-speed manual

Suspension layout

F: strut
R: multi-link

F: strut
R: multi-link
F: strut
R: multi-link
Suspension features

-

-
-

Tyres front/rear

195/65R15

205/55R16

195/65R15

Kerb weight

1255 kg

1355 kg

1265 kg

Top speed

118 mph (c)

129 mph (c)

126 mph (c)

0-60 mph (sec)

11.5 (c)

9.0 (c)

9.1 (c)

0-100 mph (sec)

-

-



Performance tested by:
-


Octavia 1.8TSI

Octavia RS TDI

Octavia RS

Layout

Front-engined, FWD

Front-engined, FWD
Front-engined, FWD
Chassis

Steel monocoque

Steel monocoque
Steel monocoque
Body

Mainly steel

Mainly steel
Mainly steel
Length / width / height
4569 / 1769 / 1462 mm
4572 / 1769 / 1442 mm
4572 / 1769 / 1442 mm

Wheelbase
2578 mm
2578 mm
2578 mm

Engine

Inline-4

Inline-4, diesel

Inline-4

Capacity

1798 cc

1968 cc
1984 cc

Valve gears

DOHC 16 valves, VVT

DOHC 16 valves

DOHC 16 valves, VVT

Induction

Turbo

VTG Turbo

Turbo, VIM

Other engine features

DI

CDI

DI

Max power

160 hp
170 hp
200 hp

Max torque

184 lbft
258 lbft
206 lbft

Transmission

6-speed manual

6-speed manual
6-speed twin-clutch (DSG)

Suspension layout

F: strut
R: multi-link

F: strut
R: multi-link
F: strut
R: multi-link
Suspension features

-

-
-

Tyres front/rear

205/55R16

225/45R17

225/45R17
Kerb weight

1305 kg

1410 kg

1395 kg

Top speed

138 mph (c)

140 mph (c)

149 mph (c)

0-60 mph (sec)

7.4 (c)

7.8 (c)

6.6*

0-100 mph (sec)

-

-

17.3*

Performance tested by:
*Autocar