Octavia RS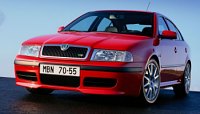 Now you can forget Volkswagen's policy to keep Skoda a bread-and-butter brand. From more and more evidence I suspect that policy has been discarded. The new Octavia RS is just the newest evidence - it's more powerful than any Golf other than VR6 and is so much more fun to drive than all Golfs ! In fact the car is more closely related to the 180 hp Seat Leon 20VT than its Golf root because they share the same Audi 1.8T engine and both of them are tuned to please drivers. In many ways the Octavia RS is even more driver-focused than the Leon. Although its gearbox has one ratio short, its lower ride height, aggressive spoilers & skirts, shaper suspension setup and 17-inch wheels contribute to better handling. The revised suspension also leads to crisper steering which is already well weighted. Golf IV chassis has never been so good to drive.

As before, Audi TT's 180 hp turbo engine is linear and free of turbo lag. At just under 2000 rpm it delivers its maximum 173 lbft of torque all the way to 5000 rpm, whose refinement is simply astonishing even regardless of its 100hp-per-litre specific output. This give the RS a strong performance. Due to a fair amount of weight, it wouldn't get off the line as quick as hot hatches, but the superior flexibility of the engine enables stronger overtaking ability which is most important in real world. However, poorer gearshift, imprecise brake pedal action and intrusive traction control separate it from the greatest hot hatches or sports sedans. And in the subjective side, you may also laugh at its outdated appearance that looks like a cheap modified turbo hot-rod of the 80s.

Nevertheless, Skoda is still keen on its bread-and-butter pricing policy, even for this hot chilli. At roughly the same price as a Renault Sport Clio 2.0, it represents good value for money considering the power as well as practicality (cabin and boot space) it offers.