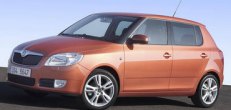 Skoda has 25 international designers working at its Mlada Boleslav design center. They are headed by ex-Audi and Volkswagen designer Thomas Ingenlath. Ingenlath wants to turn Skoda into the Ikea of cars, in other words, to offer tasteful and fashionable designs at affordable prices. Nevertheless, we have plenty of reasons to doubt his declaration. His first design, Roomster, looks weird rather than tasteful. His second car, the second generation Fabia, is virtually a carbon copy of Suzuki Swift. In the past we often heard Japanese car makers copied European designs. Now this is the first time a Japanese car is copied by a European car !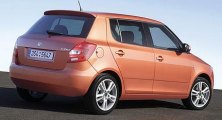 Copycat design aside, the Fabia is a nice small car indeed. It is roomy, refined and solidly built. In the dynamic side, it is not razor sharp or very involving to exploit, but it follows the tradition of Volkswagen group products to be stable and secured to handle. This should satisfy the majority of buyers. Best of all, its suspensions were tuned to ride comfortably and quietly on the bumpy Czech roads, so it should shine on British, French and Spanish roads as well.

In the spec. sheet, the chassis has nothing special - it is a development of the old Fabia platform rather than a brand-new design. While wheelbase is unchanged, the car is lengthened by 2cm to improve crash protection. However, the most significant change is raising the roof by 5cm. This added 12mm and 40mm headroom front and rear respectively. It also enables an elevated sitting position to let the passengers sit more upright, thus creates more legroom. In particular, rear passengers get 33mm more legroom than before. The old Fabia was already the largest supermini in the field. Now the new car continues to offer one of the biggest cabins.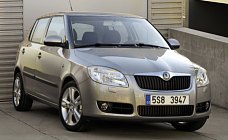 Being a Volkswagen group product, the Fabia won't let you down in build quality. Although the cabin does not feel as expensive as Renault Clio (it has less soft padding and more hard plastics), the plastic dash are nicely textured and tightly assembled together. Seats and interior trims look high quality and durable. There are a lot of storage spaces and convenient designs to please the buyers, too.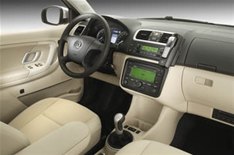 All engines come from the group's parts pool. We are most impressed with the smallest 1.2-liter 12V triple-cylinder engine. It is not a new one, but it always impresses us in Volkswagen Polo. This engine is eager to rev and relatively torquey. It spins smoothly, thanks to the installation of a balancer shaft. It also produces a lovely and characterful sound that only 3-pot engines can produce. In addition to a light clutch and smooth gearshift, the Fabia 1.2 is enjoyable to drive.

Next choice is the 1.4-liter 16V with 86hp output, it is quieter than the 105hp 1.6-liter 16V. Fabia also offers 1.4TDI and 1.9TDI turbo diesel. Both employ Bosch's pump injection instead of the newer common-rail injection thus they are noisier and less refined than current generation of diesel engines. Undoubtedly, Skoda employs these old soldiers for lower costs. Sooner or later the pump injection diesel engines will phase out from Volkswagen group.

Overall, the new Fabia is a sensible choice for most cost-conscious motorists, especially in the form of 1.2-liter 12V. It might not be very inspiring to drive or very innovative to your eyes, but it does not have any serious flaws to disgust you either.