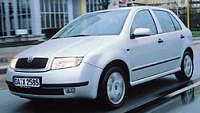 Volkswagen Group's new A-platform made its debut in the Skoda Fabia. The platform itself has nothing worth amazing, but what amazed us is the build quality. We are not talking about the best built East European car. Given the experience of Octavia, we know Skoda's newly build quality system won't be inferior to Volkswagen. Make it clear, the Fabia is the best built supermini ever appeared. All the assembly gaps and shut lines are narrow enough to make the newly facelifted Polo ashamed. The exterior styling mirrors the Octavia's angular and conservative profile. Benefited by the tight tolerance, the distinctive front and rear lights recessed perfectly into the body surface. In short, the Fabia looks prestigious while preserve a family resemblance with Octavia.

Inside, the same quality is found in the dashboard molding. Clean details, soft-touch plastic, superb fit and finish and nice-looking 2-tone color scheme set new standard for supermini. Lacking a style the dashboard may be, but it feels classy. Not even many 2-litre class sedans have such a feeling.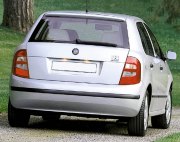 With a size larger than all competitors (just the wheelbase is slightly shorter than Clio), the Skoda has plenty of space. However, while the cabin room matches Punto, the boot is not. Moreover, the signature-like high shoulder line, which is common for all VW group cars, devoid somewhat the feel of roominess.
Compare with the new Polo that uses the same engine, the Skoda is around 10% cheaper yet offers more standard equipment, such as air-con, trip computer and side airbags. Furthermore, it looks and smells classier. What a Skoda ! in Wolfsburg, labour cost normally contributes to 25% of the total cost of a car, in contrast to 9% in Czech Republic, no wonder the Fabia is such a bargain.
Now we are going to examine its dynamic aspect. Until now, Volkswagen group does not have a good family of small engines. The new Skoda is with no exception. The 68 hp 8-valve 1.4-litre actually comes from Skoda's own Felicia, with the old-tech push-rod and 3 main bearings design, it is obviously not a good choice for both performance and refinement. Higher expectation is to be fulfilled by the dohc 16-valve 1.4-litre from VW, with a full 100hp on tap. As proved in Polo and Lupo, it is eager to rev but quite lack of bottom-end torque. A 64hp direct injection 1.9-litre diesel is likely to be another big seller.
For the 1.4-litre car, Performance is pretty good - 10.8 sec to 60 mph and tops 110 mph, but the good sound insulation and refined suspension makes it feels slower. However, the Fabia has a 5-speed manual box which is far slicker than the one offering by VW.
The A-platform rides on conventional front MacPherson strut and rear torsion beam axle. The setting is 25% softer than Volkswagen Polo and there is an additional front sub-frame to isolate the road bump and noise. It feels home in town and provides class-leading ride suppleness, especially on rougher roads. The strong chassis in addition to good sound deadening material result in a quiet and smooth ride. Wind noise is also fairly well suppressed. On the down side, soft suspension setting also result in less satisfying handling - it rolls quite a lot in corner. The light steering might feels precise for initial turn-in, but it lacks feel in cornering. On motorway, Fabia doesn't provide good directional stability matching other superminis. It is more influenced by crosswinds and requires more work at steering wheel with alert. It's no hot hatch at all.
With the new Fabia, the facelifted Polo is really under great pressure. Until Volkswagen launch the all-new Polo in 2002 based on the same A-platform, the Skoda could be the group's best selling supermini. How does it compare with other competitors ? The European Car of the Year 2000 award has already made a clear statement : Toyota Yaris scored 344 points, versus Fabia's 245 points.