Renault Twingo II

Debut: 2007
Maker: Renault
Predecessor: Twingo I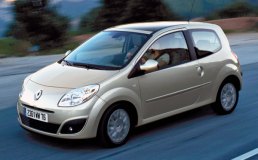 The original Twingo was a classic example that innovative designs sell themselves. Born in 1993, the Twingo was famous for a trend-setting monospace design, which looked funky and provided a roomy cabin, and a sliding rear seat, which allowed flexible distribution between passenger room and luggage room. Both features were widely copied from other car makers. The Twingo offered only one body style and limited choices of engines and trims, but it still sold 2.4 million copies in the following 14 years, which was quite a miracle. Not many cars could survive for more than 10 years, even fewer could match the Twingo. Renault did want to replace it earlier, but unfortunately it found the modern requirements for crash protection and clean emission could eat heavily into the already slim profit of the little car. To make sure the new car earn money for Renault, group CEO Carlos Ghosn turned down an earlier proposal and ordered the engineers to develop a cheaper one, which is this one.

Sadly, in this case cheaper means more conventional. Renault plays safe this time, sacrificing the trademark monospace design for a conventional two-box shape. Admittedly, a longer nose copes better with crash test. Although Patrick le Quement's design team gave it a pretty elegant and upmarket front end design, the new Twingo has lost the magic of the original car and looks hardly outstanding in the sea of sub-minis. As before, 3-door is the only body style on offer in order to save costs. Other cost saving measures include sharing most underpinnings (suspensions, most engines and gearboxes) with the old Clio II and build together with Clio II in the Slovenia factory to take advantage of lower labor costs.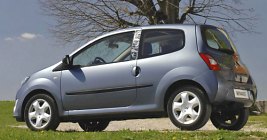 The new Twingo is slightly larger than Fiat Panda and more so than Toyota Aygo / Peugeot 107 / Citroen C1, all are its key rivals in Europe. Fortunately, it also offers more interior room than them. The front seats offer good head and knee room. The rear are two individual seats which can slide fore and aft for a range of 22 cm. In the rearmost position, they offer ample legroom for 6-foot-plus passengers, although the headroom is not so generous. Slide the seats forward and the boot increases to a remarkable 285 liters. If that's not enough, flip the rear seats and it can swallow 959 liters of luggage. Long items can be accommodated once the front passenger seat back folds down. Twingo still shines in packaging and cabin flexibility.

The cabin has plenty of storage cubbies and some upmarket optional kits, such as i-Pod and Bluetooth connectivity, a panoramic glass roof and even a cruise control. However, it has none of the upmarket feel that other Renault models delivered. The hard plastic dashboard is uninspiring. The centrally mounted instrument is hard to like. The conventionally located gearstick is not as convenient to use as the dash-mounted one found in Fiat Panda. Sometimes style and colors may compensate the lack of quality, but Twingo has none of them.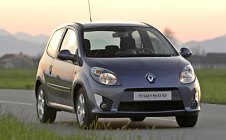 Like most other mini cars, Twingo rides on strut and torsion-beam suspensions, steer through a rack-and-pinion system with electric assistance and find power from a transversely mounted 4-cylinder engine driving the front wheels. Most engines are cheap and well proven in the old Clio, such as the 60hp 1.2-liter 8V, 75hp 1.2-liter 16V and 65hp 1.5dCi turbo diesel. The only new engine, also the most interesting, is the 1.2 TCE (Turbo Control Efficiency) engine. It is based on the 1.2-litre 16V but added with a light-pressure turbocharger to produce 100 horsepower and 107 lbft of torque. A small overboost can take the output to 105hp and 111 lbft in case of need.

On the road, the Twingo feels surprisingly refined for a small car. Its suspensions are especially absorbent, like traditional French cars. The cabin is well insulated from tire and wind noise. Its steering is precise and well weighted, if short of feel. It corners competently but you can't call it an entertaining drive. The normally aspirated engines aren't as refined as Fiat's and they struggles to cope with the heavier weight of Twingo – some 65kg heavier than Panda and 135kg more hefty than Aygo. Therefore performance is modest.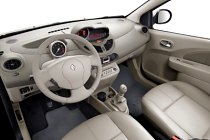 In contrast, the 1.2 TCE's turbo engine is torquey and flexible. It pulls like a 1.6-liter engine but returns lower fuel consumption. The problem is, Renault sells it as a hot hatch and targets against Fiat Panda 100HP. Drive it in enthusiastic mode, its engine feels uninspiring. Once you wind it above 5000 rpm, it sounds coarse and becomes reluctant to rev. This engine performs best in motorway cruising. The suspensions, tires and steering of TCE also lacks the sharp tuning of Panda 100HP. Renault seems reserving the potential for a Renault Sport model in the future…

That said, if you don't mind the weaker base engines, the lack of rear doors and the slightly higher price than rivals, the new Renault Twingo could be a perfect mini car for you. Just don't expect the innovative, cheap and cheerful character of the first generation. The link between the new and old car is no more than the name.
The above report was last updated on 29 Jun 2007. All Rights Reserved.
Renault Sport Twingo
| | |
| --- | --- |
| | It brings back the hot hatch fun we used to enjoy in the 1980s... |

The Renault Sport version of Twingo is very different from its lesser brother. From outside you can see some aggressive cosmetic mods including Renault Sport graphics, deep spoilers and extended wheelarches. The latter made possible to a 60 mm wider track front and rear. Together with the 10mm reduction of ride height, 30 percent increase of spring rates and damping stiffness, 25% increase of anti-roll bar stiffness and quicker steering ratio, it should improve handling a lot.

In standard form, Renault Sport Twingo is competent enough to rival most of the junior hot hatches on the market, such as Fiat Panda 100HP. However, to better than Fiat 500 Abarth, it takes the optional "Cup" tuning package, which adds another 10 percent stiffness to suspension and a further 4mm drop in ride height. The stylish alloy wheels also upgrade from 16 to 17-inch diameter, while lower profile 195/40 tires take over. In this form, it offers sharper handling than the Abarth in the price of ride quality. In particular, less roll, less understeer and more lift-off oversteer to play with. It brings back the hot hatch fun we used to enjoy in the 1980s (with the exception of steering feel), yet ultimately it will save your life with ESP. If you can live with its crashy ride on backroads, it is certainly more entertaining to drive than the red hot Fiat-Abarth.


| | |
| --- | --- |
| | Renault Sport's 1.6 engine produces 133 hp, but Honda once managed 185 hp from the same capacity... |

Unfortunately, nearly everything else fails to match the high standard of 500 Abarth. The styling is more boy racer than tasteful. The cabin is still hopelessly ugly and cheap. Even the new bucket seats and flashy decors cannot improve things much. The driver seat is still mounted too high for a driver's car. Worse still, the main instrument readings still locate at the center console, more like a cheap city car or a family MPV. Is this really a Renault Sport model ?

The engine is another source of disappointment. Renault Sport did a lot of works to improve the company's 1.6-liter 16V intake variable valve timing engine. It gets 11.0:1 compression, faster cam profile (longer opening and higher lift), enlarged intake manifolds and a mean-looking 4-in-1 tuned exhaust system made of stainless steel. Red line has been raised to 7000 rpm. However, we are neither satisfied with its 133 horsepower – think about Honda once managed 185ps from the same capacity in its first Civic Type R - nor the 118 lb-ft of maximum torque which takes as high as 4400 rpm to realize. The 5 ratios in its gearbox don't help to compensate for the lack of low-end grunt. As a result, you need to work very hard to keep the engine boiling at high rev. It lacks both the tractability and outright pace of its turbocharged rivals.

It seems that Renault Sport has done all what it could to improve the Twingo. It just can't change the fundamental problems of the car. Yes, it is fun to drive under certain conditions, but its talent is just one dimensional.
The above report was last updated on 22 Sep 2008. All Rights Reserved.