Rolls-Royce Phantom

Debut: 2003
Maker: Rolls-Royce
Predecessor: Silver Seraph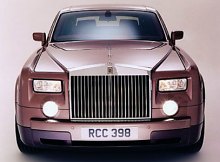 On January 1st, legendary British luxurious brand Rolls-Royce shifted ownership from Volkswagen group to BMW. The new generation, BMW-developed, Goodwood-built Rolls-Royce Phantom was also launched at the same time. Rolls-Royce entered a new era.

In response to those who doubt the identity of the reborn Rolls-Royce - is it really British? or actually a BMW 9-series with a RR badge? - BMW took special care during the 4 and a half year preparation. Firstly, they set up a studio in London and employed British Ian Cameron as design chief of the project. Then they built a factory in Goodwood of England - the place famous for classic car festival - and employed skillful British craftsmen for their wood and leather workshops.

From the pictures, I am amazed by how retro the Phantom looks. It seems the team led Cameron deliberately injected a lot of, or even too much Rolls-Royce-ness into the new car. For example, the square RR-corporate grille is considerably larger than that of the outgoing Silver Seraph, so large that it feels quite imposing to eyes. The body profile also delivers a sense of heavyweight and security (or bulky, if you don't like it) like some older RR, more so than the Silver Seraph. Ridiculously, Silver Seraph looked advancer than the new car.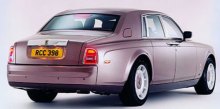 The Phantom is undoubtedly a very big car, lying between Maybach 57 and Maybach 62. For example, its 3570mm wheelbase is longer than Maybach 57's 3390mm and shorter than 62's 3827mm. However, you may notice the Rolls-Royce is very wide and tall. In fact, it is slightly wider than Maybach and its height exceeds the latter by a massive 60mm. (We shall explain why it needs to be so tall later) Therefore it is very heavy, tipping the scale at 2485kg, some 200kg more than Silver Seraph. However, Maybachs are even heavier - from 2660 to 2780kg.

What made Rolls-Royce lighter than its arch-rival Maybach is the use of aluminum space frame chassis instead of steel monocoque. The chassis is constructed from aluminum extrusions, castings and pressed aluminum sheets mainly, with steel front subframe and aluminum rear subframe for mounting suspensions. Most exterior panels are aluminum, except the composite front wings and steel boot lid. The whole body-in-white weighs 550kg, compare with Maybach's 622kg. This seems not very remarkable for an aluminum space frame chassis, but you should notice that the chassis of Phantom achieves a super-high torsional rigidity of 40,500Nm/degree. A few months ago, Volkswagen claimed its Phaeton was the stiffest in the world, at 37,000Nm/degree. For comparison, an Opel Vectra is 18,000Nm/degree only.


ASF is very suitable to small-scale production - RR plans to build only 1,000 Phantoms annually, the same as Maybach. In contrast, steel monocoque chassis needs expensive press machines thus is less cost-effective for small volume. In fact, BMW's ASF technology was first introduced and experimented in the Z8 roadster. Therefore the chassis of Phantom is also built in the same factory in Germany. Engine and most mechanicals are also produced in Germany, then ship to Goodwood for final assembly, crafting the wood-and-leather interior, painting etc.

Predictably, many critical mechanical components are sourced from BMW. The V12 engine is derived from 760Li's, with capacity enlarged to the magic number of 6.75 litres. It still has the long list of technology, such as Double-Vanos VVT, variable exhaust, Valvetronic and direct-injection which allows 11.0:1 compression ratio. These enable a maximum output of 460 horsepower at 5350rpm, slightly more than that of 760Li. However, the focus is on torque - with both stroke and intake manifold longer than the BMW version V12, the Rolls-Royce engine generates 531lbft at 3500rpm, compare with BMW's 443lbft at 3950rpm. Moreover, from just 1000rpm there is 75% or 413lbft available. Rolls-Royce's customers used to criticize the old 5.4-litre V12 of Silver Seraph not as torquey as the traditional V8, now they should satisfy with the new V12.

Phantom's boxy shape is very aerodynamic inefficient, as you can see in its 0.38 drag coefficient. Also, its large frontal area should produce a lot of air resistance. Anyway, its top speed is regulated at 240kph (not 250kph this time) or 149mph. Rolls-Royce claims acceleration from rest to 60mph takes 5.7 seconds, slower than 760Li and Maybach but I think no one will complain about that.



The suspensions of Phantom also shares major components with BMW 760Li, such as air springs and adaptive damping. The former allows ride height adjustable according to speed. Note that while 760Li employs air springs only at the rear axle, the Rolls-Royce uses them at all corners. Basic suspension geometry is double wishbones up front and multi-link at the rear. The brakes has the same sizes as that of the 760Li. Phantom employs the largest wheels among passenger cars - at 22-inch diameter, not for functional purpose, just for the better of styling.

One of the special features is rear-hinged rear doors. Unlike Mazda RX-8, the rear doors of Phantom can be opened and closed independent of the front doors. The benefit? Rolls-Royce says they let the passengers "exit far more gracefully".

The cabin locates quite backward, because Phantom employs double bulkheads behind the engine for better sound insulation. The floor is also double layer, raising the cabin floor level to enable a nearly flat floor. In other words, the transmission tunnel intrudes just 3 inches into the cabin. The rearward cabin also positions the rear seats deep into the C-pillars, enhancing privacy of the passengers, said Rolls-Royce.

On the Road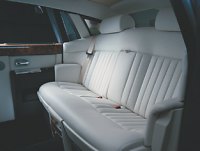 We try the rear seat first. This is where the owners of Rolls-Royce most likely occupy. The rear seat locates higher than the front seats in order to provide a better forward visual which in turn gives the boss a commanding view. Despite of rear-hinged doors, entry to the rear compartment is not as easy as RR claimed, because the doors are small. Once entered, you sit far backward, deep into the C-pillar, thus the ambience does not feel as airy as the sheer space suggested. Those having tried Maybach's airline-class multi-adjustable rear seats may be surprised that the one in RR is a fixed sofa, very much like a classical furniture. It looks far more graceful than the Maybach's, if not ultimately as comfortable.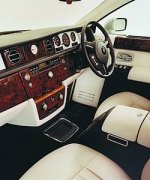 Now forward to the front seat. Once again, the RR beats Maybach in terms of quality and tasteful design. The high-mounted dashboard follows the traditional style of Rolls-Royce - from the leather, wood, chromed metal details to the style of gauges, everything looks classic. There are some modern items however, such as a simplified version of iDrive system, but this time BMW is clever to hide it behind a wooden panel containing an analogue clock. You flip the panel to reveal the LCD screen. In this way, the RR keeps its cabin looking classic and simple, a sharp contrast to Maybach.

Now drive it. Press the starter button, the 6.75-litre V12 idles silently. Move off the line gently, the Phantom hardly transmit any noise to the cabin, thanks to the vast noise insulation, double bulkhead and double layer floor. The V12 spins so smooth and the ZF gearbox shifts so seamlessly that you nearly think this is an electric motor. In the Phantom, speed is not related to noise and harshness until 100mph. Only after then the wind-blocking shape generates a lot of wind noise.

The Phantom rides smoothly, especially at low-speed and bumpy surfaces where competitors usually suffer. Its chassis is well sorted out. At first you might feel the tuning too soft - the steering is very light, the car rolls too much and too early in corners. But for this kind of cars such compromises is necessary in order to obtain first-class ride quality and ease of driving. In fact, the Phantom conceals its size quite well. Its steering is communicative, giving you confidence to place the car accurately. At 50:50, the car is well balanced. At the limit, neutral gives way to gent understeer, so it is easy to handle. Of course, don't compare it with Mercedes S-class, because the Rolls-Royce is much taller, heavier, bigger and ride softer.

After decades of falling, we are glad to announce that Rolls-Royce is reborn. Phantom not only helped RR regain its position as the best luxurious car brand in the world but it also passed the test for Rolls-Royce-ness. We just hope it could look more beautiful.

The above report was last updated on 26 Apr 2003. All Rights Reserved.
Phantom vs Maybach

To be the best luxurious car in the world, obviously, Rolls-Royce Phantom must beat Maybach first. Maybach is the super-luxurious arm of Mercedes. Externally, it looks like an enlarged S-class, although people criticized its front end design differs little from Korean cars. Inside, the dashboard looks like the S-class again, let you feeling that it is built down to cost. Despite of the more expensive leather and wood used, the Maybach does not have the sense of occasion the Phantom has. It feels just too mainstream.

The Rolls-Royce feels more special, more like a royal saloon. Its exterior design is imposing, certainly not what you will appreciate immediately. Its interior follows the tradition of Rolls-Royce, styled and built with the best British craftsmanship. The retro-style rear sofa is lovely to look at. However, in terms of sitting comfort nothing could beat the Maybach, especially the long-wheelbase Maybach 62. Maybach has more room, its large doors makes access easy, its airline first-class rear seats are multi-adjustable, even recline to become a bed. It has massager, heating and cooling incorporated. Rolls-Royce has none of them. The Maybach also has countless of luxurious equipment and therefore a lot of controls throughout the cabin, a contrast to the "simple is beautiful" philosophy of RR.

Drive along highway, the Maybach continues to impress. Its twin-turbo V12 is noticeably more powerful than the Phantom's normally aspirated V12 thus overtaking is breath-taking. Both V12 are smooth and quiet, but the Mercedes' own 5-speed automatic mates perfectly with the engine. Maybach has a better drivetrain.

Cruising on highway, the Maybach has lower center of gravity thus high speed stability is better. The Rolls - like its name - just rolls too much to the like of keen drivers. However, Phantom is actually as secure and easy to control as Maybach 57 and is obviously more nimble than Maybach 62. Its chassis feels noticeably stiffer. Its rack-and-pinion steering is much more communicative than the recirculating ball system of the Maybach, giving the driver more fun and confidence.

Drive around town, the Rolls-Royce reveals its biggest advantage. While the Maybach's air suspensions cope badly with road irregularities and small intrusions, the Phantom rides smoother and deal better with low-speed bumps. It also transmits less suspension noise, tire noise and engine noise to the cabin. In short, it is more refined.

Which one is the most luxurious car in the world? the Maybach is German interpretation of luxury - strong performance, good high speed handling, big interior, a lot of equipment and gadgets, super-luxurious seats.... on the other hand, Phantom represents British luxury - it feels special and expensive. It handles competently at low speed. It rides smoothly. It runs as quiet as Silver Ghost used to be famous of. I guess most billionaires - most are old - will favour the Rolls-Royce, while younger riches will choose the Mercedes. But I'm afraid that is Mercedes S600. The point is, both Maybach and Phantom are not driver's car, unlike S600.
The above report was last updated on 28 Apr 2003. All Rights Reserved.
Phantom Drophead Coupe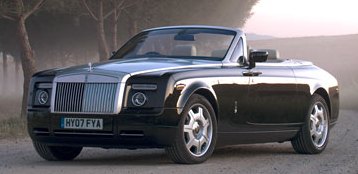 Although BMW won't admit, sales of Rolls-Royce Phantom has been running below expectation, although it is clearly better than arch-rival Maybach. To recoup the substantial investment made, a second model derived from the Phantom is being introduced: Phantom Drophead Coupe. This is a 2-door, SWB convertible version of the sedan. It is deemed to be the most expensive 4-wheel toy to the riches. Each one is sold at £305,000, compare with the sedan's £220,000 price tag. Also considerably more than the £223,000 Bentley Azure, which is its closest rival. Despite that, some 400 orders have been taken. That's equivalent to half of the sales number of Rolls-Royce last year !

You may be curious to know how it could ask for so much money. The answer lies in neither mechanicals nor performance, but the quality and elegance feel it delivers. Look at the pictures, the Drophead Coupe is undeniably a beautifully crafted masterpiece. Its chromed waterfall grille curves gently towards a brushed stainless steel bonnet, then followed by a chromed windscreen pillar that looks like a solid piece of aluminum. The rear resembles a luxury yacht by using wooden surface behind the rear seats. When the detailing is this beautiful, you can almost forget the bulky profile of the car.

The Phantom's aluminum spaceframe chassis enables Rolls-Royce to shorten its wheelbase and convert to cabriolet easily. Some 250 mm was chopped off from the wheelbase in order to make it more agile and reduce the loss of chassis rigidity. The latter is also helped by using stronger aluminum extrusions and additional bracings. The Drophead Coupe feels immensely stiff on the road, without any flexing or scuttle shakes associated with cheaper cabriolets, even more impressive than Bentley Azure. RR claims it is the world's stiffest open-top car, which is unsurprising to me because Phantom is already the stiffest sedan in the world.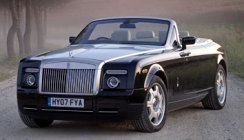 A gimmick or not, the two large doors are rear-hinged (so-called "suicide doors") and electrically powered like the rear doors of Phantom sedan. The cabin is very much the same as the sedan, meaning a lot of wood, leather and aluminum and top build quality. You sit as high as a lorry driver on the front seat, giving a commanding view outside. The windscreen pillar is strengthened by triangular windows at both sides to deal with roll over. As expected, the front seats are comfortable and spacious, but rear seat space is very disappointing for a car this big. If all occupants are 6-footers, those at the rear will find limited legroom. The same goes for luggage space – a miserable 315 liters. A couple of golf bags will be okay, but a weekend's luggage may be too much, considering the amount of belongings rich ladies normally take.

With a boot so small, and the name "Drophead Coupe" (or cabriolet coupe in our language), you might think it employs a state-of-the-art folding metal roof. Sorry, it actually employs a conventional fabric roof. Nevertheless, with 5 layers of insulation including a cashmere liner, thermal and sound insulation are superb with the roof up. Top down, however, the rear occupants suffer from some buffeting.

On the road, the Drophead Coupe keeps the magic carpet ride and quietness of the sedan. The same 6.75-liter 48-valve V12 engine runs silently like ghost. But now with the kerb weight increased to 2620 kg, even 460 horsepower and 531 pound-foot of torque find difficulties to deliver satisfactory performance. It is claimed to do 0-60 mph in 5.7 seconds, but in reality the time should be closer to 6.5 seconds, slower than Bentley Azure's 5.9 seconds. Perhaps BMW should add a pair of light-pressure turbochargers to solve the problem.

Handling is slightly more agile than the sedan, thanks to the shorter wheelbase and slightly stiffer suspensions. The power assisted steering is fingertip light. Surprisingly, it enables the driver to place the big car easily in tight roads, a reflection of good chassis integrity. However, push harder and you will feel the mass of the car from the brakes and the early intervention of ESP. As everybody knows, Rolls-Royce is not designed to be driven hard, but to be driven effortlessly, enjoying the comfortable ride, quietness, quality and, in the case of Drophead Coupe, elegant style, fresh air and sunshine.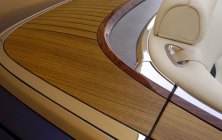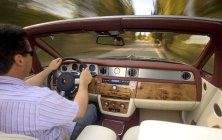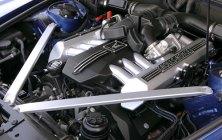 The above report was last updated on 28 Jun 2007. All Rights Reserved.
Phantom Coupe

| | |
| --- | --- |
| | The buyers of Minis and 3-Series are actually subsidizing the millionaires who buy Rolls-Royce... |
BMW sold around 1,000 Rolls-Royces last year, which is a small number considering how much money it invested into the marque and building the Goodwood factory. It goes without saying that it lost money on every Rolls-Royce Phantom it sold, so ridiculously, the buyers of Minis and 3-Series are actually subsidizing the millionaires who buy Rolls-Royce ! To turn it into a profitable business, BMW wants RR to produce more variants from the Phantom platform. This was kick-started by last year's Phantom Drophead Coupe and now continue with Phantom Coupe.

The Phantom Coupe was previewed by the 101EX concept two years ago. It is based on the short-wheelbase Drophead Coupe but has an aluminum hardtop replacing the soft top. The imposing / retro / bulky / ugly styling remains loyal to its sibling, as is the unique suicide doors that allow the millionaire's ladies entry and exit gracefully. Its cabin is almost identical to Drophead Coupe, which is a good news to those putting top-notch quality and bespoke craftsmanship above style. You still sit high above the ground, just like in a lorry, but this lorry runs as quiet as phantoms and as smooth as magic carpets. New to the cabin is a "starlight headlining", which uses optic fibers to realize 1600 light spots on the ceiling, simulating a starry night view. I remember this gimmick was previewed by some concept cars a few years back. In the production world, only this Rolls-Royce is flamboyant enough to adopt it.
| | |
| --- | --- |
| | It does handles better than its siblings, but it is still designed for relaxed cruising on the first hand... |
The big coupe weighs some 2590 kg, only 30 kg less than the Drophead. Its engine is still the same 460hp 6.75-liter BMW V12, therefore it provides more or less than the same performance. I still doubt its 0-60 mph claims of 5.6 seconds, but its lower drag coefficient (although still a forgettable 0.36) should be enough to raise top speed from the convertible's 149 mph to 155 mph.

Still, no one would buy Phantom Coupe for speed or handling. If you do care about those qualities, you had better to go to the Bentley camp. A Bentley Brooklands is not only more powerful (530hp and 774 lbft), faster (184 mph, 0-60 in 5.0 sec) and sportier in corners, but also significantly cheaper (£230,000 vs £300,000). The Phantom Coupe does handles better than its convertible and sedan siblings due to a stronger chassis, stiffer suspension setting, heavier power steering and a Sport button to speed up the automatic gearshift, but it is still designed for relaxed cruising on the first hand. There is a clear difference between a big luxury cruiser and a sports coupe.

Rolls-Royce hopes Phantom Coupe will add 200 orders to its sales book every year. However, if I were a millionaire, I would definitely choose the Drophead Coupe instead, because the convertible looks classier and is more in line with the relaxing character of Rolls-Royce.
The above report was last updated on 28 Jun 2008. All Rights Reserved.