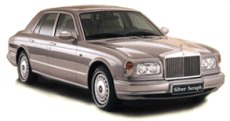 The first all-new Rolls-Royce for 18 years....the first Rolls-Royce featuring V12 engine....the first Rolls-Royce built largely on German components....but its name is 100% traditional to Rolls-Royce - Silver Seraph.

Externally, the Silver Seraph looks very bit a RR - huge, aerodynamic inefficient ( cd. 0.38 ) but elegant and well built. Rounder edges gives it more modernised feel simultaneously preserve traditional style. Quite adequate to RR. Under the skin, you will find a 65% stronger chassis that prevent the car from flexing as severe as before, accompany with stiffer suspensions, Silver Seraph rolls less in corner and provides much more confidence in fast driving. However, this is just relative to the old car. It still feels bulky by today's standard. Nor the wooden steering can help.

The suspension is tuned stiffer for the benefit of handling. Inevitably it hurts, although slightly, the low speed ride. Nevertheless, shock absorption is still good enough to compare with other luxury cars. High speed ride and stability is greatly improved.

The sohc V12 engine is supplied by BMW, as well as the adaptive damping, ZF 5 speed automatic and other components that comprise of 30% of this car. 322hp is 4hp down from BMW 750il, but who notice ? It is not as powerful as the 400hp Flying Spur that it replaced, but far more smoother, quieter and less thirsty. So I think no one will mind the little deterioration in performance.

The cabin is completely restyled. It looks modern and classy. Still covered by beautiful wood and leather everywhere. Autocar criticised that its rear head room has been reduced - it no longer leads other luxurious cars in this aspect.