Peugeot 308

Debut: 2007
Maker: Peugeot
Predecessor: 307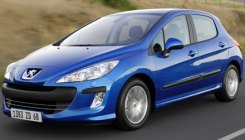 Following the death of Peugeot 307, we can conclude that it was a successful car – with 3 million copies sold in 6 years and always at the top 3 of its segment in Europe – but it wasn't as successful as Peugeot hoped for. The firm originally aimed at beating Volkswagen Golf with the 307. It didn't quite do that because it was simply not as good as Golf V. Peugeot 307 was supposed to be a versatile car, but its MPV-style tall body did not bring any merits to interior space but only compromising handling and ride quality. To driving enthusiasts, it was a disappointment after the memorable 306. Fortunately, now its position is substituted by a better car, 308.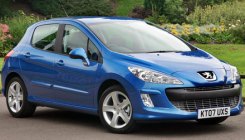 At the first glance, you might be displeased that the new 308 employs an evolution of the 307 platform. Everything is predictable: it rides on the same wheelbase, the same MacPherson struts as front suspensions and semi-independent torsion beam at the rear. The steering is assisted by electro-hydraulic, which means the hydraulic pump is driven by electric motor, while the servo circuit is purely hydraulic. The body is longer (+74mm), much wider (+85mm) and much much heavier (+162kg for the 1.6-liter model) than the old car. On the positive side, the roof now stands 1498mm above the ground, some 12mm lower than before, if still tall by class standard. Don't worry, as the car is also wider than the norm (at 1815mm versus 1759mm of Golf), the negative effect of higher center of gravity is virtually non-existent. The new chassis is also 10 percent stiffer than 307. Drag coefficient is slightly lower at 0.30-0.31, depending on engine and tire width.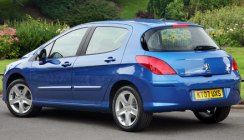 Peugeot's recent designs have been expressive to the extent of exaggerating. 308 is no exception. With a big mouth, pronounced nose and aggressive eyes, it looks interestingly like the lion in its logo - what a contrast to the conservative 307 ! However, I would prefer the handsome yet restrained styling of 306. Peugeot should understand that they are not designing a sports car but a family car. It should please as many people as possible and retain high residual values after a period of time. Look at Volkswagen Golf and you will understand what "design with disciplines" means.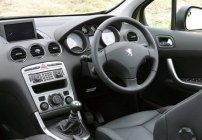 While the look of 308 is not in everybody's taste, the interior is on the contrary. This year there are 2 French cars' interior really make us wow, one is Renault Laguna III, another is this one. The 308's cabin is not only tastefully shaped and decorated with chromed details, but also made of soft-touch plastics and assembled with the solidity previously only available to Volkswagen. The overall sense of quality even exceeds that of the Golf and just everybody else at the moment. In addition to the full length panoramic glass roof – a classy feature of Peugeot since 206 – the cabin feels airy and upmarket. In terms of space, the 308 has abundance of them up front. Rear space is decent rather than class-leading, but the slimmer front backrests free up some vital legroom for the rear passengers. Moreover, the high roof allows the rear seat to be mounted higher than the front, thus the rear passengers should feel roomier than actual.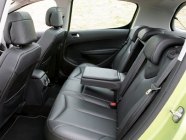 Open the bonnet, lying there is BMW's 1.6-liter 16V VVT Valvetronic engine or its non-Valvetronic but direct-injected and turbocharged version. They produce 120 horsepower and 150 horsepower respectively. To cope with the hefty car, our choice is the turbo engine, of course, because it produces plenty of mid-range torque to overcome the 1327 kg kerb weight. In contrast, the naturally aspirated version needs to be revved hard and therefore noisier most of the time. You can forget the base BMW 1.4-liter 95hp VVT engine. It's better to leave it for Mini One. That said, all of the BMW engines are leagues ahead of the previous generation of PSA engines. They are more punchy, refined and efficient simultaneously, voilà !

Diesel lovers could choose from PSA's own engines, including 90hp 1.6HDi, 110hp 1.6HDi and 136hp 2.0HDi, but there is little reasons to choose them instead of the petrol. Even the top diesel won't deliver the same level of smoothness, quietness and performance as the petrol 1.6 Turbo. The only upside is better fuel economy, but even the petrol's 39.7 mpg is not bad !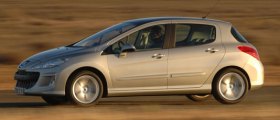 As 308 is a heavy car, unless you tick the 1.6 Turbo engine, it is not going to trouble Golf and Focus for performance. But just as you wonder where its extra weight comes from, it responds with excellent noise insulation, a quiet and supple ride. This is the most comfortable car in the class. It reminds us the best tradition of French cars. It skips the genes of 307 and recaptures the absorbent ride quality of 306. The suspension setting is softer than the Germanic school of Golf and Focus (especially the Ford), therefore it doesn't control its body roll as tight, but the 308 is still a very competent driving machine. Its steering is communicative, perfectly weighted and accurate. This allows it to slice through corners precisely and confidently.

How Peugeot managed this high level of integrity between handling and ride comfort is unimaginable, especially considering it doesn't have the sophisticated rear suspensions as its rivals. Perhaps Peugeot has really recaptured its magical technique of suspension tuning. The fact that the recent 407, 207 and this car display excellent handling and ride does not just happen by chance. There must be some clever people and philosophy behind the scene.

Car by car, we can say the 308 1.6THP deserves higher praise than its rivals. Its good engine, high-quality cabin, excellent comfort and refinement, superb ride quality and fine handling send warning signals to Golf and Focus. Its weaknesses are the extra weight (somewhat politically incorrect these years), weaker performance on other engines and the exaggerating looks. A Golf still looks more desirable and dependable, but the Peugeot should be a nightmare to Focus.
The above report was last updated on 5 Sep 2007. All Rights Reserved.
308 GT
| | |
| --- | --- |
| | Its extra power and roadholding allows occasional fun, but it is by no means a true Peugeot hot hatch... |
If you think Peugeot 308 GT is the successor of the mighty 306 GTI (S16), you will be wrong. These days Peugeot is no longer eager to place driving excitement above everything else. Instead, it trades some excitement for comfort, safety and practicality. So what you see here is a "warm hatch" powered by an eco-friendly small turbocharged engine, the same unit as that serving Mini Cooper S and Peugeot 207RC. 1.6 liters of capacity is boosted by a twin-scroll turbocharger and assisted with direct fuel injection and continuous intake variable valve timing to produce some 175 horsepower at 6000 rpm. Max torque 180 lb-ft is delivered in a flexible way, from 1600 rpm to 4500 rpm. Should that be not enough, an overboost allows another 15 lb-ft for overtaking. However, compare with those 200+ horsepower GTI, the Peugeot 308 range-topper is only lukewarm. 140 mph top speed and 7.9 seconds for 0-60 mph are hardly thrilling these days. Unfortunately, PSA said it has no plans to make a hotter version in the foreseeable future. Fans of 306 GTI, your all-time great will have a secured status for some more years !

If you accept the idea of warm hatch, you may find 308 GT likable. Although the BMW engine offers little excitement in how it revs and sings, its flexible torque is highly usable in town and regular driving. It is pretty frugal too - EU combined consumption is 37 mpg, only 2 mpg lower than the smaller 207 RC. This is partly thanks to the use of a 6-speed manual gearbox, in contrast to the 5-speeder in 207 RC.

Tweaks to the chassis is pretty mild - slightly stiffer springs and dampers, 10 mm lower ride height, quicker steering rack and 18-inch alloy wheels shod with 225/40 rubbers. It retains much of the superb ride comfort of the 308 range while delivering better body control and grip. Sharp handling ? no, it won't match those real hot hatches like Golf GTI. There is too much body roll in corners to discourage you to press on. Stiffer suspensions could solve the problem, but then again it won't deliver the ride comfort that Peugeot want. On the positive side, the electro-hydraulic steering transmits true information from the front wheels to your hands.

The 308 GT is a high-quality and practical car for everyday use. Its extra power and roadholding allows occasional fun, but it is by no means a true Peugeot hot hatch.
The above report was last updated on 3 May 2008. All Rights Reserved.
308 CC

| | |
| --- | --- |
| | 308CC is the coupe-cabriolet leader's second try to break into this segment... |
Coupe-cabriolet is a kind of car that we both love and hate. On the one hand we love the good insulation from noise and vibration brought by its stiff structure. We like its superior weather protection and sense of security. We enjoy the envy sights attracted by its robotic up and down operation. On the other hand we don't like the roof mechanism occupies a lot of luggage space. We can't put up with its small back seats either. We dislike the resultant long boot which usually ruins the styling. Finally, we hate the additional weight that blunts performance and handling.

No coupe-cabriolet can escape from these disadvantages. The question is only how much they minimize the disadvantages. Until now Volkswagen Eos has shown the best effort in the C-segment coupe-cabriolet crowd. Opel Astra TwinTop is also a credible choice. Not so good are Ford Focus CC, the outgoing Renault Megane CC and Peugeot 307CC. Strangely, Peugeot is the trend setter as well as the largest manufacturer of coupe-cabriolet in the world. However, its success is mostly down to the entry-level 206 and 207CC. When it came to the larger 307CC, it left a lot to be desired - looks, build quality, refinement and dynamics. Now the renewal to 308CC gives it a good chance to strike back...
| | |
| --- | --- |
| | The roof still consists of 2 metal panels, versus rivals' three... |
The first sight at 308CC will find it a vast improvement from its predecessor. Not only more stylish, not only its large tail is better integrated, it is also very well made. As in other 308s, the interior is impressive for style, build quality and expensive materials - soft plastics match piano-black decor. The leather bucket seats offer Mercedes-Airscarf-style hot air ventilation to warm your neck so that you can enjoy open motoring in winter. Look at the price tag and option lists, you will get the idea that Peugeot wants to stretch its soil towards German premium manufacturer.

Next, we try the folding metal roof. It folds or expands in 20 seconds, and you can operate it at speed up to 12 km/h, not necessarily at a complete stop. A bit disappointing, however, is that it still consists of 2 metal panels, versus the 3-piece items on Eos and Astra. This mean the horizontal section of the roof is smaller than its rivals, thus both the windscreen and rear screen are more sharply angled. As a result, the front seat occupants find the windscreen header very close to their heads and hurt the sense of openness, while rear seat passengers will find very tight head room. They will also find legroom limited. In fact, 308CC is more 2+2 than a real 4-seater, no matter what Peugeot said. On the up side, the car offers good luggage space measuring 465 liters with the roof up or 266 liters with the roof stored.

| | | |
| --- | --- | --- |
| | | Luxurious cabin seats 4... well, 2+2... |
Benefited by an increase of 8 percent in chassis rigidity, the 308CC offers the refinement you would expect in a modern CC. Scuttle shake is noticeable only on bad roads. Wind management and noise insulation are also up to the job. The ride and handling setting is about middle of the road, neither disappoints nor surprises. Like other coupe-cabriolets, it doesn't like to be pushed to the extreme.

The biggest problem is performance. Those roof mechanism and chassis strengthening put an extra 185 kilograms to the weight of an equivalent 308 hatchback. This should be compensated with a more powerful engine. Unfortunately, Peugeot offers 4 underpowered units - 120hp 1.6VTi, 150hp 1.6THP, 110hp 1.6HDi and 140hp 2.0HDi - and skips the hatchback's 175hp 1.6THP. While these motors are refined and frugal, they work very hard yet fail to give decent performance. Even the top 150hp engine would take more than 9 seconds to do 0-60 mph run, some 2 seconds longer than Volkswagen Eos equipped with 200hp 2.0TSI engine. That's day and night difference for a car.

| | |
| --- | --- |
| | Large tail is better integrated into the design... |
That said, Peugeot knows very well that the majority sales of coupe-cabriolets go to cheaper engine choices. Without offering a powerful engine actually hurts little its sales. It just prevents 308CC from matching Volkswagen Eos in the eyes of keen drivers. But then again, would keen drivers buy coupe-cabriolets ?
The above report was last updated on 23 May 2009. All Rights Reserved.