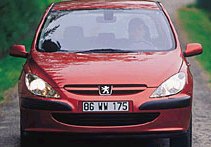 The Legend: Peugeot 306
There is no secret that I biased towards 306. Since it debuted in 1993, I was in love with its styling, character and world-beating handling / ride combination. It even raised the game by launching the 155hp S16 and later the 167hp GTi-6 (the 6 stands for no. of gears), reinforcing Peugeot's reputation as the best GTI makers in the world after 205 and 106. Therefore 306 was usually referred as "King of twisty roads". It also won my "AutoZine's choice" for the class until the arrival of Ford Focus.
Under the shadow: Peugeot 307
If you agree that the 306 was one of the extraordinary successes in motorcar history (well, at least in modern era), then expecting its successor to repeat that success may be too greedy, or even too optimistic to certain extent.
307 is a very different car to 306. Excluding the basic suspension layout of front MacPherson strut / rear torsion beam, which was pioneered by 306 and has been copied by all rivals today, the new car shares no genes with the old one. Styling-wise, if you do not get a measuring tape, you'll find it is the combination of 206's large and tilted windscreen, 206's side profile and 607's grille and headlights. In other words, it is immediately attractive and radical from the first sight. Look deeper, you'll find the sexy lines hide a MPV-rivaling 1510 mm height, which is 80mm and 70mm taller than the benchmark Focus and Golf respectively. The only competitors come close are Honda Civic 5dr hatch (1495mm) and Toyota Corolla (1470mm), but both of them look bulky. In contrast, Peugeot's styling successfully hide the exact height of the car and even inject a sense of sporty. How did it do that ? the secret is the slope of the bonnet and windscreen, which are coupe-like rather than MPV-like. To do that, you have to raise the belt and shoulder lines together with all eye-sensitive features such as headlights and nose, then enlarge the windscreen, move A-pillars forward and incline the bonnet such that it runs smoothly from nose to roof. Now you may know what these things called: "Cab-forward" and "Monospace".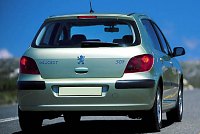 Undoubtedly, the prime purpose of cab-forward design and monospace is to enhance interior space. In this respect, 307 is just partially successful. Yes, high roof does boost a lot of headroom, forward and jumbo windscreen does deliver an airy ambience, but where is the extra legroom ? especially for the rear passengers ? not only not Civic-rivaling, but a 6-footer will find cramped if he sit behind another 6-footer, blame to the inefficient packaging which ridiculously in favour of boot volume. This is a big flaw for a family hatch. It should have a slide rear seat like Toyota Yaris.
Driver, however, will find it very comfortable. Good driving position (although MPV-high), vast of headroom, good leg and foot room. Dashboard is elegantly styled and built with high quality materials. Depends on models, center console can be trimmed with aluminium-effect or fake wooden panels, the former looks cool but the latter feels ha ha ! all things feels solidly in position and could last for a decade. 307 also offers some MPV-inspired versatility, such as storage trays under front seats, a couple of coat hooks, large door bins and an air-conditioned glove box which can cool drinks. Though rear seat and boot are not as flexible as MPV, luggage space is unusually large for a hatchback.
Anyway, we car lovers don't care about all the above things. What we care is how it drives. Can it live up to the high standard set by the mighty 306 ? Let's look at the engine bay first: nothing new. Nearly all engines can be found in the smaller 206, including 1.4-litre 8-valve (75hp), 1.6-litre 16v (110hp) and 2.0-litre 16v (138hp). For diesel, there are 90hp and 110hp 2.0HDi and to be joined with an advancer 1.4-litre (share with Ford Focus / new Fiesta etc. but was actually developed by PSA). Instead of describing all these engines again, let me use a few words to summarize them: decent rather than outstanding. Performance is not a problem, because 307 is not as heavy as you might think, thanks to aluminium bonnet and engines.
Most controls are well calibrated to deliver a refined feel matching the build quality of the car. Gearbox shift smoothly, far better than 206. Steering is well weighted and quite precise, although it lacks the last 2-tenths of communication as found in its predecessor. Whether the car steer neutrally depends very much on models - lesser models and HDi models have soft suspension set up so that they ride smoothly, understeer early and roll a lot into corners. 2.0XSi has very firm setting to compensate the high center of gravity, therefore it handles competently in the price of ride, the latter is no where near its predecessor or Ford Focus. In terms of excitement, it can still play lift-off oversteer as 306, but in all conditions the chassis feels less crisp, less responsive to input and provides less feedback. High driving position doesn't please keen drivers too.
As I said before, judging 307 by the high-standard of 306 is not fair. We all know that the 306-era is not going to be repeated under the overwhelming demand of build quality, safety and space. 307 is shifting towards the modern requirements without ever trying to preserve traditional values (no matter what the marketing people said). Judging by its target, it is a success. However, facing Ford Focus and Honda Civic, the new Peugeot seems not successful enough.