Opel Corsa

Debut: 2006
Maker: Opel
Predecessor: Corsa (2001)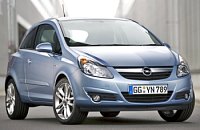 In most people's eyes Opel Corsa is an average car – it looks boring, it drives ordinarily and it never innovates any new ideas. It does satisfy the needs of most people at reasonable costs, so GME found no difficulties to sell it. However, as European market is increasingly challenged by Korean and Japanese superminis, Corsa has to upgrade its image. To do this, GME asked its outgoing design chief Martin Smith to submit a striking design. Smith did not disappoint us. He shaped the new Corsa like a mini version of his highly acclaimed Astra (the 3-door Corsa is especially like a mini Astra GTC). This give the new Corsa an image superior to its Japanese and Korean rivals, lifting it to the same ground as Fiat Grande Punto, Renault Clio and Peugeot 207.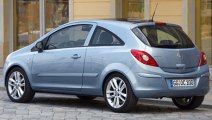 The cabin of Corsa used to be grey and boring. Not so in the new car. Following the trend of European superminis, Opel upgraded its interior plastics, fit and finish to deliver a quality feel. Moreover, it introduces many colorful trims for selection, including a piano black treatment to the center console, which looks really cool (see picture).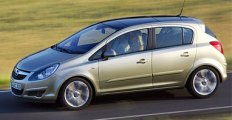 Good news to the driver: the driving position is finally right, thanks to the multi-adjustable steering wheel and a wide range of adjustment to the seat. Passenger space in the 5-door is highly competitive, if less remarkable in the 3-door because its heavily tapered sides limit the rear to 2 seats. Luggage space is good, and there is an optional bike holder pop out from the rear bumper. The only real problem is visibility, as both windscreen pillars and C-pillars are thick. But then you know this will help it to achieve 5-star rating in Euro NCAP crash test.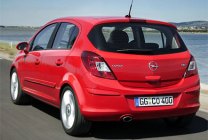 The new Corsa shares platform and some 30 percent components with Fiat Grande Punto – a joint venture made before GM and Fiat divorced. This help it to lower development and purchasing costs, no wonder it could be priced as cheap as the Fiat and significantly lower than the French rivals. This will be a key to its success. Unsurprisingly, Corsa shares the Punto's MacPherson struts and torsion-beam suspensions, but the tuning is different. German roads are faster and smoother, so naturally its suspensions are set stiffer to enhance roadholding. As a result, the Corsa displays remarkable poise and high speed stability at the price of low speed ride in urban area and country roads. Wind and road noises are well insulated from the cabin, but the sometimes harsh ride means it cannot match Renault Clio for refinement. However, the Corsa should be more appealing to keen drivers. Its accurate steering, crisp turn-in and fine body control are exactly what the heavyweight French cars missed.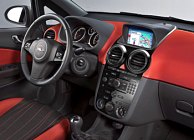 It would have been better if its engines are more punchy. There are 3 petrols on offer (1.0-liter 3-pot 12V 60hp, 1.2-liter 16V 80hp and 1.4-liter 16V 90hp, all equipped with "Twin-Port" variable intake manifolds), but even the biggest of them are not big enough to cope with the larger and heavier car. Why not offer a 1.6-liter engine? Like many other European car makers, Opel offers petrol engines as the budget choices, and then above them are the more expensive turbo diesel engines. This consist of Fiat's 1.3 Multijet (Opel calls it 1.3CDTi instead) in two state of tune (75hp and 90hp), and GME's own 1.7CDTi (125hp). Although the larger diesel is significantly faster on paper, in real world it has little advantage over the 90hp 1.3CDTi. The Fiat unit has wider spread of torque to compensate for the lack of peak output. It is also more refined and by far more frugal, therefore it is the pick of the range. Unfortunately, such a sophisticated diesel engine is inevitably expensive - think of those multi-jet common-rail injection and VTG turbo. What Opel needs is a good petrol engine, like Fiat Punto's 1.4 16V.

Overall speaking, new Corsa is a fine car that every mini car shoppers should consider. While it is still no innovator, it gets more interesting in many aspects - exterior and interior design, quality finish and handling. It is no more a boring car.
The above report was last updated on 12 Sep 2006. All Rights Reserved.
Corsa OPC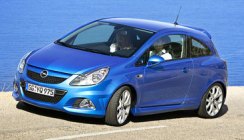 Small hot hatches earn big money. If you don't believe, look at the countless of small hot hatches flooding the market through the years, for example, Renault 5GT turbo / Clio 16v / Williams / RS, Peugeot 205GTi / 206GTi / 207GT turbo / RC, Volkswagen Polo G40 / GTi, Ford Fiesta XR2i / ST… small hot hatches can be big selling because they offer driving thrills unproportional to their affordable price and running costs. Moreover, to own a small hot hatch instead of a regular hatchback has relatively little to sacrifice in comfort or practicality. All these factors make purchasing a small hot hatch an easy decision.

Nowadays to find a good small hatch could not be easier. If your budget is below £12,000, you can have Suzuki Swift or Fiat Panda 100HP, the latter is even accompanied with a 4-figure price ! Both are cheap yet fun to drive. If your budget is £14,500, you can have Peugeot 207GT Turbo, which would do 0-60 mph in 7.7 seconds while returning over 40 mpg in average. The warm Peugeot also gets an especially good steering to inspire driving fun. If you want more performance, say, 0-60 in less than 7 seconds, £16,000 will buy you the iconic Mini Cooper S or the frenetic Renault Clio RS. Now the last group is joined with a new member: Opel Corsa OPC (Vauxhall Corsa VXR).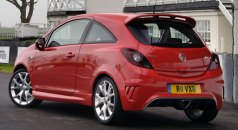 As hot hatches are usually bought by young men, they need aggressive looks to please their buyers. In terms of aggressive look, Corsa OPC has plenty. Sporty spoilers and skirts, huge intakes, louvered air vents, big alloy wheels (17-inch standard or 18-inch optional), centrally-located triangular exhaust pipe and rear diffusers merge with the sharp design of the standard Corsa body result in the most striking small hot hatch available. Yes, it might look tall and fat compare with, say, Mini Cooper S, but don't forget it offers much more space inside, especially headroom and rear passenger room. The cabin also looks great, thanks to the piano-black coating on the console, the Audi S3 / RS4 / R8-like flat-bottomed steering wheel and the, wow, delicious Recaro sports bucket seats. And the latter is free of charge, unlike those found in Clio RS.

Predictably, Opel powers the Corsa OPC with a turbocharged engine. The 1.6-liter 16-valve inline-4 is based on the existing naturally aspirated unit with cast-iron block, but Opel worked hard to trim weight out of it by means of aluminum sump and intake manifolds. This brought its weight down to 131 kilograms, or only 15 more than the naturally aspirated version. A water-cooled BorgWarner (previously KKK) turbocharger is close-coupled to intake manifolds to reduce size and turbo lag. The engine was originally planned to deliver 180 horsepower, but since the arrival of Clio RS (which offers 197hp) the engine was boosted to 192 horsepower. That translates to a very high specific output, i.e., 120 horsepower per liter !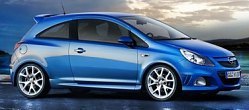 The high output enables Corsa OPC to top 140 mph and accelerate from 0-60 mph in 6.8 seconds, more or less matches Clio RS. However, as you would expect, the main difference lies on the way it delivers such performance – the turbocharged engine produces its peak torque, 170 lbft, continuously from 1980 rpm to 5800 rpm. This mean in normal driving the Corsa feels far stronger than Clio RS and its acceleration response is instantaneous. If more push is necessary for overtaking, the turbocharger will overboost to 1.3 bar and deliver 196 lbft of torque for at most 15 seconds. This should enable the Corsa to slip pass Clio before the latter's high-revving engine started to take up pace. Also because of strong torque curve, during high-speed cruising the Opel engine runs at lower rev and therefore produces less noise and higher level of refinement.

For such a high-boost turbocharged engine, journalists were surprised to find its power delivery is progressive and generally free of turbo lag, unlike the violent Astra OPC. Of course, response at the bottom-end is not quite as quick as lighter charged engines, such as the 150hp version or 175hp version of BMW-PSA's 1.6-liter turbo, which power Peugeot 207GT Turbo and Mini Cooper S / 207RC respectively. The rival engines take 1400 rpm and 1600 rpm respectively to reach maximum torque. Nevertheless, the Opel engine is stronger at the top end and ultimately delivers more power. This is why it is capable to keep up with the lighter Mini Cooper S.


On the chassis side, OPC has made extensive modifications: the ride height has been dropped by 12mm for front axle and 19mm for rear axle; the front suspensions get firmer springs / dampers and thicker anti-roll bar; the rear torsion beam has been thickened and becomes 25 percent more resistant to roll; the steering rack has variable ratio – more responsive at turn-in and lock while more progressive in between; the tires become 215/45 VR17 standard or 225/40 VR18 optional; the braking system has been upgraded to internally ventilated discs measuring 308mm front and 246mm rear; the ESP has been retuned to intervene less. It can even be switched off. Finally, the handling was tuned in Nurburgring ring with the help of Lotus Engineering, an old friend of GME. Everything looks promising.

And the result? Good. You can wash away your memory about Astra OPC. Its little sister is much tamer and easier to control. Torque steer has gone, entered massive grip and a predictable handling character. The steering is quick and accurate. Ride quality is remarkable. Even on the aggressive optional tires it can smooth out the rough surfaces that troubled Mini Cooper S. For most drivers, OPC has hit the right balance between speed, handling and comfort.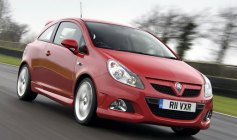 Nevertheless, it is not the last word for driving thrill. The problem of Corsa OPC is exactly the opposition to Clio RS: it lacks drama. Its engine is refined to point of bland. With the max power reached at 5850 rpm, you won't be tempted to rev the engine to listen its full song (by the way, the turbocharged song isn't so delicious), or play its gearbox frequently to keep the engine boiling. Even if you deliberately do so, you will find the turbocharged song and heavy gearshift far from entertaining. A similar story is found at the steering. Although it is suitably geared, it delivers little real communication. This is because there is so much torque loaded on the front rubbers. The electrical assistance doesn't help too. A Clio RS or 207GT Turbo does better in this aspect.

Another problem of the Corsa OPC is lack of an inherently balanced chassis. Basically, it follows your command into corners under the instructions of ESP. If you push it hard in the twisty, you will find the ESP intervenes frequently, no matter what Opel told you. Once you switched it off, you may swing its tail to oversteer, but this is for spectacular photo shooting only rather than a smoothly controllable manner that you can use to corner faster.

Undoubtedly, Corsa OPC is attractive for design, cabin, performance, comfort and the overall ability to cover ground. But to be the ultimate hot hatch it will need more emotion and more communication with driver. In this respect, Clio RS still has the upper hand.
The above report was last updated on 20 Mar 2007. All Rights Reserved.