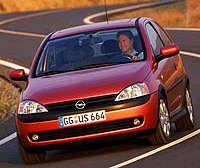 Does the new Corsa look smarter than the old one ? it's hard to say. While the new design combines the best of the old one with aggressive details, it lost the clean and simple profile of the old one which made the latter so time-resisting during its 7 years life. We can also criticize the excessive use of black plastics throughout the body, especially they do not fit very well and expose large assembly gap. That said, the new Corsa does not shine in the first sight.

Dig deeper and you will find it is actually quite competent. The new chassis is the biggest improvement over the 20-year-old predecessor (the old chassis survived in 2 generations), with 33% increase of torsional rigidity and finally get a modern torsion beam rear suspension. With a massive 58 mm added to the wheelbase, or now measuring at 2491 mm, it easily out-wheelbase other superminis including Fiat Punto, Skoda Fabia and Renault Clio. There is good room both in front and rear, although not as much as Punto, Fabia and Yaris, partially because of lower roof (in this respect it is not so modern) and partially because it uses space less efficiently. Cabin is well built enough, with clean instrument and user-friendly center console. 3-spoke steering wheel looks smart and incorporates audio controls.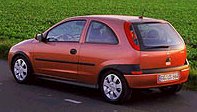 The Lotus-tuned chassis rides and handles competently. Electric power steering (like Punto) is well weighted to inspire confidence at speed and lightened for ease of parking. For a family car, the handling characteristic is hard to fault. It is fluent on tight bends and soak up bumps well on rough roads. Approaching cornering limit it will understeer gently. Overall speaking, its handling matches Yaris and Peugeot 206. Perhaps better than the latter because its 5-speed manual is a lot sweeter to shift.
But the chassis copes better with small engines than the range-topping 1.8 SRi. As a hot hatch, the SRi understeer too much and, unsurprisingly, there is no throttle oversteer to play with. Steering feel could be a bit artificial for a driver's car. The 123 hp power plant also lacks punch and eagerness (thanks to slow throttle response) to match rivals like 206 GTi.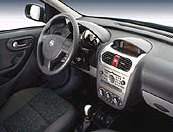 1.2 and 1.4-litre versions are much better. Smoother and more eager than the bigger engine. The 1.2 is also available with Easytronic 5-speed semi-automatic. This is a manual-based gearbox with electric motors (not hydraulic, unlike Alfa Selespeed) to shift gears and actuate clutch, therefore enable a full auto mode as well as a + / - Tiptronic-style manual mode. However, it adds a second to 0-60.
So the new Corsa has a quite complete package and few shortcomings. Its problem is lack of any distinctive area or character to impress. While 206 is renowned for beauty, Yaris and Punto shines in packaging, Fabia is famous for quality, the Corsa seems most attractive to Mr. Average.