Opel Astra

Debut: 2004
Maker: Opel
Predecessor: Astra (1998)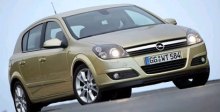 In the 2003 Geneva motor show, Opel's new design chief Martin Smith stunned the world by showing a concept car called GTC (Grand Touring Compact). It was known to be a preview of the forthcoming new generation Astra as well as the styling theme of all other models in the future. Its shape was sharp and striking. It brought the sexy appeal of sports car to a hatchback body. At that moment AutoZine wrote: "If the production car look 50% this good, I'm sure Opel's loss will be transformed to a big profit!"

Fast forward to mid-2004, the production Opel Astra is of course more conservative, less sportscar-like than the GTC for the consideration of practicality, but it is still easily the most striking hatchback design since Ford Focus launched in 1998. It changes our view on the Astra range, which used to be a boring bread-and-butter vehicle. Now what you see is a stylish, aggressive yet elegant design. It makes Volkswagen Golf dull and Ford Focus outdated. Inside, you will find the dashboard design no less adventurous. The metal-effect center console is shaped and organized so cool to look (although in the price of ergonomics). The plastics are high quality, the build is solid. It matches Volkswagen in the quality game and overwhelms it in terms of visual attractiveness. We can't help praising the design team led by Martin Smith for their job in Astra, no matter inside or outside.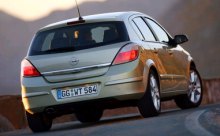 Mechanically, the new Astra is more conservative than its styling suggests. It continues using torsion-beam rear suspensions rather than following Focus and Golf to switch to a fully independent suspension. This saves money and space (it's slightly more spacious than Golf), but it prevents Astra from matching its rivals in handling and ride. To compensate, Opel offers the top Astra an optional electronic adaptive damping system called CDC (Continuous Damping Control), which is the first of such system in this class. By pushing the "Sport" button, damping is stiffened immediately to reduce pitch and roll as well as understeer. Simultaneously, the electronic throttle is sharpened while the electro-hydraulic power steering weighs up to enhance driver appeal.

In practice, the Astra with CDC is quite fun to drive. It sharpens the handling, making it more engaging than Golf. Cars without CDC is less impressive. They lose composure and run into understeer earlier than Golf and Focus. But no matter with or without CDC, the Astra's torsion-beam axle is not a match for its rivals' multi-link design in terms of ride quality and suspension noise. In other words, it rides harsher and noisier on bumpy surfaces. Another let down is the electro-hydraulic steering, which lacks real feel despite of adequate weighting and accuracy.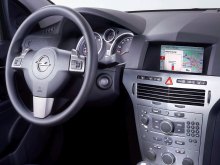 Opel's engines used to competitive. This tradition continues in the Astra range. In the petrol side, it offers a 90hp Twinport 1.4-litre 16V (Twinport means dual-path variable intake manifolds), a 105hp 1.6-litre 16V, a 125hp 1.8-litre 16V and a low-pressure turbocharged 2.0-litre 16V good for 170hp. All have iron block, implying they are upgraded versions of the Lotus-developed Ecotec series which served Opel many years. Don't confuse them with Fiat or Saab's all-alloy engines. In the diesel side, however, it employs Fiat's famous 1.9 Multijet common-rail turbo diesel engine with 150hp output, though it is rebadged to 1.9CDTI.

Strangely, there is no 2.0-litre normally aspirated engine. Its task is fulfilled by the low-pressure turbocharged 2.0. As a 200hp high-pressure turbo will arrive later, the 170hp engine is not intended to be a hot performer. Instead, its strength is a flat torque curve (184 lbft from 1950-4000rpm) and uncanny refinement. The 6-speed manual gearbox mated with this engine is also a delight, as it shifts quickly and precisely and its tall gearing takes advantage of the torquey engine to enhance motorway cruising refinement. Not so good the 5-speed manual for lesser engines, blame to its notchy gearchange.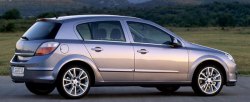 At the time of writing, the 1.9 CDTI turbo diesel is not yet available, but from our experience in Alfa Romeo 156 1.9JTD which employ the same engine, it is easily the best engine in the range. It produces even more torque than the most powerful petrol engine (that's 225 lbft), drinks far less fuel and being equally refined. Thanks God, it also couples to the 6-speed manual. This combination is an appealing package, not even Golf can provide such a satisfying diesel powertrain. Driven by the successful design, Astra is stealing sales from Golf. It is not just a coincidence that Golf V is selling disappointingly across Europe and has to offer free air-con etc. from the very beginning while Opel has to increase the production of Astra to meet stronger than expected demand. However, the Volkswagen still has a noticeable advantage in suspension design, which reflects in ride and handling. On the other hand, Ford Focus is still the best driver's car in the class. Astra is not yet there.
The above report was last updated on 3 Aug 2004. All Rights Reserved.
Astra GTC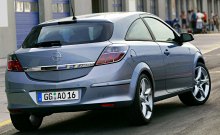 The previous generation Astra Coupe was a compromise between practicality and style. Sometimes you wonder how it could look duller than some hot hatches and therefore why not simply build a hot hatch instead of a coupe. This view is shared with ex-Opel design boss Martin Smith. In 2003, he created a concept car called GTC (Gran Turismo Compact). The car looked very sleek and aggressive, but it was actually a 3-door hatchback version of the to-be-launched new Astra. Compare to the Astra 5-door, the GTC had a more steeply raked windscreen, lower roof, stronger shoulders and sharper rear end styling. This hatchback looked even sexier than many coupes.

The GTC finally went into production. Its aggressive shape is slightly tamed, but it is still a handsome car. Being a hatchback, the GTC has so much more headroom and legroom for the rear passengers. Those under 6 feet will find the place comfortable. Now handsome exterior styling and spacious interior are no longer mutually exclusive.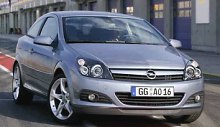 GTC is provided with all the engines of the 5-door Astra, from 90hp 1.4 to 170hp 2.0 turbo. On the top of these, there is a 200 hp version of the 2.0 turbo engine. Similar to the one used in the previous Astra Coupe turbo, this engine delivers strong mid-range punch and little turbo lag. Opel claims it take 7.4 seconds for 0-60 mph acceleration, which seems to be in the conservative side. For your information, the previous Astra Coupe turbo took 7.2 seconds to do that even though it did not have a 6-speed gearbox like the new GTC.

Nevertheless, the 2.0 turbocharged engine is not the sweetest engine around – that should be Volkswagen group's 200hp 2.0 TFSI engine. The latter has a wider power band, a freer top end and lack of the Opel's slightly annoying turbocharger noise.



In terms of driving, the GTC differs little from the 5-door Astra. To reserve the sportiest driving character for the forthcoming OPC version, Opel deliberately tuned the 200hp GTC to be more civilized. That means it does not intend to be a direct competitor to the hottest hatchbacks such as Golf GTI, Alfa 147 GTA and Honda Civic Type R. The GTC is more about comfort and accessible performance. Its 225/45ZR17 tires and CDC electronic damping shine in high speed cornering. The IDS control system, which provides a Sport mode button to sharpen throttle response, weight up the power steering and stiffen suspension damping, is quite playful. However, there is no replacement to a set of stiff springs and an inherently communicative steering. Moreover, the iron-block engine put 66% weight over the front axle, causing too much understeer to the delight of keen drivers.

That said, the GTC is an attractive package for most people. It looks as handsome as a coupe, works as practical as any hatchbacks and delivers a good compromise between comfort and driver appeal at an affordable price. Opel expects to sell 70,000 units of this car annually, which accounts for 15-20% of the total Astra sales.



GTC with Panoramic roof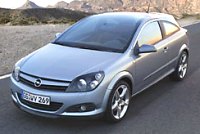 Astra GTC is the world's first production car employing a panoramic glass roof without the usual cross beam at the windscreen edge. The glass windscreen extends seamlessly from the bonnet to the roof as far as the B-pillars, creating a completely free environment to the front occupants. Look at the inside picture: the rear view mirror looks like hanging from the sky !

The panoramic roof adds just 10kg to the GTC. It is made of 6mm thick laminated safety glass with solar protection. Besides, a stepless adjustable shading system is provided to deal with strong sunshine. To compensate the loss of the crossmember at the windscreen top edge, A and B-pillars are strengthened, while an extra cross-member is added in the middle of the roof. Opel claims crash protection is not affected.
The above report was last updated on 4 Jun 2005. All Rights Reserved.
Astra OPC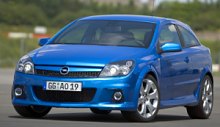 OPC stands for Opel Performance Center, which is the performance car division of Opel. The first OPC-badged car was the 1999 Astra OPC. It was based on the last generation Astra and powered by a highly tuned, 160 horsepower 2-litre 16V engine. It was not very fast, but it has sharp handling to please keen drivers. At the time, AutoZine ranked it just behind the wonderful Peugeot 306 GTi-6.

Such driver appeal never returned since then. A couple of years ago, Opel developed a 200hp turbocharged Astra OPC. Unfortunately, apart from stronger performance, the car didn't quite match the original OPC's sharpness and entertainment, because its chassis was set too civilized. Inevitably, Astra OPC ranked behind class rivals Honda Civic Type R and new Golf GTi.

The Golf GTi is especially a good package. It has a marvelous engine, a good compromise between handling and ride and Volkswagen-standard build quality. However, at 200 horsepower, it is definitely slow, especially if you consider the premium price it asks. If OPC can offer more performance for less money, it could break the domination of Golf GTi.

Now this car has finally come – the new Astra OPC. In the five areas we evaluate cars, namely 1) Design 2) Engine and performance, 3) Handling, 4) Ride and 5) Comfort and quality, it beats the Golf in the first 3 of them. At £19,000 in the UK (where it is called Vauxhall Astra VXR), it is also £1,000 cheaper than the Golf.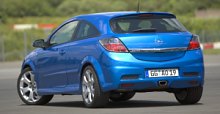 We start from styling. The OPC has a killer look really. It is based on the coupe-like GTC hatchback, which is already a beautiful design, and then added with aggressive air dam, cooling intakes, skirts, spoilers, eye-catching 18-inch wheels etc. The result is a look that sets boy racers on fire at the first sight. I am glad to see Opel did not follow the trend of other so-called "hot hatches" to go civilized in styling. Hot hatches should look hot, shouldn't they?

Powerful engine is also a must. The Astra OPC has its 2.0 turbocharged engine based on the GTC's 200 hp version, but it is boosted to 240 horsepower and 236 lbft of torque by using a bigger turbocharger running at 1.2 bar, high-flow intercooler, forged aluminum pistons, oil spray cooling to pistons... note that the twin-balancer shafts have been discarded for lighter rotational mass thus quicker response. This means it is not as smooth as the 200 hp version nor the Golf's 2.0 TFSI engine, but I would say smoothness is less critical to hot hatches.

Apart from some ultra-expensive premium hatches (Alfa Romeo 147 GTA, BMW 130i, Audi A3 V6, VW Golf R32 and if you count, the mid-engined Renault Sport Clio V6), Astra's 240 horsepower engine is the most powerful among hot hatches. It beats Golf GTi by a decisive 40 hp and Renault Sport Megane Turbo by 15 hp. In real world, it is also the fastest, no matter against the clock or in subjective terms. Compare with Renault Megane, Opel's power band is stronger from mid-range to the top end, while the Renault is stronger at the lower spectrum. However, this is not to say the OPC lack of tractability. In fact, it has too little turbo lag to mention, thanks to a turbocharger integrating with the exhaust manifold as a single unit, shortening the path between combustion chambers and turbine.


To keen drivers, the relative lack of low end grunt is exactly what tempt them to squeeze more rev. Once entering the 2400-5000 rpm band, all 236 lbft of torque is available, pushing the Astra OPC at lightning speed. 0-60 mph can be finished in 6.1 seconds, virtually matching the aforementioned premium hot hatches.

Handling is another strength of the OPC. Its chassis is tuned by OPC in Nurburgring in conjunction with Lotus Engineering. Compare with the regular GTC, its suspensions are stiffened and lowered by 15 mm. Dampers with rebound springs are employed to improve ride composure. Besides, the steering knuckle geometry is revised. No wonder it has no such understeer experienced in GTC. Compare with Golf GTi and Megane Turbo, it steers into corner much more neutral. In twisty roads, the OPC feels sharper, sportier and faster than its rivals. Its 225/40 tires provide bags of grip, while adaptive damping and IDS-plus control (which alter throttle response and steering weight) enhance handling even further at the press of Sport button. Another surprise is ride quality, which isn't hampered by the sporty suspensions and tires, thanks to fine damping.

Inevitably, such a driver-focused machine has some rough edges, namely, a little bit torque steer under hard acceleration, uninspiring noise from the turbo engine and short of brake feel. However, considering the driving excitement it offers, these are just minor issues. From now on, Astra OPC replaces Golf GTi as our favourite hot hatch.
The above report was last updated on 15 Aug 2005. All Rights Reserved.
Astra TwinTop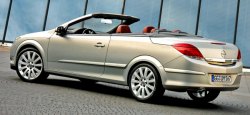 In 1997, Mercedes SLK pioneered the first modern retractable roof mechanism. By the press of a button, the metal roof folded automatically into the boot, converting the car from coupe to cabriolet. In coupe form, it provided the noise and weather insulation unachievable by conventional cabriolets, as well as superior chassis rigidity. This technology became a hit immediately and orders flooded to Mercedes-Benz dealers.

SLK remained unique until 2001, when Peugeot launched 206CC. The little Peugeot successfully drove tractable roof technology to a low price segment. It became an even bigger hit, attracting an incredible 100,000 units sales a year ! its success triggered many car makers to follow suit. At the same time, several retractable roof makers started emerging – Heuliez, CTS, Oasys (Pininfarina-Webasto) and Karmann. They help car makers to develop and produce virtually all of the world's retractable roof systems.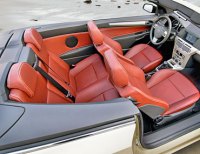 The roof of Opel Astra TwinTop comes from CTS, a German company formerly co-owned by Porsche and Mercedes. It also made the roof for Peugeot 307CC. However, the latest roof in Astra TwinTop is undoubtedly more advanced than the Peugeot's. Like the recent Volvo C70, its roof splits into 3 smaller pieces instead of 2 larger pieces when fold into the boot. This enables a shorter boot which is more coherent to the coupe shape. Besides, as the 3-piece roof is longer than 2-piece roof, the windscreen does not need to rake steeply, hence freeing headroom for the front occupants. As a result, Astra's roof has none of the packaging compromises found in Peugeot 307CC, Renault Megane CC and Ford Focus CC.

Observing from outside, Astra TwinTop looks handsome. It is sleeker and more civilized than Astra GTC. Inside, it shares the same stylish dashboard with the hatchback. The driving position is comfortable. At the back, the seats are more suitable for children as they are short of head and legroom. This is because the roof mechanism and the pop-up rollover bars eat into cabin room. In fact, all rivals bar Volvo C70 have the same problem.



Like most other cars of the same kind, Astra TwinTop carries considerably more weight than the fixed roof version. The electro-hydraulic mechanism of the roof, the compensating reinforcement to the chassis, the pop-up rollover bars and the longer boot contribute to around 200 kilograms. As a result, the smallest 1.6-litre engine (105hp) and 1.8-litre engine (140hp) are too weak to be recommended. You need to order at least the 170hp 2.0 turbo engine, or preferably the torquey 1.9 turbo diesel and the range-topping 200hp 2.0 turbo petrol. However, none of them are supposed to be fireball. Those buying this kind of cars must prepare to accept inferior performance. For instance, the 200hp 2.0 turbo takes 8.4 seconds to do 0-60 mph, some 1.0 seconds longer than the equivalent GTC.

Another compromise is chassis stiffness. This may not be a big problem to Mercedes SLK, but to 4-seaters like Peugeot 307CC and Renault Megane CC, the large opening ruins chassis rigidity significantly. Astra TwinTop feels stiffer than its French rivals. As long as the roof is closed, it displays very little chassis shake and flex. The suspension setup is stiffer than its rivals, but it transmits little harshness into the cabin, thanks to the superior chassis stiffness. Nevertheless, when the roof is down, chassis stiffness is noticeably worsen. This is especially apparent when the car is riding on broken surfaces. Again, this car is not supposed to match the fixed roof version for handling and ride.

Like most of its kind, Astra TwinTop feels most comfortable to be driven leisurely on motorway. It is certainly more capable and desirable than 307CC and Megane CC, but there is still a long way to go.
The above report was last updated on 19 Apr 2006. All Rights Reserved.