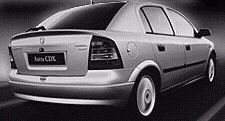 To be honest, before reading road test report about the new Opel Astra, I did not have any expectation on its handling. You know, since the last generation Vectra, we saw too many good-looking but bad-chassis Opels - Calibra, Corsa, Vectra and Tigra. Only the rear-wheel drive Omega can break this mould.

However, General Motors finally understood that European requires good handling to match with other practicality concern, so it employed Lotus Engineering to fine-tune the new Astra. It is said that GME's top executives decided to hire Lotus after driving the final prototype with disappointment. As a result, Astra was delayed for 6 months.

Nevertheless, these 6 months is worthy. Lotus has done a great job to transform the Astra into a very dynamical car. Benefited by the stiffest chassis in its class until now, and a stiffer suspension setup, Astra rolls very little in corner, and it always feel strong and secure to push hard. In some way it feels even more driver-biased than the superb Peugeot 306, partially because of slightly harder ride, partially because of less body roll, and also because of the stiffer chassis. Ride is quite effective for shock absorption, though not as supple as the French car. Steering has rich feel, just next to 306. NVH (Noise, Vibration and Harshness) suppression is extremely good due to the sub-frame mounting for front suspensions.

Astra still uses the full range of 16 valves engines that appeared early this decade. (They were also developed by Lotus) 1.2 litres 64hp, 1.4 litres 89hp, 1.6 litres 99hp, 1.8 litres 113hp and 2.0 litres 134hp are all carried over without change. Anyway, compare with other European rivals, these so-called "Ecotec" engines are still above average. They love to rev, and quite smoothly. Accompany with the 0.29 Cd, no wonder even the 1.4 version can hit 111mph and takes only 10.3 sec for 0-60mph acceleration. No more could be expected.

Inside the cabin, you will find a mixture of sweet and bitter. Sweet is the near class-leading (on a par with Citroen Xsara and Alfa 146) space. Bitter is the poor finishing that uses plastic and textile with the quality standard of the 80's. This is the decisive reason I still pick Volkswagen Golf as my choice.

It seems that GM always lack of resources to develop a complete good car. When it concentrated on packaging, it sacrificed dynamic. When it worked hard on dynamic, packaging was ignored.