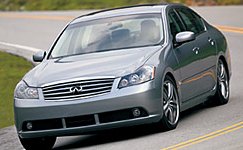 With the launch of Infiniti M-series, Nissan's product lineup reform has finally completed. In the past, Nissan did not have any strong products to compete in the executive sedan segment, which is dominated by Mercedes E-class and BMW 5-Series. In Japan, Nissan used to have Gloria and Cedric to please those conservative businessmen. But they had little chance for export, thus in the eyes of Carlos Ghosn they were not cost effective. On the other hand, Infiniti (Nissan's overseas premium brand) needed an executive sedan to fill the gap between G35 and Q45. That's why Ghosn decided to build a new executive car for the global market. It will be called Infiniti M in overseas or Nissan Fuga in Japan. The latter will replace both Gloria and Cedric.

The Infiniti M can be described as a grown-up version of Infiniti G35. It shares the FM (front-midship) platform with its little brother, but its body is enlarged in all dimensions – 16.5 cm in length, 4.5 cm in width, 4 cm in height and 5 cm in wheelbase. This make it slightly larger than a Mercedes E-class.

From outside, the M-series looks more modern than its predecessor Gloria and Cedric, but that alone is nothing worth amazing. Compare with Audi A6, BMW 5-Series, Mercedes E-class and Lexus GS, the Nissan executive car looks relatively conservative. This is partly due to the predictable shape, partly due to the elevated height of 1510 mm, which delivers a slightly bulky feel.

In contrast, the cabin looks more creative. The wave-shape dashboard is inspired by piano keyboard. (One magazine criticized it look like an ATM machine, but as long as it looks stylish, who cares?) Its two-step structure enhances the perception of space. Materials quality, fit and finish of the cabin are markedly improved from G35 and other Nissan cars, including the flagship Q45, but compare with Audi, BMW, Mercedes and Lexus it still trails a little behind. Unfortunately, this is where people distinguish a truly premium car from second division players. Take note, Ghosn.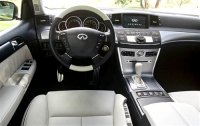 Like G35, the cabin is occupied by a large transmission tunnel in the same way as some sports cars. This limit the legroom of the center rear passenger, but the other 4 occupants enjoy abundance of head, shoulder and leg room. Admittedly, apart from Jaguar S-Type I don't think any main competitors are short of cabin space.

The M-Series shares most important mechanicals with G35. This include the same suspensions (double-wishbones up front and multi-link at the rear), the V6 engine, the 5-speed automatic gearbox, steering rack and various electronics. Nevertheless, some 60% components are reported to be new, such as the addition of active rear-wheel steering and a 4.5-litre V8 engine, though the latter comes straight from Q45.

The steel monocoque chassis is not only enlarged from G35, but also strengthened considerably to enhance suppression to noise and vibration. Moreover, a lot of sound deadening materials are employed to filter road noise, engine noise and wind noise from the cabin. Unfortunately, this is also reflected on scale - the M35 weighs a hefty 1760 kg, about 200 kg more than class average ! The M45 is also more than 100 kg heavier than most V8 rivals. Blame to the lack of weight saving measures.

Nevertheless, the M-series have a pair of powerful engines. M35 is powered by a 280 horsepower version of the G35's 3.5-litre dohc V6, while M45's 4.5-litre V8 pumps out 335 horsepower. (Note: in Japan, Nissan Fuga only offers the 3.5 V6 and a smaller 2.5 V6). Accompany with a responsive 5-speed automatic transmission and performance tires, the M35 and M45 accelerate to 60 mph in only 6.3 and 5.6 seconds respectively. Even a manual-shift BMW 530i and 545i will find it hard to beat the Nissan.

On the down side, the Infiniti is very thirsty. According to EPA figures, M35 returns only 18 miles per gallon in city and 25 mpg on highway. For comparison, Mercedes E350 and Lexus GS300 return 22 / 30 mpg, while BMW 530i (6A) returns 19 / 29 mpg. This could limit its success in Europe - if Nissan determine to export it there - where fuel price and environmental concern are much higher than in the United States. In fact, Nissan designed the Infiniti M-series according to American taste. It has big engines, big power and big torque to counter balance the big and heavyweight body. The pursuit for low price ruled out any lightweight materials and fuel-saving engine technologies. You can't find any aluminum bonnet or body panels, nor magnesium dashboard mount, direct injection, 6 or 7-speed gearbox…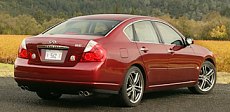 On the road, the M-series is fast and fun to drive. While both engines are not the most refined in the class, they are strong, torquey and responsive to throttle input. The same goes for the 5-speed automatic transmission, which shifts smoothly and remarkably responsive in manual mode. This allows a seamless transmission of power from the throttle pedal to the rear tires. The unity of the powertrain is really impressive.

In contrast to Lexus GS, the Infiniti's suspension tuning biases towards the sporty side, especially if you choose the sport package with stiffer setup, 19-inch wheels and aggressive tires. On broken surfaces, it rides slightly harsh and transmits more suspension noise into the cabin. However, on fast, open road it damps beautifully and delivers a smooth ride.

The M-series is neither the most nimble nor the best balanced car in the class. In the twisties it could feel slightly oversized and overweight. Give it more space and pace it starts delivering its best - stable body control, high cornering limit (thanks to those 245 tires) and the general free of understeer. Its Rear Active Steer plays an important role here, helping the large M to turn into and exit corners fluently. The communicative, naturally weighted steering is also a delight.

All these goodies make the Infiniti M / Nissan Fuga a good driver's car. Owners of Gloria and Cedric will not believe this is the replacement to their cars. While it still lacks the quality and completeness of German premium sedans, its considerably lower price should tempt some people away from its competitors. However, the biggest victims could be other Japanese executive cars - Lexus GS and Honda Legend (Acura RL), especially the latter.

Rear Active Steer: 20 years have passed since Nissan pioneered production 4-wheel-steering system in Skyline. The technology once went out of production after Skyline GT-R died in 2002. Now Nissan resurrected this technology to deal with the 2900mm wheelbase of Infiniiti M-series. In order to quicken the steering response of the big M, the system uses electric motors to move the lower links of the rear suspensions. This varies the toe angle of the rear wheels by up to +/- 1 degree.



How large the toe angle is controlled by electronics depending on speed and steering angle. When the car is entering a turn, the rear wheels will be steered in opposite direction to sharpen initial turn-in, and then gradually shift to the same direction as the front wheels when the car is exiting the bend to enhance stability. In short, rear active steer is used to eliminate the undesirable understeer and oversteer that would have occurred in conventional cars.