Nissan Bluebird Sylphy / Sentra

Debut: 2006
Maker: Nissan
Predecessor: Sunny / Sentra / Almera, also Primera

Bluebird Sylphy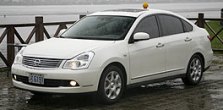 The nameplate Bluebird started in 1959 and entered the 12th generation last year. For most of the time, it was a mid-size family saloon targeting at the same crowd as Toyota Corona, Honda Accord and Mitsubishi Galant. While never being outstanding, it was well received in Japan and started getting known by European since Nissan started producing it in Sunderland of UK in the early 1980s. Unfortunately, in the late 1980s Japan got into economy depression (which would last more than a decade), dragging Nissan into the edge of bankruptcy. To cut costs, new boss Carlos Ghosn decided to eliminate excessive models. One of the victims was the Bluebird. From 2000, its nameplate could only survive in the form of "Bluebird Sylphy" and sticked to the body of a lightly revamped Sunny, which is a full class smaller than Bluebird used to be. At the same time, the Bluebird's positions in the America and Europe were replaced by Altima and Primera respectively. People started forgetting this once important Nissan mid-range car...

However, fate is always changing. A couple of years ago, Nissan dumped the Sunny nameplate and replaced it with Tiida. The latter is based on the smaller and cheaper Nissan-Renault B-platform (i.e. Cube, Note, Clio, Modus etc.) thus leaves a space for a larger and more expensive model inserting below Teana / Cefiro / Altima. Nissan Renault's C-platform (i.e. Megane, Scenic) would fit this purpose. By extending its wheelbase from Megane's 2625mm to 2700mm and by adding a boot to extend its overall length to 4.6 meters, the new Nissan has all the ingredients of the traditional Bluebird. In this way, the real Bluebird is back.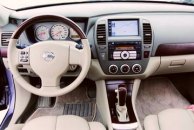 A glance from outside will find the new Bluebird Sylphy seems like a smaller version of Teana, as they share the same design theme. There is an upmarket visual quality in it, but you may also criticize it for being too conservative. The design is obviously inspired by the last generation Volkswagen Passat and I can't see any special new ideas. The same story goes for the interior. Open the doors and you will see a well finished environment - the materials are reasonably high quality (well, don't expect top notch quality in Carlos Ghosn era) and there is faux wood inserts that look like real woods. Nevertheless, the design of the dashboard and console is so ugly that we must question the taste of Nissan's interior designers. It degrades the otherwise fine visual quality.

Fortunately, the long wheelbase gives the cabin plenty of space. Looking around, only Honda Civic provides the same 2700mm wheelbase, while most other rivals measure around 2600mm. No wonder the Nissan offers a class-leading 680mm of rear legroom. It also provides a lot of storage spaces. In particular, the storage box between the front seats is so long and deep that it can swallow a briefcase or box file, very convenient. On the downside, the rear seat backrest cannot fold down to increase luggage volume. Admittedly, the boot measures a massive 504 liters, matches a Mercedes E-class, thus you rarely need any more space.

On the run, the cabin is well insulated from noise sources. The powertrain comprises of 2-liter engine and Xtronic CVT is smooth and refined in typical Japanese style. Codenamed MR20DE, the new engine replaces the long-serving QR20DE as Nissan's mainstream four-cylinder engine. Rated at 133ps (JIS) only, it is by no means a hot performer. Instead, it emphasizes fuel economy and low-rev torque. The former is achieved by applying micro-finish treatment to the reciprocating parts to reduce 30% friction, while the latter is implemented by installing continuous variable valve timing to enable 90% of maximum torque available from 2000rpm upward. Overall, this is a decent powerplant, if not remarkable.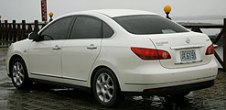 The Xtronic CVT is produced by Jatco, formerly the transmission division of Nissan. It provides a sport mode which keeps rev at higher level but is absence of any manual-simulated mode. When you press throttle, the engine rev increases until around 4000 rpm, where it settles there to take advantage of the engine's highest torque. The transmission ratio varies to keep the rev constant while the car is accelerating gradually. We call this loose relationship between engine rev (hence noise) and vehicle speed as "rubber band effect". Although rubber band effect does not harm acceleration, it is a displeasure to keen drivers because the engine rev and noise fails to feedback the driver's throttle input. The Xtronic CVT shows less rubber band effect than older generations of CVTs, but as long as manual mode is not offered, the rubber band effect will never be eliminated.

Like Renault Megane, the chassis of Bluebird Sylphy rides on semi-independent torsion-beam rear suspension while steering is assisted electrically. Predictably, in the Japanese car the suspension setup biases towards the soft side. All controls are set to be lightweight. On the road, the car rolls quite a lot in corners, although grip and balance are okay. The super-light steering lacks feel and confidence, as is the lightweight throttle. This car gives so little feedback to the driver thus is by no means a driver's car. Moreover, the brakes - still drums at the rear - are weak in power.

Overall speaking, the return of Bluebird is not an applause to me. While it is better than the Sunny-based last generation, it is not an outstanding product in terms of interior design, quality and driver appeal. However, few people will care about this, because the car is available only in its home market, China and Taiwan etc.
The above report was last updated on 13 Jan 2007. All Rights Reserved.
Sentra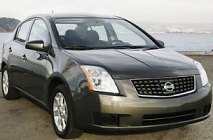 Sentra is the sister car of Bluebird Sylphy. While Bluebird Sylphy is designed for Japanese and Asian, Sentra is destined to North America. To ensure it suits the taste of American, it was designed in the California studio and built in the Mexico plant. That's why it looks so much different from its Japanese sister. While Bluebird Sylphy looks polite and executive-class-like, the Sentra looks bold and funky. There is some European flavours in its design, such as the tall and short boot, the high shoulder line and strong C-pillars. Overall speaking, this is not a memorable design, but it is by no means dull, unlike the recent Toyota Corolla and Hyundai Elantra.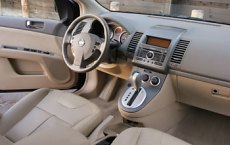 Like Bluebird Sylphy, Sentra is derived from Renault-Nissan's C-platform, which started life in the current Renault Megane. It therefore shares high percentage of components with its Japanese sister, such as the same strut and torsion-beam suspensions, electric power steering, MR20DE engine and Xtronic CVT. Nevertheless, today's platform sharing technology is much more flexible than the last generation. It allows the cars to employ different wheelbases and widths, not just different heights and lengths of overhangs. In the case of Sentra, it uses a unique wheelbase at 2685mm. Though this is 15mm shorter than Bluebird's, it is still one of the longest in the class and ensures plenty of rear legroom. Moreover, without limited by the Japanese tax boundary, the body width can be stretched from the Bluebird's 1695mm to 1790mm. No wonder the Sentra can easily fit 3 adults at the back. Without the extra width, people would have questioned what advantages it has over the smaller Tiida / Versa, whose sliding rear bench already offers enormous legroom.


Being a 3-box, the Sentra fails to match hatchbacks for loading convenience and flexibility. However, what really disappoints is the short of luggage capacity – the short trunk measures just 371 liters, no better than most hatchbacks. If there were any advantages of its 3-box design, sorry, I can't see.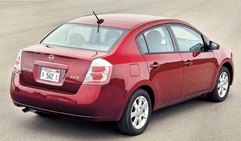 The packaging of cabin is another source of criticism, if in a lesser degree. Despite of a so-called upgrade in materials, you can still find the dash top, grab handles and armrest are made of hard plastics. The door trims look cheap. The cloth seats are plain. The fake alloy center console is just too fake. The center LCD is monochrome only and unreadable under sunlight through a polarized screen. Carlos Ghosn once said today's customers ask for good-looking materials, textures and colors in cabin design, so why doesn't his latest mainstream car deliver the promise ? unquestionably, in terms of style, quality and attention to details, the cabin of Sentra falls short of the standard set by European hatchbacks, Toyota Corolla and Honda Civic. It is barely better than the Korean offerings.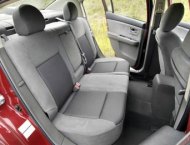 Having spent so many words on its packaging, it's time to see how it drives. We start from the powertrain. MR20DE is a modern engine with all-alloy construction and intake continuous variable valve timing. Although it is neither as powerful nor as frugal as Volkswagen's 2.0 FSI engine, it is smooth and gusty enough. Even smoother is the Xtronic CVT for which most buyers will opt. However, like all CVTs, the loose relationship between rev and acceleration takes some getting used to, and it is never the choice of a keen driver (never mind, as the car is neither a keen driver's choice). Another transmission is a 6-speed manual. Unfortunately, its gearshift is rubbery and the clutch pedal feels numb, so it fails to engage keen drivers too.

Turn the Sentra into bends, you get little feel from the steering wheel other than a strong artificial self-centering force. Not a surprise for an electrical assistance system. At the same time, the Sentra rolls a lot due to its civilized suspension setting. Hit a bump at speed transmits shocks to the cabin instantly, a hint of poor damping. Hit the brake pedal, and the combination of front discs / rear drums braking system takes a life to stop the car. So it's enough for road test. Apparently, this is not a driver's car. In fact, it is one of the dullest drives in the class.

Failing to catch our hearts in dynamics, looks and packaging, Sentra is easily forgettable in a class crowded with so many good cars.
The above report was last updated on 2 Feb 2007. All Rights Reserved.
Sentra SE-R Spec V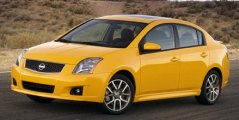 Since 1991, Nissan calls the hot version of Sentra as SE-R and the hottest version as SE-R Spec V. This tradition remains unchanged in the latest generation. Both cars are powered by a large-capacity four-cylinder engine, codenamed QR25DE. Twin-balancer shafts help smoothening the vibration generated from the 2488 cc engine, while variable valve timing keeps efficiency high. The engine produces 177 horsepower in SE-R and 200 horsepower in the Spec V. The latter is achieved with a higher, 10.5:1 compression (which requires premium fuel), smoother intake and exhaust manifolds, hotter cam profile and reinforced reciprocating parts.

The engine in SE-R is mated to Xtronic CVT and very ordinary suspension / brakes / tires etc., so it does not raise our interest. Instead, we shall focus on the Spec V, which received tower braces to reinforce the suspensions, 225/45WR17 tires to enhance grip, helical limited slip differential to enhance cornering traction, larger front brakes to improve stopping power and stiffer suspension setup to sharpen handling. Moreover, its 6-speed manual gearbox should be the driver's choice. In this car, the gearshift works more precisely than in the regular Sentra 2.0S. The engine also provides sufficient punch, although bottom-end torque is not as strong as we predicted for a big four-banger. Look at the torque curve and you know why: the max torque of 180 lbft arrives at a rather high 5200 rpm. It might be more accessible than Honda Civic Si / Type R, but it can't match the instantaneous stream of torque provided by turbocharged European hot hatches. Luckily, in the North America Sentra SE-R Spec V (what a long name !) only needs to face Volkswagen Golf GTI.

The handling is good – up to a point. Nissan said it was tested in Nurburgring by the same test driver as Skyline GT-R R32 / R33. Yes, it has strong grip and predictable handling, but when its name is attached with "Spec V", we expect sharper steering (the electric power steering is too numb), tighter body control, better balance and less understeer. On the plus side, torque steer is not too severe in the LSD-equipped car, partly thanks to the weak bottom-end torque. Nissan reserved too much ride comfort for the Spec V, making it less a real fighter to Honda. However, neither can present a real threat to Golf GTI, whose perfect combination of entertainment and refinement is yet to be matched.
The above report was last updated on 6 Mar 2007. All Rights Reserved.