This new Primera is probably the last Nissan designed without the involvement of Renault. Nissan started developing it in early 98, just before the French company acquired 34% of the then-Japanese no. 2. In just 3 exact years, the new Primera went on sale in Japan. A year later, production will be spread to the Sunderland plant in UK and, surprisingly, Nissan boss Carlos Ghosn promised it will invade the great USA mono-market as well. See, the new Primera will be a world car thus no longer a European-biased car as its 2 predecessors were. Also unlike its predecessors, it was developed mainly in Japan, without undergoing extensive test program and tuning work at Nurburgring. This may imply ....

The exterior design, however, was responsible by the Brussels studio of Nissan Europe, based on the Fusion concept car. This is a clever decision because Japan is really lack of design talents these days. First look at the new Primera is really eye-opening - the near-monospace shape is surprisingly pure and neat, with edge-cutting lines running across the sides of the car. The whole roof is an arc - obviously limiting rear headroom - even more so than Audi A6, sending a clear message, "I belongs to the 21st Century !" For the first time, the Nissan logo and a decent corporate grille merge flawlessly into the nose and in concordance with the stylish headlights. Expect this grille will appear in other family members in the future.

While admiring its determination to differ, I am not a big fan of such radical shape. Basically, I always feel cars with low shoulder lines and big windows more beautiful. However, the trend of car design is shifting towards this kind of fat-looking shape, so we cannot blame Nissan. What I want to point out is that the high trailing edge of bonnet (a common problem of any monospace) deteriorates forward visibility while the high boot also worsen rearward vision.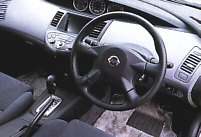 The cockpit was designed in Japan. Like Tino MPV, it is a revolutionary design that worth admiration from the Western. First of all, the dash is wrap-around by the plastic extending from doors, creating a UFO-rivaling sense of special. All three instrument gauges locate over the center console instead of driver's side, sheltering by a stylish arc of plastic. The console is simple yet ground-breaking, it consists of a 7-inch LCD and a control panel which controls air-conditioning, audio, DVD navigation and other equipment. The whole dashboard design is not unlike Renault Avantime, just more beautifully executed. Nevertheless, plastic quality could be better.
The new Primera has stretched wheelbase by 80mm and width by 65mm, but it is still smaller than new generation of European rivals. This is not without a reason: if it were larger, it would have overlapped with the new Altima and Cefiro. Moreover, keeping it smaller and simpler may position it against the higher spec. C-segment cars, say VW Golf and Honda Civic. In fact, the smaller Sentra / Almera / Sunny is not spacious enough to rival many C-segment opponents, so maybe Primera will help up to certain extent. Nevertheless, the space-saving rear suspensions contribute to good rear legroom, although the sloping roof limit headroom. All passengers sit higher, in addition to thinner door sills, getting in and out becomes more natural in movement.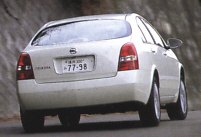 The chassis is basically derived from the previous generation, with front multi-link and rear so-called "multi-link beam axle" - a derivative of the half-independent torsion-beam. The Japanese Primera is set to favour ride comfort than handling, so there is a lot of body roll into corners. The softly-sprung chassis is unresponsive to change direction and, predictably, understeer a lot when pushed. Steering is light and lifeless. Although we know European version will be retuned, the new Primera was not designed for European taste from the beginning, so it is unlikely to be able to reproduce the famous track record of its predecessors - both of which were praised as the best handling family sedan accompany with the old Ford Mondeo.
In the engine compartment, there is nothing surprising. The new car is powered by all four-cylinder engines, reinforcing the believe that it competes with lower market segment instead of rivaling new Mondeo etc. The familiar QR20DE engine is now added with drive-by-wire throttle and continuous variable valve timing, boosting torque to 147 lbft while retaining 150 hp output at lower emission level. Itself and the larger, 2488 c.c. long-stroke version are both equipped with twin-balancer shaft to cancel vibration, so smoothness and quietness are good, if not too remarkable. The QR25DD also has stratified direct injection to save fuel. It outputs 170 hp - not very impressive but OK for a large-capacity four-pot - and a useful 181 lbft of torque.
As before, the engine works with Hyper CVT, with or without the "M6" sequential manual override simulating a 6-speed manual. In auto mode it shifts continuously and smoothly, but the strange feel of "rubber band effect" still exist as before. When accelerating, the CVT keeps varying its ratio as rev rise, therefore the engine keeps roaring while the car doesn't really accelerate. Admittedly, only Audi satisfactorily solved this problem. In manual mode, the CVT is still slow to react, therefore performance is quite far off from manual.
To summarize the Primera, a few words is enough: new bottle, old wine.