Nissan Altima

Debut: 2007
Maker: Nissan
Predecessor: Altima (2001)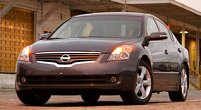 Nissan's large front-wheel-drive platform FF-L gave birth to various vehicles such as Teana, Altima and Maxima. While Teana targets at the domestic market, Altima and Maxima are designed for the United States in particular. The Altima is the cheapest one among them. It competes with Toyota Camry and Honda Accord in the highest volume segment in the USA. In 2005, a total of 255,371 Altimas found buyers there, taking the 5th position in car sales chart. It is the company's best selling product in America thus is very important to Nissan.



Since the last generation arrived in 2001, Altima became driver-oriented. On the one hand its stiff-tuned multi-link rear suspensions, large and powerful 3.5-liter VQ-series engine and the availability of 6-speed manual gearbox set it apart from the housewives-pleasing Camry and the versatile Accord. On the other hand it was crude and unrefined, while the cabin was cheaply built. Call it a "family muscle car".

The family muscle car has entered a new phase in late 2006. Officially, it is an all-new generation, with revamped exterior and interior, new engine and a new platform called "D-platform". However, the D-platform is a mild update rather than a fundamental change from FF-L, as is the exterior design which looks like a facelift. Although most components have been changed, the development cost is undoubtedly lower than a complete redesign. By the way, Nissan adopted the same strategy for its Skyline V36.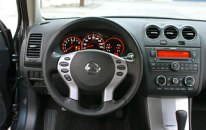 Predictably, the new Altima gets slightly more refined and better built. Its new dashboard has richer textures and a few alloy-effect plastic panels to make it look less cheap - but still cheap compare with Toyota and Volkswagen. Its stiffer chassis and revised suspensions (now with more aluminum parts) return better ride quality - but still rests on the hard side. A similar story is found for noise insulation, which has been improved slightly but still lags behind key rivals. No one will buy this car for quality and refinement.


But they may buy it for driving excitement. In fact, in the remake Nissan focused even more on the driver appeal in order to depart from Camry and Accord further. Firstly, the car is shortened by 44mm, accompany with a reduction of 25mm in wheelbase to improve cornering agility. Secondly, the new generation VQ35DE* engine produces 20 more horsepower, or a total of 270hp, thanks to lower friction, twin-ram intake, improved water cooling and knock control. This allows the big family sedan accelerate from 0-60 mph in a class-leading 6.0 seconds when mated with 6-speed manual gearbox. (Admittedly, most buyers would opt for the Xtronic CVT, which adds a few tenths to 0-60 accompany with a little rubber band effect. For keen drivers, manual is the first choice of course.) Thirdly, the engine is now mounted 30mm lower in the chassis to improve center of gravity. This also equalize the inclined angles of left and right half shafts, thus greatly reduces torque steer. You know, torque steer is always the enemy to powerful front-wheel-drive cars, and it used to trouble the old Altima a lot.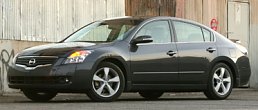 On the road, the new Altima is fast and fun to drive. This is primarily due to the strong engine and good steering. The speed-sensitive hydraulic power steering returns good communication and linearity. It loads up at speed to provide good confidence. Torque steer is largely non-existent, while understeer intervenes gently when the car approaches limit. The engine and steering are the Altima's trump cards.

Nevertheless, other aspects such as body control, grip and brakes are only average. Despite of the firm ride, the car pitches and dives noticeably in hard acceleration and braking, very much like old muscle cars. For poise and precision it won't match Ford's CD3 cars (Mazda 6 and Ford Fusion) and Saturn Aura, and I suspect the next generation Accord will leave it behind easily. Nissan could have provided more rubber than the 215/55 and stronger brakes. Also, ABS should have been standard in this class. Unfortunately, it deliberately limited the car to lower the base price and avoid competing with Maxima.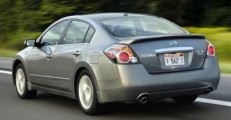 Disappointingly, there are still a lot of rough edges in the Altima. For example, the 6-speed gearshift is clunky, and the clutch takeover is abrupt. Crude and unrefined, the Altima is still very much a muscle car in its blood. This mean we cannot recommend Altima to keen drivers. When we turn our attention to ride comfort, noise insulation and interior build quality, the car loses even more marks. Yes, the new Altima is a step forward from the old car, being more refined, more stylish, faster and better to handle, as claimed by Nissan's officials. However, the step taken is too small compare with its competitors. Just as its look suggests, it is a small evolution.



* Unlike the VQ35HR used in Skyline / Infiniti G35, the cheaper VQ35DE employs variable valve timing at intake valves only.
The above report was last updated on 20 Jan 2007. All Rights Reserved.
Altima Coupe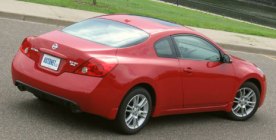 Just like Honda has Accord Coupe and Toyota has Camry Solara, Nissan also produces a coupe version of Altima. The Altima Coupe is enclosed with a sleeker bodyshell and shares no panels with the sedan with the exception of the bonnet. Underneath the sheet metal is much the same content, but the wheelbase has been shortened by 100 mm and the overall length lost 185 mm as the coupe no longer needs to offer so much rear seat and luggage room. This brings a weight advantage of 30 kilograms. However, the shorter wheelbase and length also worsen its weight distribution – now some 67 percent weight is loaded on the front wheels, hardly acceptable for a driver's car. Besides, the engine remains unchanged from the sedan, that means either a 175hp 2.5 four-banger or 270hp 3.5 V6. Transmission is again that CVT or 6-speed manual. Of course, you don't need to be reminded that the Altima Coupe is a front-wheel-drive car with transversely mounted engine. All these seem to work against driver appeal.

So how does it perform on the road ? As expected, performance from the 270hp VQ35DE is strong, perhaps too strong for the front-drive chassis. As in the Altima sedan, if you push it too hard in corners, the power can overwhelm the modest 215/55VR17 tires and torque steer is, while not as severe as older generations front-drive performance cars, far from negligible. Although the suspensions have been stiffened, the unbalanced chassis pitches and dives under acceleration and braking. Push it in the twisty and you can't find the planted feel of most European coupes. A rubbery gearshift and little steering feel add to the disappointment. Don't be fooled by its sportscar appearance, the Altima Coupe is very much a family sedan in coupe's shape. In fact, it cannot match even a Volkswagen Golf GTI for handling.

Nor is it as comfortable or as roomy as Golf GTI. Any rear passenger taller than 5 ft 8 in will find their heads rubbing against the roof, blame to the fastback design. Trading interior room for style is fully understandable for coupes. The problem is, I don't think it really beautiful. With high shoulder line, high bonnet and high trunk lid, the coupe looks quite fat and bulky. Moreover, this Japanese design has little character to talk about. I believe it will get outdated in a couple of years' time, if not yesterday already.

There are two kinds of coupes in the market. One offers superior performance and handling over sedans, for example, Audi TT and Infinti G37. Another offers near sedan level of comfort and refinement in a more beautiful package, such as Peugeot 407 Coupe and BMW 3-Series Coupe. Altima Coupe belongs to neither of them. Call it a sports coupe and it will disappoint keen drivers. Call it a comfort coupe and it won't satisfy a family's requirements. Yes, it might be more likable than Camry Solara and the outgoing Accord Coupe, but it is far from a desirable choice.
The above report was last updated on 23 Jun 2007. All Rights Reserved.