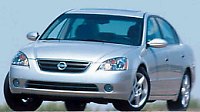 One of the most profitable market segment in automotive industry is America's mid-size sedans segment. With just 4 major players (Toyota Camry, Honda Accord, Ford Taurus and Volkswagen Passat) competing, the first and second best selling cars are guarantees an annual sales in excess of 300,000 units. For instance, in year 2000, Toyota sold 450,000 Camry, and that is in just a single market. Perhaps with too little competition, we found most players are not quite the best effort from their makers. Most of them are even conservative or boring by the standards of other segments. This give the new Nissan Altima a chance to have a big slice of the market.

In my opinion, the Altima is probably the best effort from Nissan since the introduction of Nissan Revival Plan. To certain extent, the earlier new Primera, Skyline V35 and Cima (Infiniti Q45) are not quite what we expected for the revival plan. But the Altima, with little sneak preview before launch, really surprises us by its handsome design, full-blooded power and driver-biased chassis tuning. It is a dramatic change of tune from its predecessor.

The beautiful look is obviously inspired by Passat, especially the round roof. But this is not just a poor copy, it has its own character, looking more sporty than the Volkswagen while having some clever details, such as the clean-cut tail, jewelry head and tail lights. Apart from Passat and Peugeot 406, few cars are so beautiful.
New Altima is a big car, half a class bigger than its predecessor. It even eclipses Camry and Accord, for example, its wheelbase is 80mm longer than the new Camry. However, less efficient packaging results in much the same interior space as its Japanese rivals. The swoopy roof also makes rear headroom less generous. Anyway, by class standard the Altima is still very roomy. On the downside, you can see a cheap interior packaging using poor quality plastics like the Big Three. The sporty 3-gauge dashboard and small center console also look less than elegant. Switch gears and cupholders feel as cheap. Therefore this is a practical but disgraceful cabin.
Mechanical aspect is much more attractive. Suspensions are struts up front and a Skyline-derived multi-link setup at the rear, both employs aluminium links. Bonnet and boot lid are aluminium too, saving a further 25kg. Engine is even more spectacular - the cheaper one is Primera's 2.5-litre inline-4, with continuous VVT and twin-balancer shafts to produce a vibration-free 175hp, much stronger than the 4-pot Camry and Accord. However, jewel of the crown is the 3.5-litre V6 engine, also with continuous VVT. Being a member of VQ-series, you won't doubt its lightness as well as smoothness. Simultaneously, it produces a class-topping 240hp and 246lbft, thanks to those extra 500c.c. compare with its rivals. If equip with 5-speed manual transmission, it can do 0-60 in the low 6 seconds, faster than a BMW 330i. Even with 4-speed automatic, it should still easily out-perform rivals. No one else in this segment is so fire-breathing.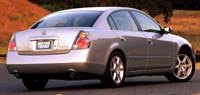 How does it handle and ride ? road testers found the top model 3.5SE rides firmly in the same way as German sedans. That introduces some harshness on sharp bumps but the chassis has excellent balance and roll-control. High-speed stability is also first-rate. Cornering attitude is generally neutral and becomes slightly understeer at extreme, but lift-off oversteer is applicable. There is some inevitable torque steer for the torquey V6 but not severe. Highway refinement is good, thanks to little wind noise and that refined and torquey engine.
Steering is just average. Compare with the capable chassis, the steering is too light and on-center feel is vague. Although it is responsive and accurate, refinement is ruined by steering kickback from road irregularities. However, the worst element is the 5-speed manual gearbox which is notchy yet has a long-throw shifter. 4-speed auto is a better choice.
Overall speaking the Altima is still inspiring to drive, unlike Camry and to lesser extent the Accord. Of course, it is not as all-round as Passat and Mondeo. Anyway, we have to applaud for Nissan's determination to make a driver's family sedan. At last, a Japanese car maker (under the management of French) is injecting fun into this segment.