Mitsubishi Galant

Debut: 2003
Maker: Mitsubishi
Predecessor: Galant (1996)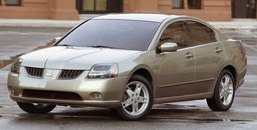 As the demand for mid-size sedans dropped sharply in Japan, Mitsubishi designed the new generation Galant primarily for the US market. That's why it becomes much bigger and heavier than ever. Compare with the last generation, it is a massive 22cm longer, 10cm wider, 5cm taller and rides on a wheelbase 11.5cm longer ! if the old Galant was M size, the new Galant is definitely XL size. This also reflects on the scale: even the base four-cylinder model weighs as much as 1580kg, nearly 300kg up from the previous generation !

Does it look bulkier? not really. Although I am not a fan of its new corporate grille, the new Galant looks pretty sleek and sporty, just like a European car. In fact, I suspect it copied the styling theme of the European Ford Mondeo, as the treatment of surfaces, edges and angles has a lot in common. Inside, it is another world - lots of space, lack of style. The cabin offers about the same space as its key rivals (Camry, Accord and Altima), which should satisfy the need of most families. However, the design of dashboard is so ugly. Especially is the center console, whose ugly shape and fake titanium treatment simply look like a cheap Chinese-made CD-player. Quality is also poor, because hard plastics and cheap switch gears are used all over the cabin.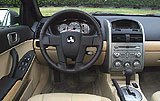 The Galant is developed base on the Endeaver SUV platform. Its chassis is 100% stiffer in torsion than the outgoing generation. Front suspension is changed from multi-link to MacPherson strut. Rear suspension remains to be multi-link. Two engines are available - the base engine is a 2.4-litre sohc 16-valve with MIVEC 2-stage variable valve timing and lift. It produces 160hp and 157lbft only because of a low 9.5:1 compression ratio. The flagship engine is an unusually large, 3.8-litre sohc 24-valve V6. It is enlarged from the 3.5-litre being used by Diamante. This is an outdated design, still uses cast-iron block and single-overhead camshaft. Moreover, stretching to 3.8 litres does not benefit power efficiency, no wonder it pumps out only 230 horsepower at a low 5250rpm. Inevitably, it relies on 250 lbft of torque to please its lay-back-style driver. To disappoint keen drivers further, all Galants are equipped with 4-speed automatic. No manual gearbox, no 5-speed auto.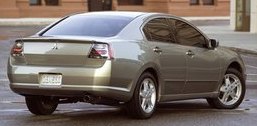 On the road, the Galant 2.4ES performs just like an average family sedan. It takes more than 9 seconds to accelerate to 60mph. Suspension setting is comfort-biased, and its huge size discourage enthusiastic cornering. On the highway and in high-speed bends, it goes quite competently, thanks to decent grip, braking, stability and steering feel. However, in tight turns, it is hampered by its bulky size, soft suspensions and understeer. In return, you get a quiet and isolated ride.

The flagship 3.8 GTZ is a little better in driver appeal. It accelerates to 60mph in less than 8 seconds, almost matching its lighter and more efficient rivals bar Nissan Altima. The V6 isn't as refined as its rivals, but it emits a sporty noise which doesn't match its actual character at all. Thicker anti-roll bars, lower profile tires and stronger dampers improve its handling a little, but just a little. It doesn't stand out of the crowd.

In fact, the new Galant is a European car in look and American car in nature. Its big size and big engines please the American, but it also has the flaws troubling most American cars - cheap mechanicals, rough packaging and lack of driving fun. In an increasingly competitive segment, life won't be easy for it. Mitsubishi hopes to build 100,000 units a year in Illinois, USA, where it will be assembled together with Endeavor.
The above report was last updated on 20 Dec 2003. All Rights Reserved.
Galant Ralliart

The Ralliart version of Galant was launched in 2006 as the performance model of the range. It employs the 3.8-liter MIVEC V6 from Eclipse, but produces slightly less power at 258 hp due to more restricted exhaust. The engine is mated to a compulsory 5-speed automatic transmission with manual mode. Car and Driver magazine found it delivered surprising performance (0-60 mph in 6.1 seconds). Handling was not bad either, thanks to stiff suspension setup and grippier tires. Torque steer is reduced compared with Eclipse due to the extra weight, but steer feel remains numb. The upgraded brakes still fail to cope with the heavyweight machine. However, the worst aspect of the car is still its dreadful look and cheap interior, which makes it the least desirable among its rivals.

The above report was last updated on 16 Aug 2009. All Rights Reserved.
General remarks


Galant 2.4ES

Galant 3.8GTZ

Galant Ralliart

Layout

Front-engined, FWD

Front-engined, FWD

Front-engined, FWD
Chassis

Steel monocoque

Steel monocoque
Steel monocoque
Body

Mainly steel

Mainly steel
Mainly steel
Length / width / height
4840 / 1840 / 1470 mm
4840 / 1840 / 1470 mm

4850 / 1840 / 1478 mm

Wheelbase
2750 mm
2750 mm

2750 mm

Engine

Inline-4

V6, 60-degree

V6, 60-degree
Capacity

2378 cc

3828 cc
3828 cc

Valve gears

SOHC 16 valves, VVT+L (MIVEC)

SOHC 24 valves

SOHC 24 valves, VVT+L (MIVEC)

Induction

-

-

-

Other engine features

-

-

-

Max power

160 hp
230 hp
258 hp

Max torque

157 lbft
250 lbft
258 lbft

Transmission

4-speed automatic

4-speed automatic
5-speed automatic

Suspension layout

F: strut
R: multi-link

F: strut
R: multi-link
F: strut
R: multi-link
Suspension features

-

-
-

Tyres front/rear

215/60HR16

215/55HR17

235/45WR18

Kerb weight

1580 kg

1655 kg

1690 kg

Top speed

123 mph (c)

140 mph (est)

-

0-60 mph (sec)

9.2*

6.8**

6.1*

0-100 mph (sec)

27.6*

-

15.9*

Performance tested by:
*C&D, **MT