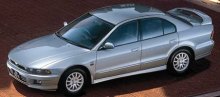 Here in Hong Kong, Galant is one of the top sellers of the segment. Not so in America or Europe, where Galant is a rather rare sight. Commercially speaking it is not very successful, but I do think car industry needs more such cars instead of our average Camry. Why? because Mitsubishi Galant has its own character. Looking from outside you'll know it's designed by somebody with enthusiastic mind. Aggressive, sharp, with a lots of distinctive features. Isn't that 2 outside-faced headlamps and front bumper inspired Honda S2000 ? Putting this Galant into the same showroom as the organic Carisma must presents the greatest contrast. More clearly speaking, men versus women.

While the exterior design catches my heart, the interior receives no less praise. Although it doesn't have Volkswagen's build quality, it rivals well with the best of others in terms of fit and finish. Remember, it is built in Japan instead of Holland. The styling of dashboard is also far more handsome than most Japanese sedans, matching the aggressive exterior very well. There is sufficient of space - roughly equals to Camry and 406 but marginally eclipsed by Passat and American Accord. Seats, driving position and ergonomics of controls are all in Japanese standard, so is reliability.

What makes the Galant unique is not only the styling, it also includes the engines. Don't be surprised, Mitsubishi offers no less than 7 petrol engines for the Galant, and some of them features very interesting technology.

For Japan:
1.8-litre GDI four-pot: this is the most commonly used GDI engine in Mitsubishi's range. Rated 140 hp in JIS.
2.4-litre GDI four-pot: this long-stroke engine came from Space Wagon (Grandis) and now powers the top-spec Galant in Japan. It is rated at 165 hp in JIS and a V6-challenging 170 lbft of torque.
For East Asia:
2-litre MIVEC V6: this compact V6 came directly from the FTO coupe. The variable valve timing and twin-cam heads help it to achieve a full 200 horsepower output, although it desperately needs rev and 5-speed manual to compensate the lack of torque. It is installed in the Galant VR-M which is expected to phase out next year.
For Europe:
2-litre dohc four-pot: base engine. 136 hp.
2.4-litre GDI four-pot: differs from the Japanese 2.4 GDI by the reduction of air-fuel mixture ratio for adapting to European fuel. Rated 150 hp in DIN.
2.5-litre sohc V6: smooth and quiet. For effortless driving. 161 hp.
For USA:
2.4-litre four-pot: the 145 hp engine is built in the USA and also supply Chrysler.
3.0-litre sohc V6: 195 hp and 205 lbft, sufficient to rival Accord and Camry.
For transmission, Mitsubishi offers several versions of its Invecs-II auto gearbox. All of them feature adaptive shift program by means of Fuzzy logic control (just like my rice cooker). Without surprise, the Japanese Galant gets the most advanced box, with 5 ratios and the so-called "Sports Mode" control, that is, Tiptronic style manual control. Stuck in traffic, the auto mode is undoubtedly most suitable. When the traffic gets clear, push the gear level to the left column (for RHD cars) and then you can use the + and - pattern to upshift and downshift manually. It's clear and no fuzzy at all ! although it is incomparable to Alfa's Selespeed in terms of speed, it is already better than all its direct competitors which are only provided with conventional automatic transmission.

Again, the best thing is reserved for Asian. What the European gets is the 4-speed version, which is probably unsold stock. Yet it is already superior to the American Galant's 4A without Sport Mode. 5-speed manual is offered for all models except American's V6.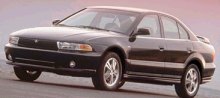 When comes to chassis, the Galant's win hand is finally down. Driving leisurely, its soft suspensions ride smoothly while the light steering aids driving ease. However, assessing a car's handling requires pushing it towards the limit, then you'll find the Galant rolls too much while steering feel is fading out. Soon the car is prone to understeer and runs wide. Compare with European benchmarks, namely 406, Passat, Mondeo and Primera, the Mitsubishi bias towards comfort instead of handling, yet it ultimately can't match the suppleness of 406 or the fluency of Passat, because its soft suspensions were somewhat set up to compensate the lack of chassis stiffness. Tha's why on the most demanding road, the European benchmarks feel not only more sure-footed but also more refined, with less suspension noise generated.
There is a sportier version called GTZ on sale in the USA, which has marginally stiffer suspension, rear spoiler and funny white-face gauges. However, it doesn't improve handling by too much so that some American journalists still prefer Accord's handling.
That�s in the keen driver's point of view. For the majority of family men and women, Galant is still competent enough. Considering the poor Camry can satisfy the most American families, I can't see why the Galant cannot.