| | |
| --- | --- |
| Published on 5 Dec 2006 | All rights reserved. |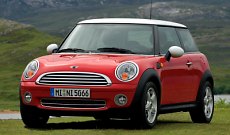 Seeing the second generation Mini will remind you another icon, Porsche 911. The Porsche is famous of evolutionary styling in order to maintain its unique character. The same philosophy has been applied to the new Mini. Well, compare with the Porsche it is even more loyal to the old design. So close that I guess many of you won't notice the differences. Admittedly, the old design penned by Frank Stephenson (now Fiat's design chief) has been overwhelmingly successful and loved by the fans of Mini all over the world. BMW's surveys found most owners do not want to change the way it looks – by the way, the Mini is the only design in BMW without influenced by Mr. Bangle – so BMW decided to keep its look. It even keeps the same height, width and wheelbase as the 2001 car. Only 70mm has been added to the length - most spent on the front overhang - to improve crash protection (the old car scored poorly in its first Euro NCAP test). Besides, the bonnet is set 20mm higher to comply with pedestrian safety regulations. Sadly, that makes the Mini look slightly bulkier, or less mini.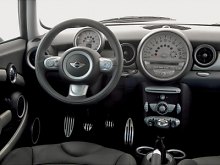 Inside, there are not much changes either. The center console is again dominated by a large speedometer, and then circular air vents, toggle switches and two-tone color complete the funky yet retro look. Unquestionably, quality of materials have been improved. Still, it is not as expensive-feeling as other BMWs, or Mercedes A-class. Space at the rear seats remains scarce as the wheelbase remains at a relatively short 2467mm. Also bear in mind that the Mini's multi-link rear suspensions, developed from BMW's outgoing Z-axle, is no where as compact as most other mini cars' torsion beam suspensions. That means both the rear passenger space and luggage space are precious in the Mini. Anyway, being a niche icon car whose customers are usually young singles, accommodation is not an important issue to Mini.

Big changes are found under the bonnet. Previously, the headlamps are mounted on the clamshell bonnet. Now they are mounted on the car body instead in order to simplify assembly and reduce repair bills. However, the biggest change is the engine. Gone is the outdated Chrysler-sourced, Brazilian-built Tritec 1.6 engine. Its position is substituted by BMW's own 1.6-liter engine built in its Hams Hall engine plant in England. On the one hand this raises the Mini's British content to 60 percent, on the other hand it improves refinement and efficiency significantly. The BMW engine has aluminum head and block, so it is lighter than the iron-block Tritec by 10-15 kilograms and should offset the longer front overhang. The Tritec did not have any kinds of variable valve timing, but the BMW engine has dual-VVT, or in BMW's language, Bi-Vanos. To improve fuel efficiency, it employs Valvetronic variable valve lift in place of conventional throttle butterflies to reduce pumping loss. Besides, it uses a water pump and oil pump driven by electric motors. They work according to cooling / lubrication demand, unlike conventional mechanically driven systems which work continuously at any time. The result is less energy wasted and higher fuel efficiency. Overall speaking, EU combined cycle has been improved from 42.1mpg to 48.7mpg. Max power increases from 115hp to 120hp while max torque increases from 110 lbft to 118 lbft, accompany with a broader torque curve. Brilliant.


That is for Cooper. What about the supercharged Cooper S ? BMW, like Mercedes-Benz, sees mechanical supercharger as a thing of the past, so the new Cooper S switches to turbocharging. A light-pressure turbocharger feeds the engine with boost pressure up to 0.8 bar. This generate 175 horsepower at 5500 rpm and 177 lbft from 1600-5000 rpm, considerably more than the outgoing 163 hp @ 6000 rpm and 155 lbft @ 4000 rpm. Note that the peak torque now spread over a much wider band, partly thanks to the use of a twin-scroll turbocharger, which separates the exhaust gas from two groups of cylinders to prevent from back pressure interference, thus improves turbine response. Furthermore, a momentary overboost can raise the maximum torque to 192 lbft in case you want to overtake other cars. The turbocharged engine has VVT at intake side only (i.e. Vanos). It does not have Valvetronic either, but it gets direct fuel injection to achieve the same result – EU combined consumption is improved from 33.6mpg to 40.9mpg.

In the chassis, there are less changes. The most noticeable is the power steering, which switches from hydraulic to pure electrically assisted. Another are the rear multi-link suspensions, whose longitudinal trailing arms are now made of aluminum to reduce unsprung weight, hence improving ride quality.



On the Road



As a fan of BMW, I expected the new Mini to be faster and more exciting to drive. However, in real world it appears to be biasing towards refinement. The new engines are noticeably smoother and quieter than the Chrysler units. The Cooper S no longer emits that uninspiring supercharger whine. Power delivery from the turbocharger is linear and refined, but it is not especially memorable. On the one hand, some people might criticize it for lacking the tractability of Peugeot 207GT Turbo (which uses the light-pressure version of this engine) at below 2000 rpm. On the other hand, keener drivers might feel disappointing that it lacks an explosive mid-range kick and its power tail out early. Well, 0-60 mph in 6.7 seconds is okay to most hot hatches, but we should expect more excitement from BMW and Mini.


The focus in refinement is clear everywhere. Move the gear lever of the Getrag 6-speed manual transmission, you will find it shifts crisper than the old unit. Drive the Mini over road irregularities, you will find its ride quality becomes much more compliant. The old Mini was never famous of refinement, so it is a surprise / disappointment to find BMW shifted its focus…

We used to describe the old Mini handled like a go-kart, thanks to its sharp steering and flat body control. The new Mini still excels in grip, poise and agility. But compare to the old car it is less go-kart-like. The combination of softer ride and more understeer built into the chassis takes some edges away. The electric power steering is the best of its kind to date, being precise and weighty without artificial, but still it is not truly feelsome.

The new Mini is very forgiving to driver errors. Like any good hot hatches, lift off the throttle in mid-bend will tighten its line. However, the chassis won't allow oversteer, unless you turn off the DSC and try very very hard to provoke it. But does safer mean more fun ? does more refinement bring more involvement ? to car enthusiasts, the answer is negative. The original Mini was only a tin wrapping the driveline and rubber suspensions. Every vibration pulse passes from the floorpan directly to your bum. Every decibel of noise passes from the uninsulated firewall and waver-thin glass windows to your ears. Yet you got excited every time having your hands on its steering wheel. Why ? it's time to rethink.
Verdict:




| | |
| --- | --- |
| Published on 4 Oct 2007 | All rights reserved. |
Mini Clubman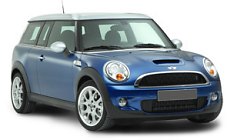 So far Mini has been successful in attracting young singles or couples thanks to its fashionable design and fun to drive factor. But family buyers rarely consider it because it lacks a proper rear seat space and luggage space. To broaden its appeal, BMW has derived a family version of Mini called Clubman. It has the wheelbase stretched by 80 mm to 2547 mm, which is competitive in the supermini segment. This allows a couple of 6-footers to fit into the back seats for the first time. To ease access to the rear seats, a rear door has been added to the right side of the car. At the back, a longer rear overhang adds 100 liters to the luggage space, while a pair of side-hinged luggage doors are adopted to resemble the classic Mini Clubman and Traveller of the 1960s.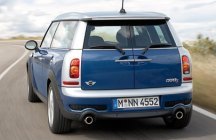 So it is more practical to use than the regular Mini, but can it match conventional mainstream superminis ? The answer is still negative. While other cars have two full-size rear doors, the Mini Clubman's rear door is strange: half-size, rear-hinged ("suicide door") and only available at the right side. The latter is the most ridiculous thing to its home market (also the biggest market), the UK. It means passengers have to get off to the traffic side, which is risky to children. BMW said the location of the fuel refiller cap prevents from installing the rear door at the left side. Obviously, they found the cost for reengineering too high.
The rear passenger door is not very practical to use, so are the rear-hinged luggage doors. Why do we need to open two doors instead of a simple lift of a tailgate like other hatchbacks ? Why does the Clubman needs those additional cost for engineering and producing the two doors ? Well, sometimes you have to sacrifice something for a distinctive style.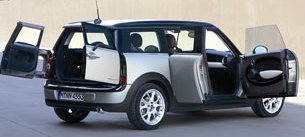 Open the luggage doors and you will understand why I said the Clubman is not a real estate – the boot measures only 260 liters, smaller than conventional hatchbacks like Renault Clio and Fiat Grande Punto. However, once you fold down the rear seats, a usefully large load bay is revealed.
The Clubman is offered with all engines from the regular Mini except the smallest 1.4-liter petrol. In other words, 120hp 1.6-liter, 175hp 1.6 turbo and 110hp 1.6 turbo diesel. As the car gains only 80 kilograms, performance is still pretty impressive. On the road, the longer wheelbase and softer suspension setting contribute to a welcome improvement of ride comfort. Handling suffers just a little, so it is still agile and fun to drive compare with most other superminis. More problematic is the price - it charges almost 10 percent premium over the 3-door, far more than the industrial norm. This make an expensive little car even more expensive. Then you have to consider the near useless rear door...
Verdict:




| | |
| --- | --- |
| Published on 17 Jul 2008 | All rights reserved. |
Mini John Cooper Works

| | |
| --- | --- |
| | Now John Cooper Works is a BMW in-house product... |
AutoZine did not wrote about the last generation Mini John Cooper Works (JCW) because of our policy that excludes tuner's cars. But this time is different. BMW acquired the rights of JCW brand from the son of John Cooper in late 2006. As a result, JCW becomes the performance sub-brand of Mini, just like the M-division of BMW. The new Mini JCW is therefore developed, produced, sold and serviced by BMW just like the regular Mini.

The JCW has its 1.6-liter direct injection turbocharged engine boosted to 211 horsepower – that is some 132 horses per liter ! Maximum torque is equally impressive at 206 lb-ft from 1850 to 5600 rpm. This increment is achieved by raising its turbo boost, using heat resistant valves and stronger pistons, strengthening its cylinder sidewalls, improving intake manifolds and exhaust system. The gearbox also needs strengthening to cope with the extra torque. Top speed is now 148 mph instead of 140 mph. 0-60 mph is reduced by 0.3 seconds to 6.2 sec. It is faster than most hot hatches on the market.

In line with the increased performance, the brakes are upgraded to Brembo units (as you can see from the red calipers). Front and rear discs measure 316 mm and 280 mm respectively, which is really large for a hot hatch weighing only 1130 kg. Suspension setting remains unchanged, although you can opt for a stiffer and 10mm lower setting. Larger 17-inch wheels (18 in optional) wear 205/45 rubbers to enhance grip.

On the road, the JCW is seriously fast yet its engine is surprisingly free of turbo lag. Ride is quite stiff due to the lower profile run flat tires, but body control and road-holding is excellent. New dynamic stability control allows more slip before intervening, thus delivers more fun. New electronic differential lock applies braking to the spinning inside wheel to simulate the function of LSD. It does improve the handling in tight corners. However, it cannot stop the torquey engine from generating torque steer, which is the biggest flaw of the car.

The JCW is also too pricey. It costs 30 percent more than Mini Cooper S, even more expensive than Volkswagen Golf GTI, Scirocco 2.0 TSI and Ford Focus ST which are a class above. On the other hand, its standard equipment level is low. This mean it will be an exclusive niche rather than a big seller.
Verdict:




| | |
| --- | --- |
| Published on 23 Sep 2011 | All rights reserved. |
Mini Coupe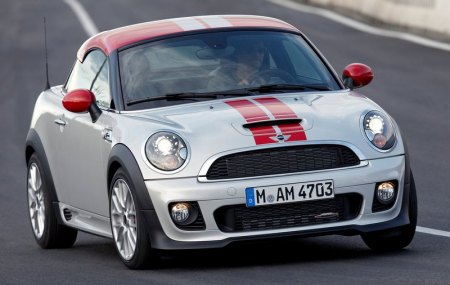 Turning the compact Mini into a 2-seater coupe seems to be a good idea. Less weight, a more slippery shape, higher chassis rigidity, stiffer suspensions and a little bit more power should give the Mini Coupe sparkling performance and handling to lure buyers from Peugeot RCZ, Audi TT and even Mazda MX-5. However, the story did not turn out as expected…

First of all, the Mini Coupe actually weighs 25kg more than the equivalent hatchback. Why? Because it is derived from the chassis of Mini Cabriolet instead of hatchback. Its maker said this brings the benefit of higher chassis rigidity (though without revealing by how much) as the chassis of Cabriolet has reinforced floorpan. It goes without saying that the reinforced floorpan was introduced to compensate for the loss of roof, but why does the hardtop Coupe also need it? This seems unexplainable until you realize that the Coupe has a twins sister on the pipeline – Mini Roadster. The latter was unveiled two years ago at Frankfurt motor show together with the Coupe, and will go on sale next year. For standardization of production, both cars share the same chassis. This explains why the Coupe employs the reinforced chassis even though it does not need it. Consequently, the Coupe is engineered such that its roof and C-pillars contribute little to structural strength. If this approach sounds familiar, it may be because you have heard the same for Aston Martin DB7 Zagato and DB AR1.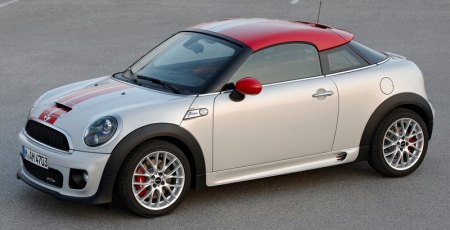 Despite of a 23mm lower roof line, 13-degree faster windshield and fastback rear window, the Mini Coupe does not look sleek enough to worth the "coupe" name. Apart from the greenhouse, it is practically the same as the regular Mini hatchback. This mean its style is not as convincing as clean sheet designs like Audi TT and Peugeot RCZ.

But even more disappointing is the same interior as the regular Mini – not just dashboard, but also switchgears, seats, trimming and door panels. That centrally mounted speedometer might be fine for a funky car, but on a coupe it sounds like a joke. The plastic quality also reveals the age of its origin. After all, the current generation Mini is nearly 5 years old.

Even though the cabin is now strictly for two, each of the occupants finds no extra space to stretch legs and arms. The lower roof contributes to a more confined ambience. This is not helped by the tiny rear and quarter windows, which lead to poor rear visibility.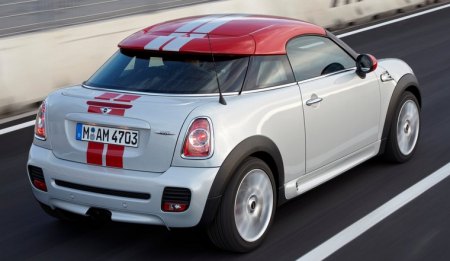 In short, packaging is the weakest spot of Mini Coupe. In the mechanical side, it is far better. All engines bar the entry-level 122hp 1.6-liter naturally aspirated engine provide good power and flexibility. The 184hp Cooper S and 211hp John Cooper Works model are naturally our choices, but even the 143hp 2-liter diesel is no bad choice. With slightly stiffer dampers and anti-roll bars, the suspension provides higher resistance to body roll. At speed, a rear spoiler raises from the boot to generate 40kg of extra downforce (which means the roof-mounted spoiler is more cosmetic). Chassis balance, grip, steering and braking are all very good for its class. For pure driving fun, the Mini Coupe trails only Mazda MX-5, leaving Audi TT and Peugeot RCZ in dust.

However, the same can be said for the regular Mini JCW hatchback. The Coupe offers no advantages in power and performance. It might have a slight edge in handling, but the firmer ride puts it closer to the territory of unacceptable. As a result, it is less enjoyable than the hatchback to exploit on mountain roads.

Without a more distinctive look, interior and better dynamics, the Mini Coupe is hard to persuade us to switch from the hatchback, which offers more practicality at less money.

Verdict: