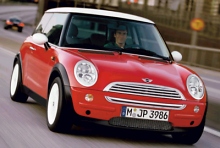 What WAS Mini ? an econo car of the 60s? a 41-year-old living history? a technological breakthrough in city car design? a 3-time Monte Carlo rally winner wearing a badge donated by John Cooper? a transportation for Italian Job? Mr. Bean's car (plus arch-rival to Reliant Robin) ? all correct. No other cars ever enjoyed such a colorful life. Now BMW - ridiculously, not BMC, Leyland, Austin or Rover - wants to replicate the success of the original Mini.

To the British, and those admiring the original British Mini, it is important to make the new Mini feels British and build it there. When BMW and Rover were still in honeymoon, that's not a problem. However, since the signed-off prototype was shown to the public in 1997 Frankfurt motor show, things changed quickly. The German realized they should monitor closely the development program in order not to repeat the quality problems of the early Rover 75. Most of the development work was carried out by Rover's engineers (now BMW seems reluctant to admit), but every important decision such as styling and mechanical layout was made by Munich after extensive evaluation. As the name Mini fits into BMW's range very well (under the forthcoming 1-series), no wonder when BMW decided to spin off Rover and Land Rover it insisted to keep the Mini with itself, transfered all remaining work to Munich, tuned its handling on Nurburgring. Since then, the British actually lost one of its proudest labels ever established (others are Rolls-Royce and Bentley, also went to the German). Development was delayed a bit, the same goes for production, because BMW had to wait for the production line of Rover 75 to be moved out from the Crowley plant, then renamed it to Oxford plant and installed new production line for Mini. As a result, the new Mini comes a year later than planned.

After knowing the background, let's concentrate on the car. Like Volkswagen new Beetle, the Mini Mk2 looks like the original in sheet metal but is actually something else underneath. Predictably, to meet modern requirements of crash protection, comfort and refinement, it grows a lot in all dimensions. At 3.6 meters length, it is half a meter longer than the original. Needless to mention, it also boosts much larger width, tracks and wheelbase to accommodate "modern human". Compare with modern cars, it is in the same class as Peugeot 206 and Toyota Yaris, but with longer wheelbase because it pushes all 4 wheels to the corners like the original Mini.

That doesn't mean the new Mini as light or as spacious as its supermini rivals. On the contrary to its predecessor, the new Mini is a bad example of packaging. Although front seats are reasonably spacious, the rear passengers have no much legroom - Yaris and 206 have it beaten painfully here. Luggage space is also extremely small, just marginally better than the sub-mini Volkswagen Lupo. Put it on scale, the needle will point at 1125 kg for the Mini Cooper or 1115 kg for Mini One - the base model. A question must be asked: where do those extra kilograms come from? where is the long wheelbase spent?

Touch the dashboard, drive the car over twisty roads and you'll know the answer. This new Mini is no longer a poorly-finished British icon, it is a junior BMW under Mini's clothes. The bodyshell is super rigid, 3 times as class standard and even stiffer than the current 3-series. The rear suspension is a simplified version of Z-axle. Though using steel frames instead of aluminium and using concentric springs and dampers instead of separate items, it is still the most sophisticated among competitors, most of which ride on half-independent torsion-beam. Now you know where the extra wheelbase is spent to.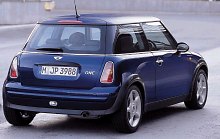 The cabin feels BMW too. Fit, finish, plastic quality and switch gears are far superior than ordinary superminis, including Mercedes A-class. Only Audi A2 feels more expensive, but then you'll realize the new Mini is aggressively priced to compete with high-spec superminis rather than the Golf-rivaling A-class and A2. Considering the time and money spent into development, and the 100,000 units annual sales target, industry insiders believe it might make a loss like its predecessor, or at best break even. Anyway, BMW is already planning more derivatives from the Mini, so things might not result as bad.
The exterior styling was carried out by American Frank Stephenson in Munich. It preserves many visual cues of the original Mini, such as round headlights, chromed grilles, sculptured bonnet, cap-like roof and two-tone color scheme (the roof is painted differently). No matter from which angle, the new car looks familiar. However, I don't think it is a modern interpretation of the old car. If Sir Issigonis were still alive, he would not have approved such a retro car. You know, the old car was famous for forward-thinking, not going backward. Going backward is what BMW design boss Chris Bangle prefers.
The interior was styled by ex-Rover designer Tony Hunter, who went to Ford accompany with Land Rover. He also chose a retro theme, placing a big rev counter above the steering wheel and an even bigger speedometer over the center console. Otherwise many plastics are colored in silver, something like Audi TT rather than Mini. Yes, although the cabin design is imaginative and funny, it doesn't deliver any character of the old car. You won't distinguish it if it is placed in a Chrysler or Volkswagen.
The Mini is powered by a 1.6-litre 16-valver produced in Brazil by Tritec Motors, a joint venture between BMW and Chrysler. As I know, it was actually designed by Chrysler. The iron-block engine is quite light, at 120kg. It is not as eager, refined or torquey as BMW's own 1.8 Valvetronic (which is for longitudinally mounted only), but reasonably able. Cooper model has it tuned to 115 hp and 110 lbft at a peaky manner. Mini One has a lower stressed version pumping out 90hp and 103 lbft. For the Cooper model, there is reasonable power available from 1500 rpm, and it revs quite smoothly and linearly up to 4,500 rpm. From then to the 7,000 rpm cut-out, it becomes harsher and noisier. A Ford Zetec 1.6 will have it beaten in terms of eagerness towards red-line. However, the biggest problem for the engine is that it is characterless, neither torquey nor sharp in throttle response.
Both the 5-speed manual or Steptronic CVT came from the Rover era, the latter is still using by MGF, with 6 pre-defined ratios in sequential mode. Gearchange of the manual box is slick and light in action, matching the light clutch very well. Ratios, however, are less ideal, as the last two gears are too tall to satisfy cruising consumption rather than outright performance. 0-60 in 9.3 seconds and 0-100 in 28.4 seconds are right on the warm hatch league, but mid-range acceleration 30-70 mph and 50-70 at top gear proved to be very slow, thanks to the inadequate gearing and inflexible engine. Admittedly, heavy weight also plays an important role.
So far, we have seen nearly every aspect of the car, all of them give us mixed impression. However, the most important aspect to the Cooper - handling - is not yet assessed. This time it succeeds overwhelmingly. It might not be the sharpest supermini chassis - that remains to the lightweight Ford Fiesta, but its ability to combine hugely rewarding handling and uncanny ride is incomparable. The basis is a firm but expensive-feeling suspension that is so soothing and so compliant over rough surfaces. Had he known this, Sir Issigonis would have regretted about his idea of rubber suspensions. Above the beautiful ride quality is great handling. Fly the new Mini into corners, the suspensions resist body roll so well, the weighty steering is so responsive (just 2.5 turns from left to right), accurate and communicative that it always ask for more speed to exploit the potential of chassis. Despite of 175/65 tyres, the Mini Cooper inspires the drivers no less than the best hot hatches. Lift off mid-corner, it will tail out a bit, but just a little bit before it regain grip. Look at the spec: front to rear weight distribution is a poor 62:38, so how does it balance so well ? only Z-axle can tell. Strong chassis also plays an important role to keep suspension geometry unchanged at the hardest cornering.
Anyway, the new Mini does not drive like a go-kart, unlike what BMW said. Its steering is too heavy and too refined for that.
The world has really changed. The old Cooper inspired drivers by its go-kart-like directness. The new Cooper undoubtedly feels heavy and less crisp, but it is no less involving while being super comfortable. Best of all, the new chassis is actually designed to handle more powerful engines in the future. Later, we'll see a supercharged Cooper S pumping out 163 hp and a desperately-needed amount of torque. A 200hp Alpina version is also coming. By then the Mk2 Mini will be really an awesome hot hatch.