| | |
| --- | --- |
| Published on 23 May 2011 | All rights reserved. |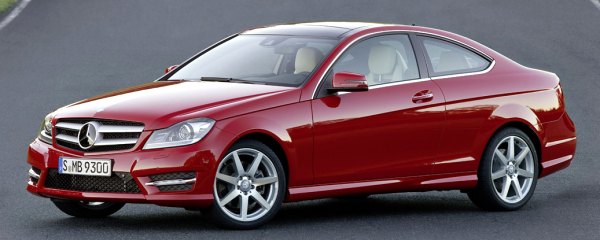 C-class Coupe seems to be a new product line to Mercedes, but in fact it isn't. Remember the CLK-class running from 1997 to 2009 in two generations? It was the direct predecessor of C-class Coupe. Since the last CLK came to demise, Mercedes planned to replace it with not one but two coupes – a larger and more upmarket one is called "E-class Coupe". Despite of its name and its styling, it is actually built upon the C-class platform, albeit with more upmarket features like frameless windows, convertible derivative and Aircap option. Slotting underneath that car is the C-class Coupe. Like BMW 3-Series Coupe but unlike Audi A5, the C-class Coupe does not try to pretend a standalone model but the coupe version of its sedan sibling. It does get a faster windscreen and C-pillars and a 41 mm lower roof line, but everything underneath is the same – the same wheelbase, the same suspensions, steering and powertrains. Even the dashboard is identical to that of the C-class. Is it a little bit boring ?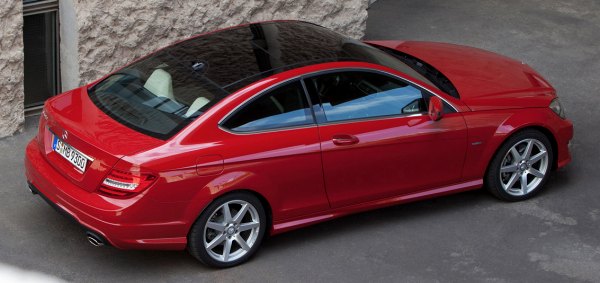 Well, depending on your view. If all you want is C-class level of everyday comfort in combination with a coupe look and a bit – just a bit – more spicy flavor, then this car will be perfect to you. The extra sparkles come from the slightly stiffer 2-door body shell, its slightly lower center of gravity and the standard fitment of AMG sports suspension (15 mm lower and stiffer). This mean the Coupe corners a little bit better than the sedan, if not ultimately as agile as BMW 3-Series Coupe. No matter with the standard ZF-Sachs amplitude selective dampers or the optional electronic adaptive damping, the C-class Coupe displays an edge to its German rivals (especially Audi A5) in ride quality. Consequently, comfort-biased drivers will prefer the Mercedes. Keen drivers will still prefer BMW's sharper steering and better balance, but they would admit the C-class Coupe has closed up the gap a lot from the days of CLK.

Among the 5 engines on offer, we prefer the economical yet punchy turbocharged four cylinders than the naturally aspirated 3.5-liter V6. Both the 1.8-liter DI turbo petrol and 2.1-liter CDI twin-turbo diesel produce 204 horsepower and a lot of torque, enabling a relaxed manner in highway cruising. The V6 is not bad, just don't expect the level of performance provided by BMW 335i's turbocharged straight-six.

The weakness? While the individual rear seats are reasonably accommodative for sub-six-footers, access to them are not so easy, blame to the small door apertures and the presence of B-pillars.

Verdict:




| | |
| --- | --- |
| Published on 25 May 2011 | All rights reserved. |
C63 AMG Coupe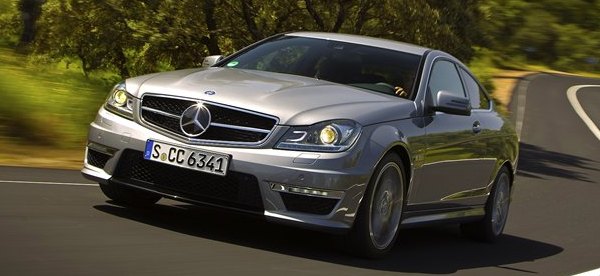 For long BMW M3 has been the benchmark and dominating force in the compact premium performance coupe segment. Things start changing in recent years. On the one hand, the latest M3 is no longer as great as it used to be, blame to its slightly downgraded steering feel and agility due to the transformation to V8-power. On the other hand, its rivals have upgraded their effort to challenge the BMW. Last year this time we saw Audi RS5, which ticked all boxes except driver engagement. In the second half, Cadillac CTS-V Coupe stole many headlines with its Detroit firepower. Now Mercedes responds with its latest C63 AMG Coupe.

AMG is no stranger to this class. More than a decade ago it already started producing CLK55 AMG. However, no matter that car or its successor CLK63 AMG, they failed to challenge BMW M3 in the eyes of car enthusiasts, because the AMG coupes always had their engines overwhelming chassis. As a result, they were more suitable to autobahn than back roads. Only the very exclusive CLK63 Black and CLK DTM worth our highest respect, but then they were absurdly expensive.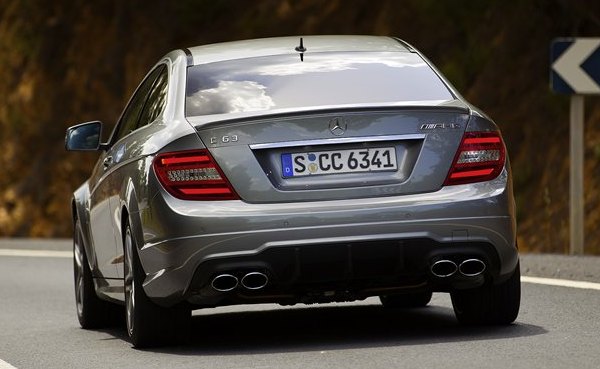 This time is different. We know the new C63 Coupe has the same engine and chassis modifications as the C63 sedan, which already toppled BMW M3 in our performance sedan chart, so it has a good chance to beat the M3 Coupe as well.

Cosmetically, the new AMG coupe seems to have the right ingredients to win the beauty contest. Thanks to the power bulge on the bonnet and substantially widened front wheel arches, it looks far more purposeful than the standard C-class Coupe. It looks great in details too, thanks to the grille, bumpers, spoilers, wheels and oval quad-tailpipes unique to the AMG.

Inside, the basic layout is the same as other C-class, but it gets a small-diameter flat-bottomed steering wheel and a pair of bucket seats, both are trimmed with part leather and part Alcantara to improve grip. Behind the steering wheel is a pair of aluminum gearshift paddles, also unique to the AMG model. If not visually attractive enough, you may opt for carbon-fiber decors on the dashboard and door panels.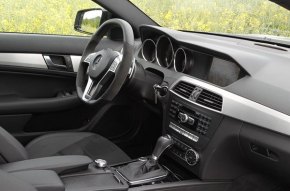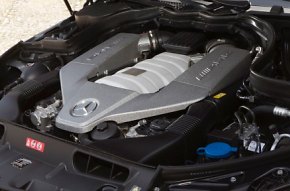 Fire the 6208cc V8 and you will immediately realize its advantage over M3: power. In standard tune, the AMG V8 produces 457 horsepower and 443 pound-foot of torque, some 37 hp and 148 lbft more than M3. Add AMG's performance package and you will get another 30 horsepower. This is achieved with the lightweight forged pistons, con-rods and crankshaft taking from SLS AMG. They combine to save 3 kg of rotational mass.

Even higher output could have been achieved should AMG introduced its newer M157 5.5-liter biturbo V8 to the car, but thankfully it didn't. Actually, we prefer the classic M156 to the M157 for its linear power delivery and superior sound quality. Even though it is already 5 years old, it is still the ideal V8 every powertrain engineer would dream of. It is the only V8 engine capable of producing 369 lb-ft of torque from merely 2000 rpm yet revving easily to 7200 rpm, delivering a razor sharp throttle response at any rev and releasing a NASCAR-like thunder at full song. It is the most versatile and the most engaging V8 ever built. If not the call for low-carbon emission, it might just live for another decade or two !




With the help of such a wonderful engine, the C63 Coupe could easily destroy its oppositions. According to the factory claims, 0-62 mph can be done in 4.4 seconds in standard form or 4.3 seconds with performance package. Both are noticeably quicker than M3 (4.8 sec with manual or 4.6 sec with DCT) and Audi RS5 (4.6 sec). Only the Detroit muscle of Cadillac CTS-V Coupe might outpace it with a bit luck.

On the road, the difference between this car and M3 is even more obvious than the figures suggested. Because it offers so much more torque low down, it feels significantly more punchy in the real world. Acceleration is instantaneous once you floor down the throttle, so its performance is stronger yet more easily accessible than its German rivals. The new 7-speed MCT gearbox is also responsive enough on most occasions except upshift, thanks to the use of a multiplate clutch instead of torque converter. AMG's Speedshift program offers four operation modes – Comfort, Sport, Sport+ and Manual – with different levels of speed, refinement and computer intervention to satisfy the driver. It is not as fast as a twin-clutch gearbox, but it is definitely better than the 7-speed automatic on the original C63 sedan. Furthermore, its Race Start launch control program makes a smooth launch far easier to achieve than the super-torquey Cadillac, so when AMG speaks of 0-62 mph in 4.3 seconds, it means what normal drivers can repeatedly achieve.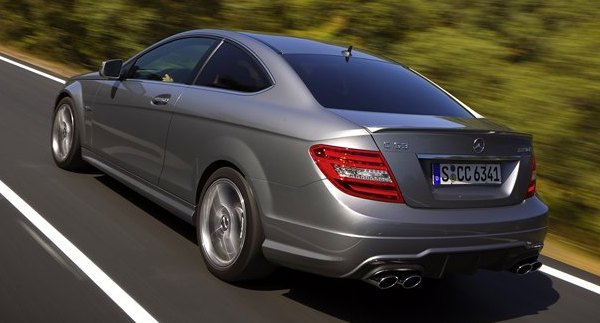 Regarding handling and ride, the car is similar to C63 AMG sedan with which it shares suspensions, steering and brakes, just a touch sharper due to its slightly stiffer chassis and lower center of gravity. Compare to the regular C-class Coupe, the front suspensions have different geometry and virtually all components are unique to the AMG version. This contributes to better roadholding and steering feedback. At all four corners, AMG's high-performance fixed rate dampers replace the regular car's adaptive dampers.

We have no doubt that the chassis of M3 is sharper still and better balanced. After all, the AMG has a heavier V8 hanging above its front axle. However, the defeat here is not big enough to ruin its chance of winning the fight. What it loses in balance is compensated with richer steering feel and a more powerful, fade-free set of brakes. In addition to superb body control, excellent grip and livable ride (on standard 18-in rims at least), it actually gives the driver more confidence to attack mountain roads. Better still, AMG did not forget to give the driver full control of its steering attitude. Turn off the stability control, find a fast curve and keep feeding the rear tires with its deep reserve of torque, you will get a beautiful power slide.

The bottom line is, C63 AMG Coupe is not only immensely quick but also hugely engaging to drive, no matter through your ears, hands or foot. It deserves the highest regard among its rivals.

Verdict:





| | |
| --- | --- |
| Published on 15 Dec 2011 | All rights reserved. |
C63 AMG Coupe Black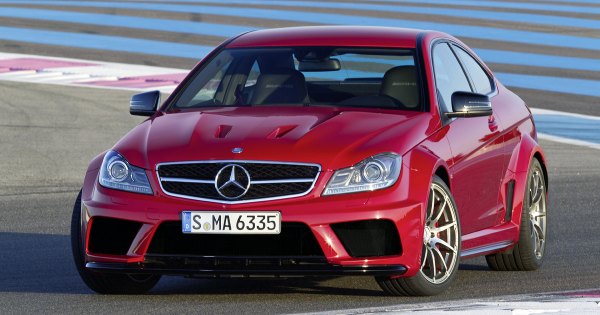 The CLK63 Black series launched in 2007 was a turning point in the history of AMG. It showed that AMG was capable to produce driving machines as good as Porsche 911 GT3 once it determined to do so. To a performance marque like AMG, what could be more important than a sporty image? With the addition of Black Series, AMG can lift its image beyond the level of BMW M cars and Audi RS line, while keep earning the bulk of its profit by selling regular AMG models to less hardcore customers. In this way, a two-tier AMG models structure is established.

Following the demise of CLK, the position of CLK63 Black is taken by C63 Coupe Black. A scan through its specifications will find the car is remarkably close to the original. For example, it runs much the same 6208 cc M156 V8. Its size, suspension mods and weight saving measures are also familiar. That's not a bad thing, as the old car was praised for excellent performance and handling and, best of all, highly entertaining to drive. Following the same formula guarantees that the merits will not be dampened by complications. After all, the only thing really needs to update is not the old wine but a new bottle.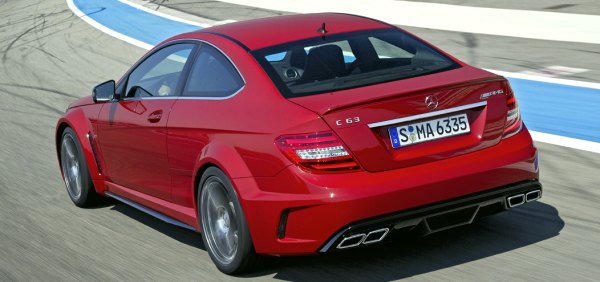 The new bottle is definitely more striking. While the regular C63 AMG Coupe speaks of a gentleman performance car, the Black version is apparently a track car. It gets much more aggressive air dams, monster-size cooling intakes, air extractors on the bonnet, square tail pipes and race-car-style widened fenders. The latter are used to accommodate the wider tracks (up 40mm front and 79mm rear) and fatter rubbers (255/35ZR19 front and 285/30ZR19 rear). If that is still not enough, you may opt for the track aero package which adds winglets at the sides of front bumper and a high-mounted, adjustable rear spoiler – both are made of carbon-fiber. The aero pack halves front end lift and reduces rear lift to nearly zero.

The suspensions are not just lower and stiffer than those on C63 Coupe, they are actually brand new. They feature race-car-style coil-over-damper units to provide (manually) adjustable ride height, camber, compression and rebound so that you can tailor the chassis to the track for best handling. As in the old Black, each of those 19-inch forged alloy wheels weighs nearly 3 kilograms less than the one on C63, so ride quality and steering precision can be enhanced. Inside the front wheel is a 390mm carbon-ceramic brake disc clamped by 6-piston caliper. At the rear is the combination of 360mm steel disc and 4-pot caliper.

For track days, you will need the track package. It includes super sticky Dunlop Sport Maxx rubbers and a rear differential cooler.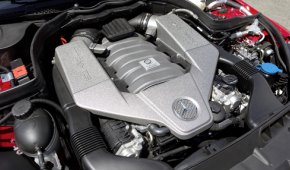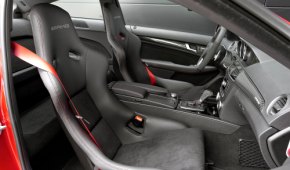 The M156 engine received the least modifications. Hardware-wise, it is identical to the one on C63 Coupe equipped with Performance package. This mean it gets the SLS-spec lightweight forged pistons, con-rods and crankshaft for better high-end delivery. A revision to engine management system raises its maximum output by 30 horses to 517 hp, accompany with 14 pound-foot of extra torque. Compare with the old CLK63 Black, it has a slight advantage of 10 hp but 8 lbft less torque. However, the old car's 7-speed automatic has been replaced with the more responsive 7-speed MCT. Its Speedshift program offers Sport+ and Race Start mode.

Like its predecessor, the interior features lightweight Recaro sports buckets and Alcantara trim to deliver a more serious message. The deletion of rear seats also show its uncompromising intention, although you may choose to add them at no extra cost.



On the Road



Predictably, the C63 Coupe Black is no quicker than its predecessor. After all, a 0-60 mph time of 4.1 seconds (or 3.8 sec with racy tires) and 186 mph top speed is plenty fast, especially for a car installed with automatic-based transmission. It might lack the raw punch of its turbocharged rivals in acceleration, but it rewards you with a marvelous soundtrack and delicious linearity, something a hardcore machine needed.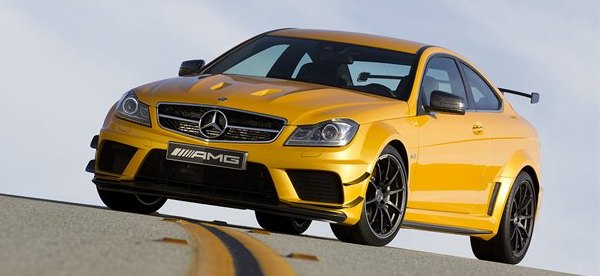 Contrasting to the tradition of AMG, this car has a stronger chassis than engine. Its chassis feels effortless to handle all those horsepower, thanks to immense grip, powerful brakes and rock solid body control. The steering is quick, precise and well weighted, if not as transparent as Porsche's. The car is well balanced and willing to turn into corners, although ultimately not as agile as a GT3 RS 4.0 due to its extra weight at the nose. Its cornering attitude can be easily modulated by throttle, turning from understeer to oversteer at your wish. At the limit, its attitude is far more benign than the old CLK Black, not easy to swap ends when you abuse the power. The ride is firm, of course, but it leaves enough compliance for road use, so the car is far easier to live with than its racy looks suggested.

The only disappointment is the MCT gearbox. Its paddle-shift action is nowhere as responsive as a DCT, nor as engaging to use as a manual.

That said, the C63 Coupe Black is just as entertaining to drive as its predecessor while being better mannered. A price of £110,000 is a lot for the performance it delivers, but there are not many cars at this price could deliver the same kind of driving thrills, and even fewer feel as special as the Black series. AMG is going to build only 500 to 600 units of this car (update: eventually 800 cars were built). Expect they will be sold out quickly, if not already.

Verdict: