This is just the second generation of CLK, but its history can be traced back to 1968 when Mercedes launched its first generation CE coupe. The CE coupe, as well as its successors launched in 1976 and 1986, was derived from Mercedes' mid-size sedan equivalent to today's E-class. From 1997, Stuttgart decided to base it on the smaller C-class platform, mainly for lower cost rather than technical reasons. This became the CLK. Oddly, Mercedes still masked it with headlamps resembling the E-class, pretending to be an E-class coupe.

Now comes the new, second generation CLK. It is definitely a lot better than its predecessor - looks prettier, goes faster, rides & handles better... not just because of the usual evolution of technology, but Mercedes really committed a lot of development into the car and its chassis donor.

The first thing catching my attention is its handsome styling. Now the CLK finally does not try to hide its bloodline. You can easily see its C-class root by the similar peanut-shape headlamps. If you dislike the quad headlights of E-class like me, this must be a good news to you. The design of new CLK reaches very high standard - sleek, elegant and simple, most people will easily love it. Its smoothness, instead of aggressiveness, reminds me the traditional style of Mercedes coupes, separating itself clearly from the muscle-full BMW coupes. Both attract me, but the CLK will definitely appeal more to female customers.

Though base on C-class platform and share the same wheelbase, it has longer nose and tail to enable the coupe styling. Not a single piece of body panels is shared, including the steeper raked windscreen and rear window.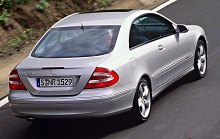 Compare with another C-class coupe - the hatchback C-class Sports Coupe, contrast is even bigger. The Sports Coupe's compact shape might look more aggressive, but it lacks the elegant style of the real coupe and feels definitely cheaper. In fact, Mercedes deliberately positions it lower than the CLK, as you can see from its all-4-cylinder engine lineup. In contrast, the CLK has a couple of V8s to choose from (5.0 and AMG 5.5), not even the C-class sedan can compare with.
Thanks to the W202 donor platform, the new CLK is benefited with rack-and-pinion steering (instead of the old car's inert recirculating ball design), a new 3-link front suspension and an aluminum-intensive rear multi-link suspension. Also, the chassis is 40% stronger in torsion than the old CLK, even though it gets rid of B-pillars!
Discarding B-pillars improves a lot to the airy feel of cabin, especially when you wind down all the windows. The interior is also well designed, if not trimmed with the best materials. Mercedes could have used the decent dashboard from C-class, but for sense of uniqueness it gave the CLK a new dashboard with clean details and elegant circular air vents. Front seat comfort is always a strong card for Mercedes, so is this CLK. It also provides good rear passenger space, though both head and legroom are not as generous as Peugeot 406 Coupe.
Performance and refinement
You can feel the CLK is so well developed. Its chassis is so strong, suspensions are so absorbent, noise insulation is so good... so refined that sometimes you wonder why we buy coupes. Excitement is probably not the answer for most buyers, but good styling and self-presentation are. In this case, the Mercedes is fully successful. The CLK has look and image. Besides, it feels as refined and comfortable as other Mercedes sedans.
All of its engines are smooth and most of them are extremely quiet. Even the new generation M-series supercharged four-cylinders are wonderfully smooth, just the supercharger becomes a bit vocal above mid-rev.
The four-cylinders appears in CLK200 Kompressor (163hp) and CLK200 CGI (170hp), both are equipped with variable valve timing and twin-balancer shafts. CGI runs at direct injection. They are never fast cars, because the new CLK is 110kg heavier than its predecessor, but the supercharged engines are torquey enough for decent performance - expect a little over 9 seconds for 0-60mph.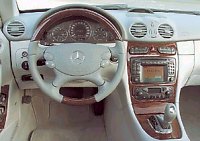 Then come the familiar 170hp 2.6-litre and 224hp 3.2-litre V6 used in CLK240 and CLK320. We have talked about them too much (simply in every reports of other Mercedes models), so I think not necessary to introduce again. The same goes for the smoothie 5-speed automatic they mate with.
Topping the CLK are two V8s - CLK500 is of course powered by the 306hp 5-litre V8. Pushing just 1585kg kerb weight you can see it can easily do 0-60mph in 5.7 seconds as claimed, even though this car shifts automatically.
The performance flagship is CLK55 AMG, which runs a 367hp 5.5 V8 instead of the 354hp supercharged 3.2 V6 found in AMG version of C-class sedan and Sports Coupe. Technically, this might not be a clever decision, as the huge V8 burdens the nose of the small platform, but Mercedes believes that the all-important American market prefers a big-block V8.
We shall leave the CLK55 to a separate report later. Now just concentrate on the CLK500.
Excitement?
The fast, smooth and effortless performance coupe scores nearly full marks in comfort side. What about handling? is it a double-edge sword like the mighty SL500?
Unfortunately, the C-class platform has its limitation here. Without the help of active body control or air suspensions, the cheaper CLK fails to match the all-round ability of its more sophisticated sisters. To deliver excellent comfort, suspensions are deliberately tuned soft. Even in the Avantgarde version which has 5% stiffer springs, thicker anti-roll bars and 15mm lower ride height, the CLK still bias towards the soft side compare with BMW 3-series coupes, let alone M3. As a result, it understeers early on twisty roads, rolls too much at high g-force while feeling nose heavy. Although understeer and body roll set in progressively and predictably, they simply persuade you to back off. A similar story is found in steering. Although the new rack provides good communication, precision and adequate weighting, its 3.0 turns lock to lock is a bit slow for attacking twisty roads.
In short, the CLK is designed for comfort and effortless performance rather than ultimate driving excitement. Anyway, this is already much better than its predecessor, which shone in neither comfort nor excitement.