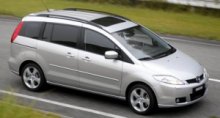 Since MAV (Multi-Activity Vehicle) segment was created by Renault Scenic in 1997, it has been growing rapidly in both Europe and Japan, accounting for millions of sales per year. Almost all European and Japanese manufacturers joined the battlefield. Initially, the market seemed satisfied with 5-seat MAVs, but then 6 or 7-seaters are gradually taking over because they offer higher flexibility - yes, some surveys found 90% of time you don't need more than 5 seats, but why do you have to suffer in the remaining 10% occasions?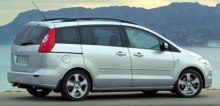 When Ford launched its 5-seat C-Max, it argued that extra seats would add size and weight, deteriorate agility yet the extra passenger room is usually compromised. Ridiculously, now its daughter company Mazda is counter-proving this argument by introducing a 6+1 MAV, the Mazda 5 (or Premacy in Japan).

Mazda 5 is derived from the Mazda 3 platform, therefore it is a close sister to Ford Focus C-Max as well. With a stretched wheelbase (at 2750mm, 110mm longer than C-Max), it can accommodate 3 rows of two seats. Each of them is spacious enough for adults, unlike many other 6 or 7-seat MAVs whose third row can accommodate only children. However, the most ingenious is the second row. They are independent chairs with an armrest between them. If you flip up the armrest and unfold a cushion from under the left seat, an additional child seat will be created. That's why Mazda call it "6+1". Now your son can invite his little girlfriend to go picnic together with your whole family.




That's not all however. If you store back the center cushion and rotate the center seatback about Z axis by 90 degrees, a walk-through channel will be created. Children always cry for switching chairs. Now you can keep driving while let them fight for their favourite seat !

Children always bring their toys on board and make the cabin upside down. It's time to clean things up... raise the right seat cushion, flip out a storage box and it rests neatly between the two seats. Open the lid of the strange box, take out a can of drink and put it at the attached cup-holder. Pack all the toy bits into the storage box... oh ! Your long lost sock is there ! Those naughty boys !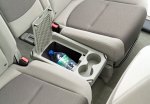 The middle row seats can slide north-south for 270mm, so the distribution of legroom between the second and third row can be varied according to needs. Sometimes you want to spend a weekend with your wife only - especially in those special days - then you can slide the second row to the rearmost position, recline all seatbacks and, wow~~ here is a double bed ! Have a romantic night ! Well, I mean watching stars.


What about cargo carrying ability? Mazda 5 is also very capable. The last row of seat can fold down flatly onto the luggage floor. In this way, it provides 426 litres of cargo volume. Fold the second row seat and it becomes 857 litres. Moreover, the tailgate is large, cut low into the bumper and open high towards the sky. Therefore access to the luggage area is very convenient.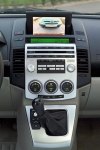 The same goes for the twin-sliding rear doors. Although they are manually operated, they enable a large opening for easy access to the cabin. Even in very tight parking space, they can open without blocking by the surrounding objects.

In terms of visual quality, the interior of Mazda 5 is just average. Most places are covered with hard plastic, while the black-sliver color scheme is ice-cool rather than inviting. I suppose a family vehicle should look brighter and warmer.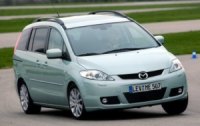 However, if you are pursuing a MPV that is practical and fun to drive simultaneously, this is it. The Mazda 5 is one of the few MAVs that feel balanced, nimble and fun to drive. It is not as stiffly sprung as Ford C-Max yet has a taller body, hence carry more body roll into corners, but its MacPherson strut and multi-link suspensions make it a well-damped and tidy handler. Its steering is also more communicative than most rivals, especially if you pick the diesel engines which come with conventional hydraulic power steering instead of the petrol engines' electro-hydraulic assistance. Overall, the Mazda 5 drives like a longer, softer version of the C-Max. This is hardly a surprise considering their common platform.

Weighing 1.5 ton, the Mazda 5 needs some good engines. This is easily fulfilled by taking the company's MZR-family all-aluminum four-cylinder engines – 115hp 1.8, 145hp 2.0 and 165hp 2.3. All are eager performers. For European market, the 2.3-litre petrol is replaced by a pair of 2-litre common-rail diesel engines. In different state of tune they deliver 110hp / 229 lbft and 143hp / 265lbft respectively. The top diesel is especially torquey and refined, plus it mates with a crisp 6-speed gearbox. No wonder this is the pick of the bunch.