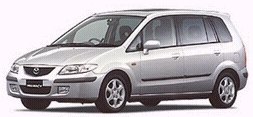 When I first saw the Premacy on street it impressed me very much. The body-color bumpers, the perfect finish of metallic paint and the optional body kits inject a sense of elegance to the originally ordinary styling. The diamond-shape front grille also impressed me. Many Japanese car makers are trying to establish their own distinctive grille but none succeed like this one. At the back, there is no much new idea. The rear window mirrors Alfa 145 and Ford Focus; the vertical rear lights are very common in these days; but it is not deniable that it looks pretty.

Premacy follows the formula set by Renault Scenic. Not only it is a 5-seat mini MPV (Japanese version has an optional third row), it is also based on a D-segment platform - Megane for Renault, 323 (Familia) for Mazda. The 323 platform is highly flexible, if you remember, it forms the basis of 626 as well. Now the wheelbase is lengthened to equals the 626 Estate's 2,670mm. A more meaningful comparison should be made with its main rivals:
| | | | | |
| --- | --- | --- | --- | --- |
| | Mazda Premacy | Renault Scenic | Fiat Multipla | Opel Zafira |
| Length (mm) | 4295 | 4134 | 3994 | 4320 |
| Width (mm) | 1705 | 1720 | 1871 | 1710 |
| Height (mm) | 1570 | 1600 | 1670 | 1650 |
| Wheelbase (mm) | 2670 | 2580 | 2666 | 2699 |

In short, the Premacy is larger than the Scenic but smaller than Zafira and Multipla.

As an MPV, it offers the most common seating plans - the individual rear seats are removable, or can slide forward and backward over a distance of 180mm. The center one can also be folded down to become a table. When front passenger seat and the seat behind are folded, an object up to 2.6 meters long can be stored. In Japan, a third row could be added although the second row's leg room should be compromised. No problem to those medium-size Japanese. "No, thanks," says European.

Seating plans aside, the Premacy couldn't be described as a versatile MPV. Unlike other MPV, it doesn't have many storage spaces - no drawer under the seats, no adjustable parcel shelf. The dashboard design is too conventional, unlike the radical Multipla but build quality and material used are much better than Zafira. Car-like instruments are clear to read, center console are neat and mature. Two-tone trimming is perhaps too grey to MPV, in contrast to the airy atmosphere created by huge windows. Seats and space are adequate.

Driving position is lower than other MPVs. This place the driver nearer to the roll axis thus subjectively feels less body roll. In fact, it drives like a car. Handling is pretty good for a MPV, however, steering is slow and inert. The 115hp 1.8-litre engine works well to cope with the 1280kg kerb weight (pretty light) but don�t expect it to rival the 140hp Scenic.