| | |
| --- | --- |
| Published on 19 Jan 2011 | All rights reserved. |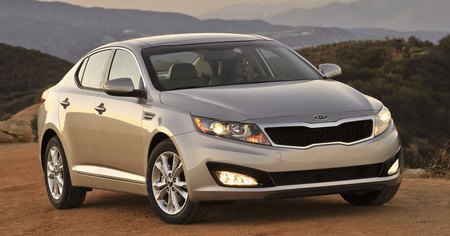 Remark: K5 is for Korean market. Overseas version is called Optima.


I guess I am becoming a big fan of Peter Schreyer. Since his arrival to KIA, this long-time Audi and Volkswagen designer has completely changed our view on the Korean company. Among his various game-changing creations, the K5 is definitely the best so far.

Viewing these pictures, one could easily conclude that it was the junior Maserati Quattroporte that (FIAT boss) Sergio Marchionne promised last year. No, the truth is far from that, of course. The K5 is a Korean response to Camry and Accord, i.e. a budget mid-size family car. What Schreyer really successful is to package it to appear like a rear-drive sport sedan. Given its FF architecture, that proportion is really difficult to achieve. I am not going to explain how this is done. Just take a closer look to its waistline, hood, rear doors, C-pillars and taillights and you will find the answers.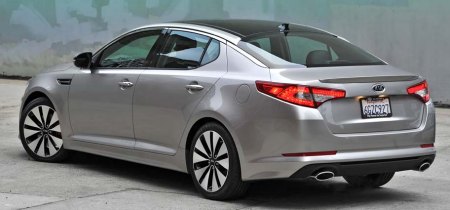 So the K5 is probably the first Korean design (though by a German designer) that could shame the best offerings from Europe. It makes the latest Volkswagen Passat Mk6 dull (by the way, Volkswagen should not have released Schreyer) and simply trumps any rivals – Ford Mondeo, Opel Insignia and Citroen C5 included. That is perhaps its greatest achievement.

Apart from looks, the K5 has many things executed correctly. It is built on the platform of Hyundai Sonata, no wonder it shares the same 2795 mm wheelbase and much the same modern hardware. It rides on MacPherson struts up front and multi-link suspensions at the rear, with Amplitude Selective Dampers (a kind of mechanical adaptive dampers) offered as option. Steering is powered by trendy electrical assistance. Engines are modern as well, including the Sonata's 2.0-liter four, 2.4-liter GDI (gasoline direct injection) and 2.0-liter GDI twin-scroll turbo engine, all are equipped with dual-variable valve timing. They produce a respectable 165hp, 201hp and 274hp respectively, accompany with excellent fuel economy when compare with its Japanese rivals' port-injected fours and large-capacity V6s. In many ways, it sounds more Volkswagen than Toyota.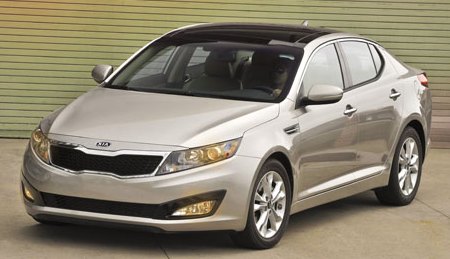 Even the interior – traditional weakness of KIA – is well made. The driver-oriented console is more intuitive to use than the symmetric design on its Hyundai sister, and delivers a masculine sense. If Sonata is designed primarily for female buyers, then the K5 must be for men. Build quality is just as good as you would expect on Japanese and European cars. All plastics on sight level are soft-touch and textured. Premium trim level offers stitched leather seats, touch-screen navigation and good sound system without causing too much pain on your wallet. Moreover, the cabin offers plenty of space front and back.

However, once on the move the quality feeling is slightly let down by mediocre noise insulation. Too much road and wind noise can enter the cabin, so the KIA does not feel as refined as the best European rivals.



Chassis dynamics is better. The KIA has sportier suspension and steering tuning than its Hyundai sister, so it delivers slightly better handling and more feedback to the driver. Its body control and agility are good. Ride quality might be a little too firm for some, but it's not going to be a deal breaker. The steering is an improvement from Sonata, not only having gained more weight but also got rid of the strong self-centering of that car. Nevertheless, it is not the best steering around. There are mainly two problems: it feels mushy and imprecise on the straight ahead, requiring constant correction; and feedback from the helm is still rather faint.

The powertrains are generally good, delivering good performance and refinement for their class. The 2.0 GDI turbo engine is a sensible replacement for traditional V6, thanks to its class-leading output and lack of turbo lag. Ultimately, it does not match a good V6 for sound and smoothness, but it is nonetheless a better compromise on the ground of fuel saving. A pity the mandatory 6-speed automatic transmission does not live up to expectation. While its gearshift is mostly seamless, it reacts to throttle slowly. Manual mode is not particularly responsive either. Otherwise the turbo could have been marketed as a performance sedan.



Overall, I have to say the new KIA sedan is a strong contender in the mid-size segment, especially when you consider its impressive value for money. Yes, it has some minor flaws in refinement, steering and gearbox, so it is not going to be the best driver's car or the best passenger's car in the class. As a whole package, however, it is highly competitive. Taking into account its top-notch beauty, its market success is pretty much guaranteed.
Verdict: