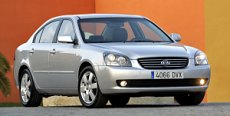 Seeing Kia Magentis, I recalled how Japanese cars looked a couple of decades ago. Every developing car maker started business by making cheap small cars. They made a fortune in the United States, then invested the money to develop larger cars. At first, they stressed on value for money, offering a lot of metal and standard equipment at bargain price. Then they improved mechanicals and performance to world standard. As their standards and ambitions raised, they needed to move upmarket in order to distant themselves from other cheap car makers. Thus they started paying attention to design, quality packaging and innovations. If they do it right, they could become another world class manufacturer.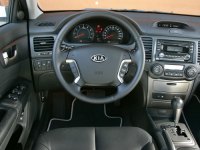 Unfortunately, Kia has not yet entered the last stage. Look at the dull styling of Magentis and you will understand. It is so boring, so characterless. Obviously Kia didn't spend much money hiring good designers. Open the doors, the ugly dashboard molding is even more appalling. Even if you don't care about shinny hard plastics and fake alloy, you won't please with the cheap air vents and switch gears, as is the low rent leather upholstery. Yes, it does offer a lot of space and a lot of free equipment, but so what?

I guess most shoppers will leave Kia's showrooms after seeing the above scenes. However, if they are mercy enough to stay longer, they may discover better things lie on the mechanical aspect. The Magentis rides on struts and multi-link suspensions like classy European cars, at least according to spec. It employs some really world-class engines, such as a sophisticated 2-litre common-rail turbo diesel engine, a family of 1.8, 2.0 and 2.4-litre all-aluminum CVVT four-cylinder engines jointly developed by Chrysler, Mitsubishi and Hyundai, and a 2.7-litre DOHC CVVT V6. The latter mates with a decent 5-speed automatic gearbox. Many of these parts were either carried over or derived from Hyundai Sonata, although Kia claims it developed the platform independently by itself.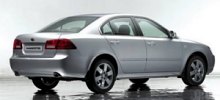 In terms of engine refinement and flexibility, the Magentis does match the world standard. However, performance is just average because the car is rather heavy. For example, a 2.0-litre car with manual transmission takes 9.6 seconds to accelerate from 0-60 mph. That's 0.8 seconds slower than Volkswagen Passat 2.0 and Ford Mondeo 2.0. Even the flagship V6 needs 8.5 seconds, which is disappointing.

Chassis dynamics is even worse. Like many Japanese cars of the past, the suspensions are too soft, generating a lot of roll and pitch to discourage the driver. Enter a corner and you will find it understeer early on. Simultaneously, the steering delivers no road feel to the driver. Obviously, this is one of the least interesting drives in the class, and probably the worst in recent years.

Whether Kia can elevate to the aforementioned last stage is yet to be seen. But from the Magentis we can see there is still a long long way to go.