| | |
| --- | --- |
| Published on 13 Apr 2006 | All rights reserved. |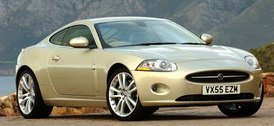 From E-Type, XJS to XK8, there was one common gene in their blood: smoothness. No matter powered by straight-6, V12 or V8, these cars never forgot to place smoothness at top priority – smooth engines, smooth ride and smooth styling. They were the best luxurious grand tourers of their time, not as sporting as German rivals but more civilized and arguably more tasteful.

The latest XK wants to succeed this tradition. However, there are plenty of changes made. First of all, its name has lost the letter "8", although it keeps the same 8-cylinder engine as its predecessor. Secondly, its chassis and body have been changed to all-aluminum construction, just like the XJ sedan. Thirdly, its suspension setup has injected a fair degree of sportiness (to distinguish itself from Lexus SC ?) but without going to the German level. Lastly but not least, its styling signals a change of philosophy and the start of a new era to Jaguar.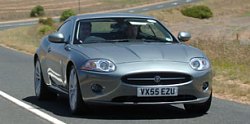 We start from the styling. XK is the first Jaguar designed completely under the direction of Ian Callum. In other words, it finally leaves the classical approach of the great late Geoff Lawson (see XK8, S-Type, X-Type and most of the current XJ). You might remember Callum is famous for designing Aston Martin DB7 and Vanquish, but since then he has not had any masterpieces added under his name. Obviously, the hungry Callum wants to set a new design direction for the next generation Jaguars, but his first attempt seems haven't won too many praises. Most people found the new XK not as attractive as Henrik Fisker's Aston Martin DB9 and V8 Vantage. Its lines are less sexy, its headlights are quite oddly shaped and, horribly, its oval front intake seems coming from the recycle bin of Ford (see the old Ford Taurus and Mondeo), although we know Jaguar actually adopted that feature as early as the E-type.


However, we must appreciate his insistence of a low bonnet line, which was a traditional feature of Jaguar. To comply with European pedestrian safety law – which requires a substantial clearance between the bonnet and the engine – most other car makers chose to employ higher bonnets, which usually ruin the sleek lines of sports cars. Instead, Jaguar's engineers work together with Volvo's safety experts to develop the world's first pop-up bonnet. During a collision, the bonnet pops up and therefore creates a large clearance from the engine. It saves the pedestrian and saves the style simultaneously.

The interior design is less successful. Ian Callum has never been good at cabin design, and his weakness is shown in the new XK. Here is a rather bland and characterless place. It lacks the classical theme of traditional Jaguars and the elegant feel of Aston Martins. Instead, it looks more like a Japanese or an American offering.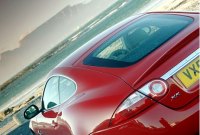 However, it is undeniable that the new XK is much better made than its predecessor. The material is of high quality to shame 911 owners and the fit and finish matches its price tag. It is also more comfortable and practical than before. The driver will find more headroom and legroom, thanks to a taller roof and extended wheelbase. Yes, the rear seats are still dog seats, but this is not much a problem to its customers – they typically own a Rover Range and a Mercedes S-class beside the Jaguar GT. For two people, XK will be a fine place for any journeys.

The chassis and body of XK is made of aluminum like XJ sedan. In other words, most parts are made of extruded and cast aluminum. They are bonded by rivets, adhesives and self-piercing screws. Although most toolings share with XJ, it still costs thousands of pounds more than conventional steel monocoques. However, from engineering point of view the switch to aluminum construction is worthwhile - compare with the old car, kerb weight has been down by nearly 100 kilograms to 1595kg, undercutting BMW 650Ci (1640kg) and Mercedes SL500 (1770kg). At the same time, torsional rigidity has been lifted by 31% to 30,000 Nm/degree. That's even stiffer than Aston V8 Vantage and Ferrari F430 !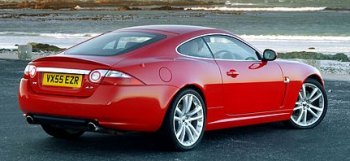 The lightweight is very crucial, because the new XK continues to rely on the long-serving 4.2-litre V8 from its predecessor. This AJ-V8 has been around us since 1996 when XK8 was born. Despite of its age, its specification is still up to date: all-aluminum construction, Nikasil coating on combustion chambers to reduce friction, quad-cam 32 valves, variable valve timing on the intake side and drive-by-wire throttle. This shows how advanced it was 10 years ago. Although its maximum power and torque remains at 300 hp and 310 lbft, with 100 less kilograms to pull it can shorten 0-60 mph to 5.9 seconds, while top speed remains regulated at 155 mph.

Nevertheless, the 4.2-litre V8 can no longer matches its new rivals for power and torque. For example, Maserati 4200GT produces 400hp and 332 lbft, BMW 650Ci kicks out 367hp and 361 lbft while Mercedes SL500 pumps out 388hp and 391 lbft. They not only deliver stronger acceleration than the Jaguar, but their superior low end grunt is obvious in regular driving.

So what? The beauty of XK has never been hot-rod performance, but a refined and relaxed manner. Unlike the aforementioned rivals, it is a true luxurious grand tourer – the one that will cover ground quickly yet comfortably. Undoubtedly, the new XK has a very good drivetrain combo to fulfill this task. Its AJ-V8 is still very smooth and refined; its ZF 6-speed automatic transmission is also a source of joy. In automatic mode it shifts seamlessly. In the paddle-shift manual mode (a new feature of the car) it responds so quickly and matches the rev so well.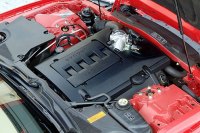 The XK also rides and handles very well. The starting point is a rigid yet lightweight chassis. Base on that are suspensions derived from the XJ sedan. They got rid of air springs but retained the CATS adaptive damping. The tuning is sportier than the old XK8 but not to the extent of BMW 650Ci.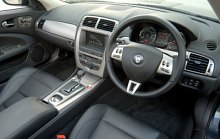 At first, you will feel it rides harder than the old car, but as speed rise the damping gets increasingly beautiful. Obviously, the suspensions are much more absorbent than the German and Italian rivals, and the driver feels much more relaxed when cruising in the XK.

At the same time, the new XK displays a vast improvement in handling. Its steering manner is agile, willing and neutral. Its tires generate tremendous grip. Although it rolls more than 650Ci and the ABC-equipped Mercedes SL, it is not a shame for a luxurious grand tourer, and is a big improvement from the bulky XK8. The only real problem is a steering that delivers no much feel from the road. However, neither BMW nor Mercedes are truly feelsome.

This mean the XK is a good luxurious GT. It has refined engine and drivetrain, superb ride, capable handling and fine build quality to deliver what its customers demand. What it lacks is desirability. Quite unbelievably, the missing link comes from Ian Callum's exterior and interior design.
Verdict:




| | |
| --- | --- |
| Published on 13 Apr 2006 | All rights reserved. |
XK Convertible

The convertible version is very important to the sales of XK, as traditionally this kind of version contributes to half of the sales of the segment. However, the conversion from coupe to convertible is not as brilliant as Porsche and Ferrari did to their cars. Although Jaguar claims the chassis of XK Convertible is 60% stiffer than its predecessor, at 16000 Nm / degree it is only half the value of the XK Coupe. As a result, it lost some finesse in ride and handling when being pushed hard. Moreover, the Convertible's windscreen design does not contain wind buffeting very well. In short, the Coupe is the XK we want.
Verdict:



| | |
| --- | --- |
| Published on 16 Sep 2006 | All rights reserved. |
XKR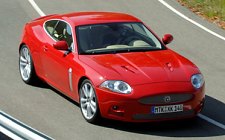 If the naturally aspirated XK is good, then the supercharged XKR must be very good. At £68,000 in the UK market, it is just £8500 more than the base version but it offers 120 more horsepower and 103 lbft more torque. It carries only 70 more kilograms than the XK, so 0-60 mph is shortened by a full second to 4.9 seconds. Such kind of performance elevates it above Mercedes SL500 (SL550) and BMW 650Ci. It is not as fast as SL55 AMG and M6 though, but those cars cost £97,000 and £82,000 respectively, so XKR represents good value for money.

Outside, the XKR distinguishes from its lesser model by mesh grilles, bonnet vents, quad exhaust pipes and a slight restyle to front bumper. That's enough to catch attention and raise your pulse. Inside, the bland dashboard is again the weakest link of the car - it will surely need an early makeover.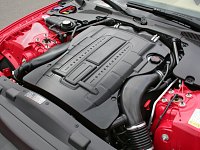 However, the ugliest part of XKR is not the cabin, but the engine: the 4.2-liter all-aluminum 32-valve supercharged V8 is completely hidden under a black plastic cover, which must be the ugliest engine you have ever seen. It may be good for noise insulation, but I am sure everybody will prefer to see the real face of the mechanicals rather than a plastic pseudo engine. Take note, Ian Callum.

The engine itself is close to the XK's and even closer to the last XKR. An Eaton supercharger is added to boost power to 420hp at 6250rpm (that's surprisingly more revvy than the naturally aspirated version) and torque to 413 lbft at 4000 rpm. In other words, only 20hp and 5 lbft more than the old car. Luckily, the all-aluminum car is 70 kg lighter than before, so a couple of tenths is slashed from 0-60. Yes, it is not as explosive as M6 and SL55 AMG, but for a grand tourer the supercharged AJ-V8 engine is close to perfect: smooth, responsive, torquey and good sound. The supercharger whine is largely reduced, letting the nice exhaust noise to take the leading role. The latter is more civilized than Aston's, so perfectly suitable to Jaguar.


The ZF 6-speed automatic programmed by Jaguar is currently the best automatic in the world. In automatic mode it shifts seamlessly yet slightly quicker than in the XK. The program detects your driving mood and select the right gears. For example, if you are driving hard it will hold the gear until higher rev or downshift earlier so that to enhance acceleration. During a downshift it will blip up the engine to match rev. In manual mode it responds instantly to driver input through the steering wheel-mounted paddles. No other automatics could be so satisfying to keen drivers.

Although the aluminum chassis of XK coupe is already very rigid, Jaguar still added a tower brace to reinforce its rear suspensions. The springs in suspensions are stiffened by 38% up front and 26% at the rear. The CATS adaptive damping is recalibrated to 25% firmer. The anti-roll bars becomes thicker. The steering becomes quicker. The brakes are also enlarged.


On the road, XKR won overwhelming praises from journalists all over the world. Many German grand tourers work better on track than on public roads, which is nonsense considering their drivers will never took them to racing tracks. But XKR is vice versa. It is a real grand tourer designed for real roads, no matter highway or back roads. Its handling is excellent for a grand tourer. It has remarkable poise, neutrality and grip. Its torquey engine and responsive gearbox adds to the feel of integrity. But most impressive is how well it deals with rough surfaces simultaneously. No German grand tourers know how to soak up bumps better than Jaguar. It flows smoothly from bend to bend. The fluidity, refinement and effortless performance are exactly what great GTs required.

For handling and feedback, the big Jaguar is still no match with the nimble Porsche 911, or to lesser extent Aston V8 Vantage. But from grand tourer point of view, no one else is more satisfying to drive. My only reservations are about its design - which is so-so now and easily aging in the future - and the cheap-looking cabin. Image-wise, Jaguar still has a thing or two to learn from Mercedes SL. The latter also has a superior retractable roof to justify the higher price.

However, there is no doubt that XKR has finally evolved from a lazy cat to a jaguar.

Verdict:




| | |
| --- | --- |
| Published on 10 Jun 2009 | All rights reserved. |
XK and XKR 5.0
| | |
| --- | --- |
| | The XKR still combines speed, control and refinement like no others... |
Having read our new XF 5.0 and XFR report, it won't be difficult to understand the new XK and XKR 5.0. Under the limelight is the Gen III Jaguar AJ-V8, now enlarged to a full 5 liters and is equipped with goodies like dual-continuous VVT and direct injection. In naturally aspirated form, it also gets 2-stage variable intake valve lift and 2-stage variable length intake manifolds. Output jumps to 385 hp and 390 lb-ft, nearly matching the old supercharged engine. 0-60 mph is dramatically reduced to 5.2 seconds.

The 5.0-liter supercharged XKR is even stronger – 510 horsepower instead of the previous 420 hp, 461 lb-ft of torque against 413 lb-ft, 0-60 mph is reduced by 0.3 second to just 4.6 seconds. 0-100 mph dips below the once-supercar-defining border of 10 seconds. Mid-range acceleration is even more sensational, which sees 50-70 mph taking 1.9 seconds instead of 2.5 seconds. XKR is a 911 killer.

Apart from performance, the big cat also inches closer to the 911 territory in handling. A change in tuning philosophy means it has sacrificed part of the previous supple ride and impeccable refinement for a sportier character. The suspension springs are considerably stiffer. The new continuous adaptive damping (which replaced the 2-stage CATS) and electronic active differential (standard on XKR) sharpen its handling a lot, bringing tighter body control and keener turn-in. Although the suspension could be caught out by poor surfaces at times, its ride quality is still better than other German and Italian grand tourers on the market. The XKR combines speed, control and refinement like no others.

Externally, the 5.0 cars are refreshed with a pair of vertical brake intakes at either side of the front bumper. Certainly more elegant than the original design. Inside, Jaguar has no budget to redo the ugly dashboard, but it has applied upgraded materials and XF's rotary gear selector to brighten things up.
Verdict:




| | |
| --- | --- |
| Published on 3 Jun 2011 | All rights reserved. |
XKR-S

Were Jaguar and Aston Martin still owned by Ford, we would have never seen a car like this XKR-S. Priced at £97,000 in Britain, it has entered the territory of Aston Martin V8 Vantage. Not just that. Aston will find the super big cat far more powerful, faster yet more effortless to drive than its car. With the self-imposed boundary removed, now the only limit to Jaguar will be the sky.

Frankly, the styling tweaks from XKR to XKR-S is not the best effort from Ian Callum. Its aggressive mouth, side skirts and tail spoiler lack the coherence found on the regular car. However, their contribution to reduced aerodynamic lift is undoubted. Same go for the larger diffuser sandwiched between the quad-exhaust. Cooling is enhanced by two extra intakes opened just above the oval grille. Inside, the most obvious upgrade is a pair of Recaro bucket seats, which is a delight to keen drivers.

Under the bonnet sits the same 5-liter supercharged V8 as the XKR. Its deep reserves are released by a new free-flowing exhaust and an ECU tweak. Maximum power is pumped by 40 hp to 550 hp, matching the mighty XJ220 as the most powerful road car ever built by Jaguar. Peak torque increases by a similar amount to 501 pound-foot, and its wide torque band remains. The XKR-S is claimed to sprint from standstill to 60 mph in 4.2 seconds, 0.4 quicker than XKR. 0-100 mph takes a mind-blowing 8.6 seconds. Its speed regulator is raised to 186 mph, satisfying those seeking a place in the 300 kph Club. However, with so much power, I would say its potential could exceed 200 mph.


Modifications to the chassis are quite subtle. The suspension is lowered by 10 mm and fitted with 28 percent stiffer springs. The adaptive damping and active differential are reprogrammed in line with its increased performance. The steering knuckles at the front suspension is beefed up to tighten the steering. New alloy wheels are lighter, while rear tires get slightly wider.

On the road, the XKR-S feels noticeably faster than the regular XKR, which is already a fast car. The supercharged V8 produces tremendous punch, especially in mid-range. Moreover, it stays longer than the XKR's unit, offering a freer top end for driving addicts to enjoy. The new exhaust plays a louder, harder edge soundtrack, although the supercharger whine at the background prevents it from thrilling as much as a Maserati V8 or Aston V12.

The higher performance is well matched with the chassis. XKR-S corners with poise and grip that the regular XKR cannot hope for. Its steering is more precise and feelsome. It's not a lightweight track car like Porsche 911 GT3, but for a front-engined GT its handling on track is remarkable – Jaguar said it has no problem to lap Nurburgring under 8 minutes. On the other hand, the suspension is still capable of soaking up most bumps on the road, so it remains a true GT.

To more demanding drivers, this car is undoubtedly better than other versions of XK. However, at this price it competes with some truly great rivals, most notably Porsche GT3, Maserati MC Stradale and Audi R8 V10. Compare with them, the Jaguar's look is undeniably a little dull, its interior too ordinary, its engine noise a little boring and its compulsory automatic transmission, while effortless to use everyday, is never as engaging as a great manual. Despite of its new found ability, it still lacks an emotional appeal to take on the best rivals.

Verdict:




| | |
| --- | --- |
| Published on 24 Dec 2013 | All rights reserved. |
XKR-S GT

First, there was an XK coupe. Then came the supercharged XKR and its even hotter version XKR-S. Now finally the ultimate expression, XKR-S GT. It is going to be rare, with only 30 left-hand-drive cars destined to the US and about the same number of right-hand-drive cars available to its home market (the exact number will depend on demand). It is going to be expensive, costing £135,000. That's more than twice the price of the base XK, or about the same as a Porsche 991 Turbo S, a Nismo GT-R or an Aston Martin V12 Vantage S – all are highly regarded super-performance cars. Isn't it mad to chase these rivals?

At first it looks yes. The XKR-S GT is deemed to be a road-and-track car like Porsche 911 GT3 RS. It gets massive aerodynamic kits made of carbon-fiber, like the high-mounted rear spoiler, extended front splitter, air vanes and diffusers. They contribute to 145 kg of down force at 186 mph, which is also the electronically regulated top speed of the car. Its interior has the rear seat replaced with a roll cage. Lightweight front buckets with four-point harnesses and reduced sound insulation cut further weight. Brembo carbon ceramic brakes (398mm front and 380 mm rear) save another valuable 21 kg of unsprung weight. Despite that, the big cat still weighs some 1713 kg (40 kg down from XKR-S). After all, this is a large luxury grand tourer in essence. To see it as a rival to the compact and lightweight GT3 (RS or not) is probably unrealistic. Jaguar said it lapped Nurburgring in 7 min 40 sec, which is fine until you realize the GT3 did that in 7 min 25 sec! It goes without saying Nismo GT-R is faster still.

The 5-liter supercharged V8 is carried over from the XKR-S. Some might feel disappointing for the lack of upgrade, but I suppose its 550 horsepower output and especially the thick torque band (501 lbft from 2500 to 5500 rpm) is already right on the limit of the rear-wheel-drive chassis. 0-60 mph in 3.9 seconds still causes a lot of sensation. Moreover, its new variable exhaust produces an angrier noise, which is further amplified by the thinly insulated cabin. It barks crazily on prod of throttle and explodes on overrun like a true race car. The aural experience is just as thrilling as any hardcore rivals.

If there is any disappointment, it should be the old 6-speed automatic. Its upshift is slower and mushier than the latest ZF 8-speed auto, let alone the twin-clutch gearboxes that its main rivals use. On public roads this isn't to be too noticeable, but for a track car this is hard to forgive.

Instead of powertrain, Jaguar spent most effort to improve the chassis. The quick-ratio steering rack accompanied with (still hydraulic) power assistance is taken straight from the new F-type. Most of the front and rear suspension components also come from the F-type, including the control arms, uprights, bushings, bearings and rear subframe. This widens its front track by 52 mm and increases camber. Spring rates have been increased by a massive 68 percent up front and 25 percent at the rear, with re-calibrated adaptive dampers to match. The relatively stiffer front axle should improve turn-in response and shift the cornering attitude from understeer to neutral, while the relatively softer rear axle should benefit traction. Traction and grip are enhanced further by adopting semi-slick Pirelli P-Zero Corsa rubbers. The rear tires are now wider at 305/30ZR20.

On track, the GT has its handling transformed. The ceramic brakes are finally a match to the strong performance. Body control is much tighter than the XKR-S. Moreover, it shows a new-found balance and precision. It steers into corners much more accurately, with little hesitation and over-reaction, just point to direction you command. On dry surfaces, the Corsa tires grip hard and put down the power cleanly, keeping the tail pinned on track. You can induce oversteer with throttle and steering, of course, but at no times it will breakaway suddenly like the shorter wheelbase F-type V8 S. On wet or damp surfaces, however, the semi-slick rear tires struggle to contain the huge torque and its handling becomes edgy, so you need to drive with self-restraint to avoid going sideway. On inherent balance and agility, the Jaguar is not as good as Aston V12 Vantage S.

Nevertheless, it is undoubtedly the more comfortable car to drive on normal roads. This is not only down to the self-shifting gearbox but also a calmer steering and a surprisingly supple ride, which is almost as good as the XKR-S. Despite of the track-focused modifications, the GT has lost little of the Jaguar DNAs.

Return to our question, is it good enough to be so expensive? Well, the ultimate XK has its own charisma, but a V12 Vantage S feels sharper, a Nismo GT-R far faster and a 911 Turbo S more versatile. Above all, a 911 GT3 is more pleasurable to drive on both road and track yet costing a third less. That is why the Jaguar is to be built in much smaller quantity. However, it does demonstrate that Jaguar is finally capable to build a world-class chassis. In the future we should see even better things coming out of Gaydon.

Verdict:













XK 4.2



2006

Front-engined, RWD
Aluminum monocoque
Aluminum
4791 / 1892 / 1322 mm
2752 mm
V8, 90-degree

4196 cc
DOHC 32 valves, VVT

-
-
300 hp
310 lbft
6-speed automatic

F: double-wishbones
R: wishbone + upper link

Adaptive damping
F: 245/40ZR19
R: 275/35ZR19

1595 kg

155 mph (limited)
5.9 (c) / 6.0* / 5.7**

15.0* / 13.9**


XKR 4.2



2006

Front-engined, RWD
Aluminum monocoque
Aluminum
4791 / 1892 / 1322 mm
2752 mm
V8, 90-degree

4196 cc
DOHC 32 valves, VVT

Supercharger
-
420 hp
413 lbft
6-speed automatic

F: double-wishbones
R: wishbone + upper link

Adaptive damping
F: 255/35ZR20
R: 285/30ZR20

1665 kg

155 mph (limited)
4.9 (c) / 4.2** / 4.5***

10.1** / 10.9***


XK 5.0



2009

Front-engined, RWD
Aluminum monocoque
Aluminum
4794 / 1892 / 1322 mm
2752 mm
V8, 90-degree

5000 cc
DOHC 32 valves, DVVT, VVL

VIM
DI
385 hp / 6500 rpm

390 lbft / 3500 rpm

6-speed automatic

F: double-wishbones
R: wishbone + upper link

Adaptive damping
F: 245/40ZR19
R: 275/35ZR19

1660 kg

155 mph (limited)
5.2 (c) / 5.0*** / 4.7****

11.6***










Performance tested by: *Autocar, **R&T, ***C&D, ****Auto Bild










XKR 5.0



2009

Front-engined, RWD
Aluminum monocoque
Aluminum
4794 / 1892 / 1322 mm
2752 mm
V8, 90-degree

5000 cc
DOHC 32 valves, DVVT

Supercharger
DI
510 hp / 6500 rpm

461 lbft / 2500-5500 rpm

6-speed automatic

F: double-wishbones
R: wishbone + upper link

Adaptive damping
F: 255/35ZR20
R: 285/30ZR20

1753 kg

155 mph (limited)
4.6 (c) / 4.0*

8.8*


XKR-S



2011

Front-engined, RWD
Aluminum monocoque
Aluminum
4794 / 1892 / 1312 mm
2752 mm
V8, 90-degree

5000 cc
DOHC 32 valves, DVVT

Supercharger
DI
550 hp / 6500 rpm

501 lbft / 2500-5500 rpm

6-speed automatic

F: double-wishbones
R: wishbone + upper link

Adaptive damping
F: 255/35ZR20
R: 295/30ZR20

1753 kg

186 mph (limited)
4.2 (c) / 4.2** / 4.1***

8.6 (c) / 8.6** / 9.2***


XKR-S GT



2013

Front-engined, RWD
Aluminum monocoque
Aluminum
4794 / 1892 / 1312 mm
2752 mm
V8, 90-degree

5000 cc
DOHC 32 valves, DVVT

Supercharger
DI
550 hp / 6500 rpm

501 lbft / 2500-5500 rpm

6-speed automatic

F: double-wishbones
R: wishbone + upper link

Adaptive damping
F: 255/35ZR20
R: 305/30ZR20

1713 kg

186 mph (limited)
3.9 (c)

-










Performance tested by: *C&D, **R&T, ***Sport Auto









Copyright© 1997-2013 by Mark Wan @ AutoZine