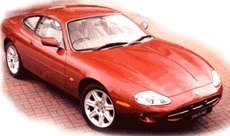 After XJS has serviced for nearly 20 years, Jaguar finally raised enough money to develop a new sports coupe, XK8. Many people were surprised by its adoption of V8 instead of V12 that characterised all Jaguar sports models since the E-type Series III of the mid 70's, nor adopted a traditional straight 6 like all early Jaguars. They refused to accept XK8 as a real Jaguar, until one day they tested the XK8 and immediately amazed by its power, torque and smoothness that were not ever experienced in any production V8.

If XK8 were a ring, then the AJ8 engine must be the diamond on the ring. In fact, Jaguar poured huge budget into the development of this all new engine ( It is only the fourth new engine the company has ever developed, the other 3 are the original straight 6, the V12 and the 24 valves AJ6.) in order to replace all current AJ6s to become the mainstream production engine of the company. AJ6 was a good engine, but it came near to the end of its life span. Moreover, all Jaguar's rivals had switched to V8, including BMW which used to loyal to straight 6. As a result, V8 is inevitable if Jaguar wants to keep competitive against its rivals or even overtake them.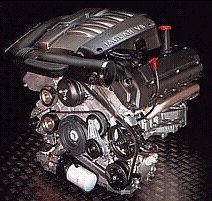 This engine is very versatile. It is compact, light, responsive, powerful, torquey at any rpm and most important, smooth and refined, thanks to a long list of sophisticated technology, such as alloy head, alloy block with Nikasil coating combustion chambers, electronic throttles and variable valve-timining. If you think Lexus engine is the most refined one, try XK8 and you'll discover an even higher level of achievement. If you used to admire the German engines for power and torque, drive the XK8 and you'll experience a more responsive manner and a broader spread of torque, thanks to the variable valve timing. Undoubtedly, the AJ8 is the most versatile V8 ever seen.
Besides the engine, what else ? Well, the chassis is less impressive. Since it is based on the old XJS, it is too long and overweight although the length and weight were already cut. Nevertheless, Handling is as good as other best luxurious coupes, except cousin Aston Martin DB7 which also belongs to the Ford group. For most buyers in this segment, refinement is more important than handling excitement, so Jaguar XK8 will never let them disappointed. However, for those demanding drivers, it may not be as exciting as, say, a BMW M3. Nevertheless, XK8's chassis leads other competitors in one important aspect - ride. Yes, it rides really comfortable, which absorb most worst bumps on road but simultaneously provides excellent body control and stability. This is not a soft-tuned Lexus can achieve.
The 5 speeds automatic gearbox retains the company's traditional "J-shape" layout shifter. It is easy to use and sleek to change, a perfect companion with the excellent engine. Other aspects of the car is not so impressive : the styling is nothing other than an imitator of Aston DB7 and Jaguar's own classical E-type ; the cabin is not as spacious as Lexus and Mercedes ; cabin finish is less satisfying. However, the XK8 combines sports and refinement perfectly. It overshadows the sportyless BMW 8 series, Lexus SC400, Lincoln Mk VIII and Mercedes CLK. The only comparable rival is the long-serving Mercedes SL500, a car that I've loved for 7 years. If you sees quality as the most important factor in this class, SL will be the better car, but if you also consider the price, the answer will be reversed. The Jaguar is priced at 60-70% of the Mercedes, but it offers 90% what the Mercedes offers !