| | |
| --- | --- |
| Published on 26 Jan 2008 | All rights reserved. |
Competent alone is no longer enough these days. We want cars really feeling innovative and characterful...


Long-time readers may notice that AutoZine usually rate Korean cars lower than in other motoring publications. Undoubtedly, nowadays Korean cars are mostly up to world standards, no matter in mechanicals or quality. Some of them, such as Kia Cee'd, even match their best Western or Japanese rivals. However, one thing stops the Korean cars from getting the highest recognition by AutoZine: they are so lack of innovative ideas ! While they follow the trend and industrial standards closely, Korean car manufacturers never showed an ability to invent new concept and technology. They always play safe, thus fail to impress car enthusiasts. From the view point of AutoZine, this is a deadly sin.

So here comes another competent but hardly innovative Korean small car, Hyundai i10. Based on the same platform of the 3.5-year-old Kia Picanto, the i10 gets a series of predictable improvements. Its design is more modern, if quite conservative. Its packaging is higher quality, especially the interior. The dashboard is made of better plastics to keep up with competitors. The two-tone light color scheme is more cheerful than the dark environment in its aging Kia cousin. The console-mounted gearshift follows the trend set by Fiat Panda, easing gearshift effort while releasing more room for cup holders. Although it is 40 mm lower overall than the outgoing Atoz, it still stands 1550 mm above the ground, so headroom is aplenty. The slightly longer wheelbase provides adequate legroom for rear passengers. Everything fits the latest industrial norms.


Higher quality and light color make this cabin a good place, yet it breaks no new ground...


The same 1.1-liter sohc 3-valve-per-cylinder engine from Picanto generates 69 horsepower and propels the i10 from 0-60 mph in a relaxing 14 seconds. It is not bad as long as you keep it in town. Once you ask more from it on motorway, it gets noisy and reluctant. Satisfied to be an econo car, i10 has no plan to introduce a high-performance engine like Fiat's 100hp 1.4 16V or Renault's 100hp 1.2 TCE. However, it will offer a 1.1-liter 3-cylinder turbo diesel engine with 75 hp output later.

The handling and ride from the conventional MacPherson strut and torsion-beam suspensions is competent rather than remarkable. Body roll is well checked, but the narrow tires do not generate very high grip, thus keen drivers can easily run it into understeer. The electric power steering feels vague in the straight ahead but gets better at locks. Ride quality is not as good as Fiat Panda or Renault Twingo on rough surfaces, but overall speaking it is not bad.

As usual, the best part of Hyundai i10 is its price. Produced in India allows it to undercut most rivals. Nevertheless, it is by no means as cheap as Tata Nano. Ridiculously, that Indian car is far more innovative than the Hyundai.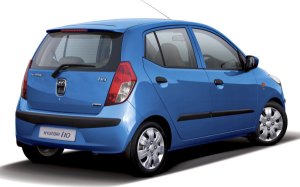 For the first time in history, we are interested in an Indian-built car, but that is Tata Nano instead of this one.
Verdict:



| | |
| --- | --- |
| Published on 14 Feb 2011 | All rights reserved. |
i10 facelift (2011)


The smallest Hyundai has received a facelift this year. New headlamps and hexagonal grille bring a refreshed face, although the rest of the car is still quite boring. Inside, changes are limited to blue-lit instruments, better fabrics and other minor tweaks.

More changes can be found under the bonnet. The 1.2-liter Kappa four-cylinder has been enlarged to 1.25 liters and added with dual-VVT, lifting output by 10 horses. Besides, a 1.0-liter three-pot engine with auto stop-start has joined the range as the greenest choice. It emits only 99 grams of CO2 per kilometer.

The i10 remains a practical and highly affordable city car. Just don't expect it to be charming as some Italian small cars.
Verdict: