Hyundai Atoz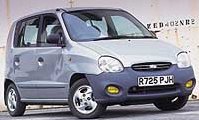 You won't expect a Korean car has any innovation or special character. You are right, even the latest sub-compact from the Korean no. 1 maker does not break the mould that set by Japanese - despite of limited dimensions, its tall body and space efficiency allows 4 adults to seat comfortably. Moreover, it has two more doors than Fiat Seicento and Seat Arosa, which are supposed to be its target rivals in European market.

Mechanical layout has nothing special : a 3 valves per cylinder inline four displacing at 1 litre, output 54hp and 61lbft. (Domestic version has 798c.c., 51hp and 51lbft) Suspensions are MacPherson strut in front, torsion beam in the rear. What else could be used for such a small car ? Sometimes I feel quite boring to describe this kind of cars. All of them are the same !!

As expected, Atoz displays little dynamic from the soft suspensions while tall body generates excessive roll. OK by Japanese standard, but not in the Fiat and Seat's league. Cabin is rather too simple by today's standard. I would have expected an RV-like versatility like Daihatsu Move or colourful trimming like Renault Twingo. Anyway, the baby Hyundai must be able to attract entry level buyers, especially after Korean dollar went down recently.

The above report was last updated in 1998. All Rights Reserved.
Specifications
| | |
| --- | --- |
| Model | Atoz (European version) |
| Layout | Front-engined, Fwd. |
| Dimension | L / W / H / WB: 3500 / 1500 / 1620 / 2380 mm |
| Engine | Inline-4, sohc, 3v/cyl. |
| Capacity | 999 c.c. |
| Power | 54 hp |
| Torque | 61 lbft |
| Transmission | 5M |
| Suspension | F: strut / R: torsion beam |
| Tyres | 155 / 70 R13 |
| Weight | 810 kg |
| Top speed | 88 mph (claimed) |
| 0-60 mph | 15.1 sec (claimed) |
| 0-100 mph | N/A |
---
Copyright© 1997-2009 by Mark Wan @
AutoZine