Hyundai Sonata

Debut: 2009
Maker: Hyundai
Predecessor: Sonata (2005)

| | |
| --- | --- |
| | The rise of Korean motor industry must be the worst nightmare to the Japanese... |

Until a few years ago, Korean cars appealed to us for only one reason: cheap. People bought Korean cars because they could not afford the better built and better performing European and Japanese cars. However, those days are over. In recent years, Korean cars have picked up a higher gear, progressing at double pace and narrowing the gap greatly. Hyundai-KIA might not be as innovative and trend-leading as European, but it followed closely the footsteps of Japanese car makers and has arrived a point to challenge the Japanese on equal ground. Look at the recent KIA C'eed, Soul, Venga and Koup, or Hyundai i10, Genesis and Equus. All are competitive rivals to Japanese products. The rise of Korean motor industry must be the worst nightmare to the Japanese. On the one hand, strong yen prevents the Japanese from packing as much ingredients and technology into their cars as the Korean. On the other hand, a shrinking domestic market means the Japanese are busy fighting among themselves, lacking the focus and necessary resources to fight against the Korean. North America, once the colony of Japanese motor industry, is facing a tsunami called "The Korean Invasion". It is not going to be the end of the world. It just might be the end of Japanese occupation.


| | |
| --- | --- |
| | "Four-door coupe" styling inspired by Mercedes-Benz CLS and Volkswagen Passat CC. |

Seeing today's Sonata recalls my memory of Japanese cars in their hey days. Back in 1988, Nissan stunned us by introducing a slim, coupe-shaped four-door sedan called Cefiro. Not only good-looking, it had higher build quality and more sophisticated technology than contemporary European cars. It made me worry the prospect of Ford Sierra, Opel Vectra, Peugeot 405 or Volkswagen Passat. Today, Toyota Camry, Honda Accord and Nissan Altima have taken the position left by European cars, and the amazing challenger becomes Hyundai Sonata. Like the late Cefiro, it employs a four-door coupe styling to capture your imagination. However, its inspiration does not come from distant memory, but the nearer Mercedes-Benz CLS and Volkswagen Passat CC. The so-called "fluidic sculpture" design was done by Western designers at Hyundai's California studio, no wonder its radicalness. It looks stiking yet visually high-quality, thanks to a nicely-shaped clamshell bonnet, an elegant front grille and sporty side graphics. It is hard to believe a Hyundai can make the Japanese sedans look dull and outdated...

The stylish and quality theme extends to the interior. The dashboard and center console look pretty smart. Plastics are mostly high quality, if not among the best of the class. Two-tone color scheme is not as boring as some rivals, and the piano-black treatment on some plastic panels delivers a sense of expensiveness. You get the latest technology as expected, such as engine start button, Bluetooth / MP3 / USB connectivity, TFT touch screen sat nav, parking assist and paddle shift gearbox. Controls are intuitive to use, especially the Volvo-inspired climate control. Despite of the shallow glass, you get reasonable visibility all round, thanks to the lack of blindspots. Seats are pretty comfortable too. Unlike the previous Sonata - or just any Korean cars, you can hardly spot a significant flaw in this cabin. Everything looks good and feels upmarket.


| | |
| --- | --- |
| | Despite of the shallow glass, you get reasonable visibility all round. |

The only small complaint is rear headroom. Blame to the coupe-like roof line, rear passengers taller than 6 feet may have their heads touching the roof lining. Other than that, it is plenty spacious. The new Sonata is slightly larger than the old car and matches the class norm. Its monospace design leads to the classification as "large car" by US EPA. However, I think most people would prefer to trade some of its unused space beneath the sloping windscreen and rear screen for a touch more rear headroom.

The coupe shape does benefit aerodynamics, lowering its coefficient of drag to 0.28, a far cry from the old car's 0.32. The new chassis is benefited from more high-strength steel, so torsional rigidity is lifted by 25 percent without affecting weight much. A more rigid base helps to install stiffer suspensions to delight keen drivers. As before, the rear axle is suspended by multiple links, but now control arms are made of aluminum to reduce unsprung weight. The front suspensions have been switched from double-wishbones to MacPherson struts. This seems to be a downgrade, but considering how poor the old car handled, and how much better the strut-suspension Ford Mondeo steers, there is plenty of room for Hyundai to improve. A generally stiffer setup is one of the examples. Another is the adoption of Amplitude Selective Dampers, i.e. a mechanical type adaptive damper which has been used by Mercedes A and C-class with considerable success. Until now, its Japanese rivals still ride on fixed-rate dampers.


| | |
| --- | --- |
| | The coupe shape benefits aerodynamics, but not rear seat headroom... |

The new Sonata also shows great vision in the selection of engines. In the view of tightening fuel economy requirements, it wisely abandons 6-cylinder engines and concentrates on only four-cylinder engines that most customers will buy. Upgrading to 6-speed gearbox - no matter manual or auto - also helps boosting fuel economy. Moreover, it equips the best selling 2.4-liter Theta II engine with gasoline direct injection, one step further than its Japanese rivals. The combination of GDI and dual-continuous variable valve timing leads to a class-leading output of 200 horsepower and 184 pound-foot of torque, hence good performance for a four-cylinder model. 0-60 mph sprint takes about 8 seconds. On the downside, Hyundai's first ever GDI engine runs and sounds like Mitsubishi's very first GDI engine, i.e. a little rough and noisy. Its refinement falls short of the level of Volkswagen's 2.0TFSI engine.

To power-hungry American, the role of V6 is substituted by the turbocharged version of the 2.4 GDI engine, which will pump out more than 250 horses when it arrive next year - by then it will be a serious challenge to the MacPherson struts front suspension in the war called "Torque Steer". At the lower end, a port-injection 2.0-liter unit is offered in Korea. Although it produces a respectable 165 horsepower at the top end, it is neither as torquey, as flexible nor as fuel-efficient as the 1.4 or 1.6-liter turbocharged engines found on the latest European cars. This shows that while Hyundai has surpassed Japanese car makers in the application of new engine technology, it is not there yet to challenge European for the lead.


| | |
| --- | --- |
| | Hyundai's first ever GDI engine runs and sounds like Mitsubishi's very first GDI engine... a little rough and noisy |

The chassis dynamics is quite normal. For sure, it is not a Mondeo, but it is not as dull as Camry either. You can get a stiffer suspension setting and 18-inch low profile tires if you opt for the SE model. By doing so, you will get a harder ride and a bit more road noise, but still acceptable to keen drivers. Body control, grip and brakes are competent without being outstanding. Steering is well weighted and precise, but like most electrical helms it is short of communication. NVH level has improved on the old Sonata, though more can be achieved. The new Sonata is not destined to be the most refined car in the class, nor it is the sportiest one. Its middle tuning is chosen to satisfy the majority.

Hyundai sets an ambitious sales target of 450,000 cars annually, a figure most rivals will jealous. Most of the cars will be sold in the USA, while Korea and Europe will also take considerable portions. Given the stylish look, upmarket packaging and competitive pricing, a sale success seems almost certain. Japanese rivals had better to up their games.


The above report was last updated on 9 Mar 2010. All Rights Reserved.
Sonata 2.0 turbo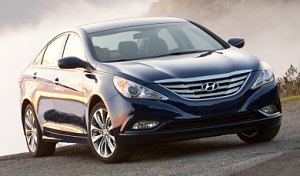 Most big family sedans in the American offer four-cylinder engines for base models and V6 engines for premium models. Previous generations of Hyundai Sonata also followed the same formula. However, the norm is being challenged by rising fuel economy standard and improving turbocharging technology. European cars like Volkswagen Passat and Ford Mondeo had already abandoned six-pot engines and adopted advanced direct-injected turbocharged engines displacing no more than 2000 cc. Now Hyundai group is also joining this camp. The first act is Sonata 2.0T.

Its formula is mostly the same as European one, i.e. a 2.0-liter all-alloy four-cylinder engine completed with dual-variable valve timing, direct gasoline injection and a twin-scroll turbocharger. Compare with its European counterparts, the Korean engine runs higher turbo boost pressure at a maximum 1.2 bar. This gives it superior output - 274 horsepower and 269 pound-foot of torque. Because the twin-scroll turbocharger is effective to minimize turbo lag, its response is quick and the torque band is wide (max torque is available from 1750-4500 rpm). Performance is very strong as a result. 0-60 mph sprint can be completed in six and a half seconds. The only complaint is a slightly harsh high-rev engine note.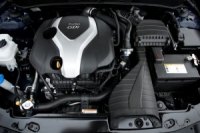 Unfortunately, the rest of the car hasn't changed at all. Its 6-speed automatic transmission is still slow and stubborn, refusing to blip throttle on downshift. The suspension setting and brakes, even in the sportier SE trim, does not match the enhanced performance. There is more body roll than you would expect on such a powerful machine. The electrical power steering is still artificially weighted, lacking real communication from the front tires. Compare with lesser Sonatas, the 2.0T is just faster but no more sharper to control.

On the plus side, Sonata 2.0T undercuts all its Japanese V6 rivals on price list. Running cost is also lower thanks to its superior fuel economy. Put it simply, its trump card is more bang for the buck.


The above report was last updated on 23 Oct 2010. All Rights Reserved.
Specifications
General remarks
Layout
Chassis
Body
Length / width / height
Wheelbase
Engine
Capacity
Valve gears
Induction
Other engine features
Max power
Max torque
Transmission
Suspension layout


Suspension features

Tires
Kerb weight
Top speed
0-60 mph (sec)
0-100 mph (sec)

Sonata 2.0

Front-engined, FWD

Steel monocoque

Mainly steel

4820 / 1835 / 1470 mm
2795 mm
Inline-4

1998 cc
DOHC 16 valves, DVVT

-

-
165 hp

146 lbft

6-speed manual

F: strut
R: multi-link

Mechanical adaptive damping

215/55R17
1395 kg

-

-

-

Sonata 2.4

Front-engined, FWD

Steel monocoque

Mainly steel

4820 / 1835 / 1470 mm
2795 mm
Inline-4

2359 cc
DOHC 16 valves, DVVT

-

DI
201 hp

184 lbft

6-speed automatic

F: strut
R: multi-link

Mechanical adaptive damping
225/45VR18
1465 kg

-

7.8* / 8.1**

20.7*

Sonata 2.0T

Front-engined, FWD

Steel monocoque

Mainly steel

4820 / 1835 / 1470 mm
2795 mm
Inline-4

1998 cc
DOHC 16 valves, DVVT

Turbo

DI
274 hp

269 lbft

6-speed automatic

F: strut
R: multi-link

Mechanical adaptive damping
225/45VR18
1515 kg

153 mph (limited)

6.2*

15.1*
Performance tested by: *C&D, **MT
Copyright© 1997-2010 by Mark Wan @
AutoZine