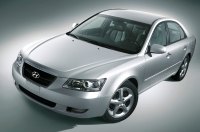 Hyundai wants to be the world's fifth largest car maker by 2010. To do this, it should not only sell a large number of small cars but also have a bigger slice of the mid-size car segment. This is especially crucial to its largest overseas market, the USA, where mid-size cars are the biggest selling class. To fight against class leaders Toyota Camry and Honda Accord, Hyundai invested some US$250 million into the new generation Sonata, an unheard figure for Korean cars. It will also be produced in the USA for the first time at a brand new factory. The combined volume of the American and Korean factory will be 300,000 Sonatas a year.



From the pictures, the new Sonata does not look like that ambitious. Its exterior styling is conservative or even boring. So lack of new ideas and inspiration that it looks like, well, just a car. The same goes for the mechanical layout. Following its Japanese rivals, Sonata adopted a front-drive, transverse engine layout with a choice of a 4-cylinder and a V6 engine. 5-speed manual gearbox or 4-speed auto for the smaller engine and 5-speed auto for the V6. Nothing caught our attention.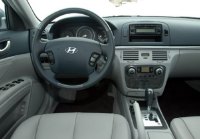 The car measures 4.8 m in length, 1.83 m in width, 1.475 m in height and have a 2730 mm wheelbase. In other words, the same size as Camry and Accord. Open the doors and you will find much the same room as its rivals, thus five adults should sit comfortably on the well-shaped, if slippery, leather seats. However, the Hyundai is cheaper than the Japanese cars and this is immediately revealed by its cabin – not only the design is dull, it employs cheap-looking ungrained plastics at the center console and glovebox. They are easy to scratch, and easy to scratch you by their rough edges. In other words, cabin quality is sub-standard.
The Sonata has a chassis rigid enough. It also employs high-spec suspensions: the front wheels ride on double-wishbones and the rear on multi-link setup. Hyundai used to employ very soft setup to please American, but now with the addition of the American production plant it can employ stiffer setup for market elsewhere, including Korea and Europe. This is also the version we talk here.
With stiffer springs and dampers, the new Sonata feels sportier than Camry, if not Accord. It still understeer a lot – blame to the high-profile tires – but it rolls little in corner. Unfortunately, this is in the price of ride quality. In fact, Sonata is one of the worst riding cars in this class. It sends shocks from bumpy surfaces to the cabin accompany with a lot of suspension noise and road noise. Hyundai still hasn't handle the know-how of NVH suppression.

Comparative
ly, the engine department is much better. Both engines are newly developed. The "Theta" 2.4-litre 4-cylinder is a joint-venture among Hyundai, DaimlerChrysler and Mitsubishi. It has many good technologies, such as all-alloy construction, twin-cam 16 valves, continuous variable valve timing, variable length intake manifolds and twin-balancer shafts. It produces 161 hp and 161 lbft of torque, virtually the same as Honda and Toyota's counterparts. Though neither the smoothest nor the most eager to rev, the Theta delivers a satisfying combination of power and refinement. Mated with a manual gearbox, the Sonata can accelerate to 60 mph in a competitive 8.4 seconds.
The 3.3-litre "Lambda" V6 is also brand new. It employs aluminum block, twin-cam 24 valves, continuous VVT and variable intake like the smaller engine. 233 horsepower is more than enough for a Korean family car, especially when the additional 300 cc over the Japanese rivals gives it superior torque. The V6 mated with a 5-speed automatic accelerates to 60 mph in 7.5 seconds, faster than Camry.
Therefore, in terms of performance and engines the Sonata is competitive. In terms of driving fun, there is hardly any. Although roll resistance is quite good, the Sonata is no match with the American Accord in handling, let alone the smaller Ford Mondeo, Mazda 6, Volkswagen new Passat and the European Honda Accord. Size is a problem, so is understeer and numb steering feel. Besides, the car is so lack of inspiration, no matter in design and the way it drives.
However, those buying Korean cars are unlikely to be excitement seeker. The biggest problem to the Sonata is poor quality and refinement. It shows that Hyundai is not yet in a position to match the Japanese and European car makers.