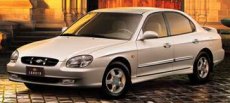 On paper, Hyundai Sonata's organic shape is not very attractive to eyes, but seeing the real car is another matter. High quality paint coats the body uniformly, further enhanced with chromed decoration at the boot lid handle, it feels quite classy. At the front, headlights and grille could look odd in pictures, but again, the real car looks original and unique enough to be distinguished from a crowd of Japanese sedans. In my opinion, Sonata is more beautiful than both of its main rivals, Toyota Camry and Honda Accord.

It should be noted that Sonata is not primarily designed as a driver's car like Peugeot 406 or Ford Mondeo, although it rivals them, among others, in Europe. The biggest hope is still in United States, the huge single market that Hyundai earned its first bucket of gold in the late 70s. In other words, Camry and Accord are its no. 1 and no. 2 rivals to beat. Volkswagen Passat could also be a competitor, but the choice between them is rather simple: German prestige or Korean value for money ?

Hyundai's value for money rarely let us down, no matter Atoz, Lantra (Elantra) or Coupe (Tiburon). As usual, Sonata undercuts any Japanese rivals yet loaded with a full list of standard equipment. However, the price gap is no longer that big. Instead, Sonata has worked hard on the uphill battle of lifting build quality and refinement to world standard. To certain extent, it has succeeded.

Build quality is generally faultless. What it lacks is a more stylish dashboard design and real wood instead of plasticky fake wood. The roomy cabin offers space matching the Japanese duo and surpass most European mid-size sedans bar Passat. Wheelbase of 2700 mm isn't really class leading (same as Peugeot 406), but the 1818 mm width allows a generous shoulder room. In addition to the 4.71-meter length, the Sonata is right at the size of Accord and Camry.

This Sonata has double wishbones replacing MacPherson stuts as front suspension. Rear remains to be multi-link setup. It rides smoothly and generates minimal tyre and wind noise. What a pity the engines work against the otherwise quiet environment. The are 3 engines on offer: top of the range is a 2.5-litre V6 with dohc 24 valves. The all aluminium unit becomes loud and coarse when pressed. Next down is a 2.4-litre 4 pot, with 16 valves and twin balancer shafts. It's even more noisy, although punchy (149hp). That Mitsubishi-sourced engine is only on sale in the US. Instead, Europe gets an entry-level 2-litre 16V sharing with Coupe (Tiburon).

Even with the V6, Sonata isn't really quick because it is some 30hp down from industry standard. The 4-speed automatic, despite of Fuzzy logic which adaptive to different driving style via learning, is slow to downshift. In terms of handling, body control is upset by soft-biased suspension. The extra size and weight also prevent it from feeling agile, although steering is pretty accurate. Admittedly, both Camry and Accord have such problems.