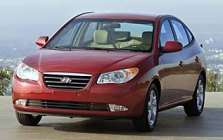 The outgoing Elantra was one of the worst cars in the class. It looked ugly and performed poorly in engine refinement, handling and especially ride quality. If not the low price, its credit rating would have been set at junk level. Having such a poor predecessor, the new car (called Avante in Korea) should have an easier life. It won't be difficult to get favourable comments from motoring journalists such as "a huge improvement here, a big improvement there". The question is, can the largest Korean car maker – or the 6th largest car maker globally – produce something really competitive against the best Japanease and European small cars without resorting to aggressive pricing ? after the recent Sonata and Azera, there seems to be a good chance.

At the first glance, the new Elantra is not very promising. Why? Because its organic exterior design looks outdated and characterless. Who knows why Hyundai demonstrated so many HCD blah blah blah concept cars through the years and still resulted in production cars looking this boring. Open the doors, similar harsh words can be said to the design of the dashboard. However, at least the materials are far better than you expected for Korean cars. There are real-looking faux alloy and brush aluminum panels. The plastics are no longer shinny ones, but fully textured, if not soft-touching. The dials and displays illuminate in blue. All these features appear to be Japanese style. Not bad.


Better still is space and comfort. The Hyundai compact car measures 2650 mm in wheelbase, 1775 mm in width and 1480 mm in height. This give it more generous room than all Japanese rivals, Honda Civic sedan and Nissan Sentra included. The amount of shoulder room, head room, legroom and foot room are so generous that the USA's EPA classified it as mid-size car instead of compact ! All seats are mounted high and are very comfortable, if they don't look as good. The driver seat is served with height adjustment and telescoping steering wheel, so drivers of any size can find comfortable driving position.

The Elantra is a 4-door sedan with a rather short trunk, so its luggage room measures only 402 liters, not much bigger than most hatchbacks. Open the trunk lid and you will see where Hyundai saves money – the interior of the trunk is the bare chassis without any fabric or plastic covering. The old-fashioned hinges of the trunk lid intrude seriously into the luggage space. Hyundai hides the cheap stuffs in where you rarely notice. This give us an impression that the car is not really that well built.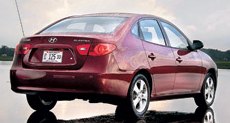 The Elantra offers 3 engines to choose from: 120hp 1.6-liter DOHC CVVT, 138hp 2.0-liter DOHC CVVT and 115hp 1.6-liter 16V common-rail turbo diesel. The diesel is designed for Europe while the largest petrol engine targets mainly at American. The 2.0-liter is an old engine that served the outgoing Elantra. It is neither powerful nor frugal despite of the variable valve timing. Cast iron block fails to suppress its noise, which becomes intrusive above 3500 rpm even though the new cabin is better insulated. That makes highway driving unpleasant. On the positive side, the 5-speed manual has a smooth gearshift and a delicate clutch pedal. Another transmission is an old-fastioned 4-speed automatic. It takes some performance off, but the gearing keeps engine rev low at cruising, thus deliver better refinement than the manual.

The chassis is 49 percent stiffer than the old car, which helps ride quality and refinement. Its handling is slightly better than Toyota Corolla and Nissan Sentra, but the ride is too floaty at higher speed and the electric power steering is too light and numb to challenge the best European and Japanese rivals, namely Volkswagen Golf, Ford Focus, Mazda 3 and Honda Civic. In short, this is not a driver's car.

The bottom line is: the new Elantra is a big improvement from the old car, just as you might have read from other journalists. Its cabin space and seat comfort are particularly impressive. Nevertheless, no matter in dynamics or refinement, there is still a long way to go before it can match the class leaders. Until then, its trump card is still the keen price and long list of standard equipment.