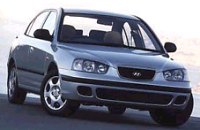 Undoubtedly, Hyundai has made a better Elantra - otherwise, it would not have renewed it - but does it progress enough to match the improving competitors ? no. From Escort to Focus, from old Corolla to new Corolla, you can see the whole world is moving quickly. Unluckily, the new Elantra not only fails to close the gap from its Western and Japanese rivals but even lag behind more than ever. 6 years ago we were surprised by how well built, good look and fun to handle the old Elantra (or Lantra for some countries) was - compared with the contemporary Escort. Today the 2-year-old Focus will leave the fresh new Elantra dead in all areas.

The car has grown in all dimensions, including a 60 mm longer wheelbase and 30 mm height. This brings it the same level of interior space as Focus and Corolla but of course no way matching Honda Civic (especially 5-door). The 415-litre boot might be its only superior advantage, but then Hyundai Europe is crazily target the car to the same crowd buying the bigger Nissan Primera and Toyota Avensis, indicating that the Hyundai is no longer as bargain as it used to be. In fact, an entry-level new Ford Mondeo is just marginally pricier than the Elantra 2.0 CDX. No doubt people will buy which car.

Despite of a beautiful name, the new Elantra is the ugliest cars launched in recent years - well, maybe its little brother Accent is uglier. Build quality is of course vastly improved, but so is the oppositions. You will never praise the design, materials used and finish of dashboard. Functionality-wise, few new family cars have a cabin so conservative and completely devoid of any MPV features.

Both 1.6-litre and 2.0-litre are refined versions of the existing units, therefore both of them are far from world-class. The smaller one is sweeter and suits the incapable chassis. In contrast, the 2.0 unit with 140 horsepower can easily spin the front wheels in corner and rev loudly on motorway, in contrast to the well-suppressed wind noise.

It seems that all controls work in harmony to protest against enthusiastic drive. The steering is lifeless. The clutch has no feel. Suspensions are soft so that it runs well on smooth motorway but fail to deal with rough roads. Too much body roll in corners. The positive side is: NVH suppression is pretty good, except the aforementioned 2.0 engine.

But just that is not enough. The bottom line is, this car is by no means interesting to drive and to talk about.