| | |
| --- | --- |
| Published on 10 Apr 2012 | All rights reserved. |

Hyundai's current design theme, Fluidic Sculpture, gets better and better since its debut in the 2009 Sonata. The progress is evident on the latest generation Azera (or Grandeur in Korea). This car looks sleeker, sportier and sexier than a large executive saloon has any rights to be. Look at its beautifully flowing lines and the sharp creases over the rear shoulders, I would say this car is even more convincing than many so-called "4-door coupes", such as Volkswagen Passat CC, to catch our sense of aesthetics. Meanwhile, the exterior also shows high level of coherence and finishing, without any odd / radical / flamboyant details that could possibly fail the test of time. This proves that Hyundai has really come to its own in terms of design. Hats off to its internationalized design team.

Exterior design is certainly the trump card of the new Azera. Comparatively, other areas are rather understated. Don't get me wrong, the new car is not bad by any means. Far from it actually, it is much more competitive than the car it replaces – faster, better built, more refined and finally feels built in one solid piece rather than a summation of components. It no longer needs a throat-cutting price to lure buyers. However, neither will we describe its driving dynamics, refinement and build quality as class-leading. There are plenty of cars that drive better and feel classier, such as BMW 5-series, Mercedes E-class, Jaguar XF, Audi A6, Lexus GS and Infiniti M-series. The Hyundai can only pursue to be the best of the rest. It targets the same audiences as Lexus ES350, Toyota Avalon, Acura TL, Ford Taurus, Buick LaCrosse and Chrysler 300. Its mainstream prices reflect that intent, as is the long list of standard equipment. For the same money you will be struggling to find a fully loaded BMW 328i, let alone a European E-segment executive saloon. In Hyundai's own family chart, the Azera sits under Genesis.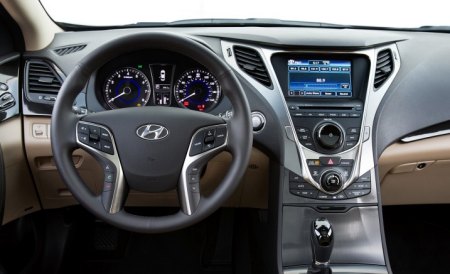 Having known its market positioning, you won't be disappointed to see the interior of Azera looks more like an upscale Sonata than a bespoke luxury. Its dashboard design is a reminiscent of its smaller sister. Instruments are conventional. Switch gears feel mass production. You are surrounded by mostly soft plastics, supplemented with limited leather trim but with no traces of real wood accents or solid metal switch gears to make you feel great. In other words, it lacks the smell of luxury. However, space is plenty. Even though the coupe-style roof line looks low, 6-footers can sit at the rear with complete comfort.

The lower cost base is also evident from its underpinnings. The front-drive architecture with all-steel suspensions consisting of MacPherson struts up front and multi-link rear axle is derived from Sonata. It also features the same Sachs ASD mechanical adaptive dampers rather than a computer-controlled system normally found on the premium players of this segment. What distinguishes it from its sibling is engine: the Azera is powered by a 3.3-liter GDI Lambda II V6 good for 294 horsepower and 255 pound-foot of torque. It is pretty advanced, with all-alloy construction, direct injection, dual-VVT and a 3-stage variable intake system, although green technologies like automatic stop-start, on-demand cooling/lubrication and regenerative braking are missing (note: the only green feature is an Eco mode for the engine and transmission mapping). Beside the 3.3-liter, Korean version Grandeur is also available with a 270 hp 3.0-liter GDI V6 and a 201 hp 2.4 GDI four-cylinder. As six-cylinder is no longer available to Sonata, some buyers may move up to the Azera. A bit disappointing, all three engines hook up to the Sonata's 6-speed automatic instead of the new 8-speeder of Genesis and Equus, as the latter is not compatible to transverse engines.



Owing to its relative simplicity, the Azera is quite light at 1635 kg. In addition to close to 300 horsepower, its performance should be sparkling. Unfortunately, its relatively small capacity – vs the class norm of 3.5 liters naturally aspirated or 3 liters turbo/supercharged – means the V6 is short of low down torque. The transmission's civilized response does not help either. As a result, the car never feels as potent as the figures suggested. It takes the high six seconds range to accelerate from rest to 60 mph, trailing the premium class rivals by about a second – that feels a day-and-night difference in the real world. On the positive side, both the V6 and gearbox run smoothly and quietly. Though lacking firepower, they serve the duty of a comfort-oriented executive car very well.

On highway, the Azera's vastly improved NVH suppression keeps noise shut out of the cabin, ensuring its occupants to feel a high level of refinement. The ride is smooth, too. However, at low speed, coarse surfaces, the unsophisticated suspension could transmit more shocks and noises into the cabin than a top-tier executive car should. This reveals a setup firmer than the outgoing norm of Hyundai as well as the current Lexus ES350. On the flip side, body control is decent, if not sporty. The car turns into corners quite responsively for a front-driver. Its electrical power steering is more consistently weighted than that of the Sonata, although it still feels artificial. The brake pedal is nicely modulated. Overall, its chassis is one of the better controlled among the second division players of E-segment, although it is not as refined as some rivals. Just don't expect it to match the best rear-drive or all-wheel-drive premium rivals. If Genesis cannot do that, let alone Azera.

That's why its exterior design is somewhat misleading.

Verdict: