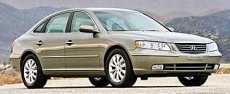 Azera (or "Grandeur" in Korea) replaces the outgoing XG as Hyundai's flagship near-luxurious sedan. Unsurprisingly, its main market is the USA, thus its main rivals include Toyota Avalon, Ford 500 and Buick Lucerne. Note that I did not take Chrysler 300 into account, because the Hyundai aims at a more conservative crowd (i.e. the oldies) that traditionally associated with Buick and recently shifting towards Avalon. To younger buyers who pursue for driving excitement, these cars are not their cup of tea.

So, let's tune our mind to align with old people, and you'll find the Azera a perfect limousine. First of all, it is cheap, very cheap. We used to appreciate Avalon for excellent value for money, but facing the Hyundai it suddenly becomes overpriced, because a comparably equipped Azera undercuts it by at least 10 percent.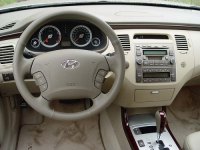 Then, if you are old enough, you must like the styling of Azera. It's generic design with a slim tail and a lot of chromed details is exactly the classical (or outdated) design you are looking for. Open the doors, the cabin looks clean and easy to use, without much electronic gadgets to trouble your tired brain. Comfy leather seats relief your back pain. Well, the materials and build quality are not as good as Avalon, but better than Big 3's offering, so there is nothing to complain about. Space is another strength. Considering how short Korean people are, it is surprising how big the Azera's cabin is. Believe or not, Hyundai even claims it offer more room than BMW 7-series and Mercedes S-class.

The Azera rides on a platform shared with its little sister Sonata, but stretched and strengthened. A 68 percent increase of chassis rigidity over the XG gives it better dynamics and refinement, and allows the double-wishbone and multi-link suspensions to concentrate on absorbing road harshness. As you may expect, the ride is set very soft to please you the old man. Handling is markedly improved from the XG, reduces understeer and eliminates chassis flex completely. However, when you encounter a Chrysler 300C on the road, don't be silly to challenge it. A front-driver is still a front-driver. An old man's car is still an old man's car. From the excessive body roll, the overlight steering and the lack of agility you can see it does not intend to be an exciting driving machine.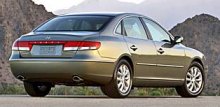 On the motorway, the Azera is a good performer. Hyundai gave it a large V6 displacing 3.8 litres and equipped with DOHC and continuous variable valve timing. This is no longer a Mitsubishi product but its own engine. It produces abundance of power and torque (263hp and 255 lbft), runs smoothly and quietly. The same goes for the 5-speed Tiptronic-style transmission. Doing highway cruising in Azera is relaxing, as the cabin is well insulated from noise. Old people must like that.

The problem is: we are not old people actually, and we do not promote this kind of inefficient American big cars. If Hyundai continue dumping these 1.7-ton, 3800cc big cars into the market at an ever lower price to tempt ever more people switching from small cars, then our planet will be game over.