Honda Life

Debut: 2008
Maker: Honda
Predecessor: Life (2004)


Which is best selling Honda model at its home market ? Civic ? no. Fit ? sometimes. If you count on the accumulated sales through the years, it would be Life, the K-car that Honda has been producing since 1971. By late 2008, it had already sold 1.5 million copies in Japan, more than any other models of the company.

K-car segment is undoubtedly very important in Japan. However, in my opinion it is not very efficient for a conventional car maker like Honda, Mitsubishi or Subaru to produce K-cars. These makers have only one or two K-car models in their lineup. Because of their unique specifications, very few parts could be shared with other models, thus they are difficult to be priced competitively against the K-cars from Suzuki and Daihatsu, which enjoy much larger scale of economy. Anyway, Honda find the segment too important to be abandoned. Let's see whether it could distinguish it K-cars from the rest of the field.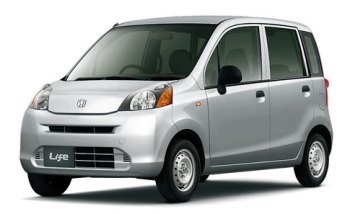 The current generation Life was introduced in late 2008. Tailored to the taste of different customers, it offers 3 versions – G is the basic model pictured here; Pastel has a softer, more stylish front end design to attract women drivers; On the contrary is Diva, whose aggressive bumpers and spoilers try to please male drivers. No matter which version, the underpinnings are practically the same. It has a tall and narrow body riding on a 2420mm wheelbase, struts front and torsion-beam rear suspensions. Like most other K-cars, FWD and 4WD are available. Steering is powered electrically. Honda's i-DSI three-pot engine has only one camshaft operating 2 valves per cylinder, but this arrangement frees up space for twin-spark plugs, leading to a more efficient combustion. Output is a modest 52 hp and 44 lb-ft though. This is not helped by a compulsory 4-speed automatic transmission, so don't expect a brisk performance. Turbocharged version of the engine produces 64hp (again limited by the K-car regulation) and 69 lb-ft, nothing special.

As you would expect, the Honda K-car offers a lot of space for its size, thanks to a boxy profile and tall roof. Honda emphasizes its 360-degree visibility, helped by slim pillars and large windows, but that is again predictable on a K-car. The seating / luggage arrangement is not as versatile as rivals. You get split rear seats, but they don't slide, tip forward or fold flat. The dashboard design and materials show no superiority over its cheaper rivals. In fact, you will be difficult to recognize this is a Honda.

The only special feature is automatic parking, but even this feature is increasingly popular among Japanese small cars. Failing to distinguish from others, the latest Life is not going to find life easy.


The above report was last updated on 19 Jan 2010. All Rights Reserved.
Zest
Debut: 2006
Predecessor: That's (2002)

Why does Honda produce two K-cars ? Because they have different purposes. While Life fulfills the regular needs of motoring, Zest does the MPV things, optimized for passenger space and luggage carrying capability. This is just like Suzuki Alto vs Wagon R, or Daihatsu Mira vs Move.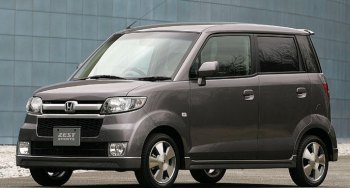 The Zest was introduced in 2006. Itself and the current Life are derived from the platform of the last generation Life. Power again comes from that 660cc 6-valve i-DSI 3-cylinder engine. Transmission is still that outdated 4-speed automatic. These compare infavourably with its rivals' multi-valve variable-valve-timing engines and continuous variable transmissions (CVT). As it weighs nearly 900 kg, even in the lightest form, it goes like a pig.

The extra-tall body, measuring 1645 mm from ground to roof, also hampers its handling. Nevertheless, it gives the interior a spacious feel and enables the rear seat to be mounted higher than the front to improve sense of airiness. Knee space at the back is as good as you can get in a Kei car. Seating arrangement is far more flexible than its sister car – the rear seat can split, fold flat or recline to form a bed. In addition to the large and square tailgate, Zest is the best companion to move home. Not as great is the dashboard design and interior quality, which shows its age. It feels hard and cold beside the latest generation K-cars.

Outside, the Zest is also hard to impress observers with its angular styling and lack of funkiness. Recently, Honda tries to improve its visual appeal with Zest Spark, which has restyled grille, bumper, spoilers and dark interior trim, but that car is no more tasteful than the original. It still looks more a commercial minivan than a multi-purpose city car.


The above report was last updated on 19 Jan 2010. All Rights Reserved.
Specifications
General remarks
Layout
Chassis
Body
Length / width / height
Wheelbase
Engine
Capacity
Valve gears
Induction
Other engine features
Max power
Max torque
Transmission
Suspension layout


Suspension features
Tires
Kerb weight
Top speed
0-60 mph (sec)
0-100 mph (sec)

Life

Front-engined, FWD

Steel monocoque
Mainly steel
3395 / 1475 / 1610 mm
2420 mm
Inline-3
658 cc
SOHC 6 valves

-

Twin-spark
52 hp

44 lbft

4-speed automatic
F: strut
R: torsion-beam

-
155/65SR13
810 kg
-

-

-

Life turbo

Front-engined, FWD

Steel monocoque
Mainly steel
3395 / 1475 / 1610 mm
2420 mm
Inline-3
658 cc
SOHC 6 valves

Turbo

Twin-spark
64 hp

69 lbft

4-speed automatic

F: strut
R: torsion-beam

-
165/55VR14
860 kg
-

-

-

Zest

Front-engined, FWD

Steel monocoque
Mainly steel
3395 / 1475 / 1645 mm
2420 mm
Inline-3
658 cc
SOHC 6 valves

-

Twin-spark
52 hp

44 lbft

4-speed automatic

F: strut
R: torsion-beam

-
155/65SR13
890 kg
-

-

-
Performance tested by: -
Copyright© 1997-2010 by Mark Wan @
AutoZine