Honda Life

Debut: 2004
Maker: Honda
Predecessor: Life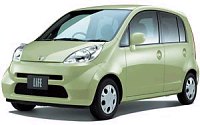 The Japan-only Life was renewed in late 2003. As before, it falls in the K-car category, bounded by 3.4m length and 1.475m width. However, Honda still found ways to increase its wheelbase by 60mm to 2420mm, which is class-leading. For instance, Daihatsu Mira is 2390mm; Suzuki Wagon R is 2360mm. This gives it an extraordinary roomy interior. The new Life also has a highly flexible seating plan. The most special of which is that the front passenger seat is mounted on rails thus can slide forward to give the driver access to the rear cabin or to place big things inside the car. Another strength of the car is an expensive looking dashboard which employs high quality materials rarely seen in this class.

Mechanically, there is also some surprises. Life employs a new i-DSI engine similar to the Fit / Jazz's. This is a 3-cylinder engine displacing 658cc, with just 2 valves per cylinder to accommodate a couple of spark plugs. Twin-spark design enables quicker propagation of fire thus cleaner combustion and lower fuel consumption. It also enables a higher compression ratio to raise power, partly compensating the less efficient 2-valve head. Besides, this i-DSI engine has unusually oversquare combustion chambers, with a big 71mm bore and short 55.4mm stroke. This also leads to higher revvability hence higher power.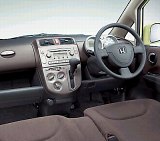 In normally aspirated form, the engine pumps out 52hp and 45lft of torque. This rivals well with Daihatsu's and Suzuki's 4-valve and VVT-equipped engine (58hp / 47lbft and 54hp / 46lbft respectively) while has an advantage in fuel consumption and production cost.

Turbocharged version of the engine generates 64hp (limited by regulation) and 69lbft.

Surprisingly, there is no CVT transmission available, just a 4-speed automatic with lockup mechanism. Suspensions are conventional MacPherson struts up front and torsion-beam axle at the rear.

Externally, the new Life looks a little odd at the front end. But it is less conventional than the current class-leader Daihatsu Mira. Whether it can beat Mira is left to be seen.
The above report was last updated on 17 Aug 2004. All Rights Reserved.
That's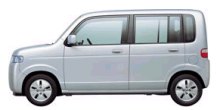 Derived from Life, That's shares floorpan and all major parts with its sister. What differs - if too trivial to most of us - is the pursuit of maximum space out of the basically identical exterior dimensions, hence a boxy profile. At least the styling is more contemporary.
The above report was last updated on 8 Feb 2003. All Rights Reserved.