Honda Legend / Acura RL

Debut: 2005
Maker: Honda
Predecessor: Honda Legend III / Acura RL (1996)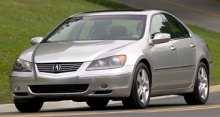 2 decades ago, Honda Legend was the first Japanese executive saloon enjoying the world's recognition as well as sales success in the United States. But since the birth of Lexus and Infiniti, the fortune of Legend declined gradually. Admittedly, most of that was due to its own problem. The third generation Legend was renamed to Acura RL in the United States, but instead of taking advantage of Acura's sportier image, it actually went bigger, heavier, more luxurious and more conservative. Eventually it was forgotten by the market, became one of the rare failures of Honda.

To revive the Legend, Honda developed an all-new Legend in late 2004. This car is so different from the old car. It has an aggressive styling, a new 300hp engine, one of the world's most advanced 4-wheel-drive systems and a sporting philosophy behind it. Nothing could be more different. It immediately won appreciations from all over the world. At home, it is titled Japanese Car of the Year 2005. Across the Pacific Ocean, it entered the 10 Best of Car And Driver magazine. The question is, how does it compare with European executive cars headed by BMW 5-Series? we shall find the answer in this report.


From design point of view, the new Legend is far from successful. Its exterior design is more aggressive than the old Legend, but it lacks fineness, especially the characterless tail and C-pillar. The whole car looks like a pumped-up version of the previous generation Acura TL. Without any elegant details, it hardly looks like a premium car. This is a big problem for a car costing more than BMW 530i and closer to Audi A6 V8. Remember, the Legend is powered by only a V6.

From packaging point of view, the Legend is far from modern. The way it uses space and materials is too inefficient. Externally, it is 9cm longer than the 5-Series, otherwise are much the same size. Inside, it offers slightly more room for the front passengers, but the rear head and shoulder room are tighter. This is especially disappointing for a car whose engine is mounted transversely over the front axle, in contrast to BMW's optimized position. The same story goes at the trunk - the BMW can swallow 520 litres of luggage while the Honda can carry just 452 litres. By class standard it is rather small.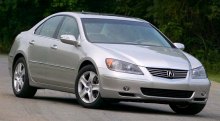 But the biggest disappointment reveals on the scale: the Legend weighs a hefty 1800kg, a full 300kg more than 530i !! even compare to 545i it is still 165kg heavier. 4WD system is one of the reasons, but Honda compensates that with aluminum bonnet, front fenders, trunk lid, subframes (which is made by hydroform technique for even lighter), suspension arms, brake calipers, bumper beams…. aluminum intake manifolds, magnesium cam covers and seat frames, and a carbon-fiber propeller shaft that transmit power to the rear axle ! the longer the list grows, the more you question how they can made the car so overweight.

That makes the V6 struggling. Viewing it in isolation, it is a remarkable engine. The all-alloy V6 runs an optimized 60-degree incline angle, in contrast to the previous Legend's 90 degree (which required a balancer shaft). That means it is a new engine, despite of the same capacity at 3.5 ltires. The cylinder heads run sohc with 4 valves per cylinder - a Honda's trademark - and VTEC variable valve timing and lift (note: not the newer i-VTEC). Intake comes from a variable volume intake plenum. The combustion chambers run a high 11.0:1 compression ratio. Exhaust gas flows out to a 2-stage variable muffler. All these point to a remarkable power output: 300 horsepower at 6200rpm, even more than NSX by 10 horsepower.

The new V6 has Honda's typical smoothness and quietness, but its 260 lbft of torque, arrives at a high 5000rpm, struggles to pull the 1800 kg Legend. This is not helped by the 5-speed only automatic gearbox. Car magazines found it accelerates from 0-60mph in 6.5-6.7 seconds. That is adequate rather than sporting. The new Mercedes E350 and BMW 530i with 258hp engine should achieve the same performance yet return lower fuel consumption. Climb up to the V8 level, most European machines will take you there in the high 5-second. And they don't cost a lot more than the Legend.

That confuse me. On the one hand, Legend does not have the power and low-end grunt to compete with 545i, A6 4.2 and E500. On the other hand, It does not have the necessary price advantage over 530i, A6 3.2 and E350, which look far more prestige than the Honda and have a premium brand logo on their bonnets. Acura? who care?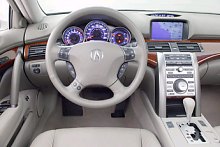 However, by objective measurement the Legend is on a par with its European rivals in many aspects. Cabin luxury is one of them. Open the door, you will see a stylish yet superbly built cabin. It is trimmed with plenty of wood and soft leather and loaded with many luxurious equipment, such as a first class DVD stereo, voice recognition command system and the interesting anti-noise control from Honda Inspire. This is perhaps the best aspect of the car.

Handling is also worth praising. Thanks to the new SH-AWD (stands for Super Handling - All Wheel Drive) system, the Legend finally can be called a "driver's car".

SH-AWD is a very versatile and clever 4WD system. It can vary the torque split between the front axle and rear axle - up to 70% torque can be sent to either axle depending on need. Moreover, it can shift up to 100% torque between the 2 rear wheels to aid cornering, much in the same way as Mitsubishi Lancer Evo's AYC system. This is especially effective to eliminate understeer, a thing associated with Audi's Quattro and most other 4WD systems. Without SH-AWD, the Legend would have understeered heavily during fast cornering. In contrast, SH-AWD can overdrive the outside rear wheel to eliminate understeer, ensuring the car to corner swiftly.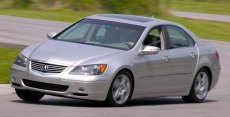 On the road, Legend really handles amazingly good. Unlike other front-drive Hondas, it produces plenty of traction yet without any trace of understeer. The handling is fool-proof and confidence inspiring, even more so than the rear-drive 5-Series and E-class. Nevertheless, there are a few things prevent it from matching those rivals: firstly, its steering is lighter, slower and less communicative; secondly, the softer suspension produces more body roll; thirdly, the damping is not perfect, failing to filter initial impact harshness very well. Lastly but not least, its hefty weight and 58:42 weight distribution prevent it from displaying the same agility, especially when compare with BMW 5-Series.

The new Legend is not a class leader. Despite of a powerful V6 and a sophisticated 4WD, it does not set new standard in performance and handling. BMW still beat it for driver appeal, while Mercedes topples it for ride and comfort. Don't ever think of matching Audi's design and quality either.

However, the Legend's biggest problems are overweight and overpriced. Take 200 kilograms out of it, it could have produced storming performance. Cut US$5,000 from it, it could have attracted many customers from their default German choices. But the question is how to cut 200kg without ditching the SH-4WD? how to cut US$5,000 without losing money?

Honda Legend has come to a critical situation. Without a dedicated rear-drive platform, it had to derive from the company's front-drive component set. Heavily adapted to upgrade power, handling and comfort inevitably added weight and cost substantially. Take the SH-4WD for example. If you have a rear-drive platform you can simply save the weight and cost of SH-4WD. If you are Audi, produces 200,000 or so Quattro systems a year, you can get much higher economy of scale than SH-4WD. The same goes for the engine - when the 5-Series share the same 3.0 inline-6 with 3-Series, 6-Series, 7-Series, X3, X5 and Z4, you can build it cheaper than Honda's 300hp V6. To build a premium car, a premium car maker has a lot of advantage over a mainstream car maker that build only one premium car.

To succeed, Honda Legend can no longer fight alone. It should either quit the premium market or follow the footprints of Lexus and Infiniti to launch multiple premium models base on a dedicated premium platform to share cost. But will Honda do that? I doubt.
The above report was last updated on 27 Jan 2005. All Rights Reserved.
2008 facelift
| | |
| --- | --- |
| | There are many unexplainable in this car, such a facelift that does not lift its looks, a stronger engine that does not result in better performance... |
At the time of writing, Honda has yet to launch the facelifted Legend in Japan, but its American version, Acura RL, has gone on sale in the USA. Although sales of the Honda flagship executive car has been disappointing (only 6300 sold in USA last year), Honda did not pump a lot of money into the development of this mid-life facelift. Therefore the list of changes are quite minor and predictable. Outside, you can see a slightly sharpened front and rear end design, a chromed grille and larger, 18-inch wheels. They did little to alter the unattractive looks of the old car.

In the cabin, it gets a slight upgrade in materials, sound insulation and climate control. As the improvements are so subtle, we have to mention trivial things such as a pair of new front seats with greater adjustment range, a thinner rear seat designed to release more room for rear passengers (but still too cramped) and the addition of gearshift paddles behind the steering wheel (but the automatic gearbox is still an outdated 5-speeder).

Under the bonnet, the previous 3.5-liter V6 has been replaced by a larger 3.7-liter unit from Honda's MDX SUV. Still base on the all-aluminum 60-degree SOHC VTEC architecture, but now it employs silicone-treated aluminum cylinder liners, a higher compression ratio (11.2:1 instead of 11.0:1) and the VTEC mechanism now serves also exhaust valves. So it deserves 30 or 40 more horsepower, doesn't it ? Disappointingly, for reasons we don't know, the new engine produces the same 300 horsepower at the top end. Max torque does increases by 11 lb-ft to 271 lb-ft, and there is more torque below 3000 rpm, but that is only enough to offset the weight increase of 50 kg, so performance remains the same as before. In other words, slow.


| | |
| --- | --- |
| | The RL is about as fast as BMW 530i, slower than 535i, but drinks as much fuel as 550i !! |
The Acura RL is about as fast as a BMW 530i, by far slower than 535i, but it drinks as much fuel as a 550i !! This is according to EPA test result, which rated it at 16 mpg in city and 22 mpg on highway. In contrast to other competitors, the mid-life facelift actually worsens the already heavy fuel consumption of the old car, making it even more uncompetitive these days. Even the big cars from GM, Ford and Chrysler return better fuel economy ! What's wrong with the Japanese car maker which made name by selling the super-frugal Civic CVCC in the last energy crisis ?

Honda said the new 3.7-liter V6 is 8 kilograms lighter than the old 3.5-liter unit. Furthermore, the new RL has its bonnet converted to aluminum to save weight. It should therefore achieve a better balance. However, for another reason we don't know, its specification sheet shows the same weight distribution at 58:42 front to rear, too bad. The suspensions are said to get stiffer springs and thicker anti-roll bars. The 18-inch alloy wheels are wrapped with wider and thinner tires. The revised SH-AWD system is said to be more responsive. Somehow, there is no apparent improvement to its handling.

There are too many things unexplainable in this car. Honda could have shortened the gap between the RL and its superior rear-drive premium brand rivals, but it failed to do so. The Acura RL / Legend remains ugly, cramped, slow and inefficient. Its handling, thanks to the presence of SH-AWD, is still considered to be good, but it won't tempt you away from BMW either. I think Honda's executive car has come to the same situation like many European mainstream car makers faced early last decade. If it cannot dedicate a premium platform to this car, it will never satisfy those paying premium money. In the end, it will be forced to leave the executive car segment. Think about it, Honda.
The above report was last updated on 26 Jun 2008. All Rights Reserved.