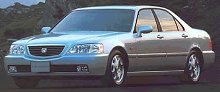 I can't remember when was the last time I saw an Acura RL (or Honda Legend, which is the same car). 2 months ? half a year ? A decade and a half ago, Legend was the first Japanese executive saloon enjoying world's recognition as well as sales success in the United States. Today, undeniably, this car has become the most famous failure of Honda. It's a demonstration that Honda failed to make a luxurious car matching European, not even Toyota (Lexus) and Nissan (Infiniti) from the home country.

The biggest fault is the lack of driver appeal. Tipping the scale at nearly 1.7 ton, the RL is obviously overweight for a V6 sedan. Moreover, it is as long as 5 meters and have a super long wheelbase of 2910 mm, in other words, 80 mm longer than the benchmark BMW 5-series. All data prove that the RL is not designed for enthusiastic drivers. The same goes for suspension tuning, which is too soft and more suitable to elders.

Unlike competitors, RL doesn't offer a V8 engine. Instead, there is a torquey V6 displacing as much as 3.5 litres. This engine was developed from the previous generation Legend rather than from Accord or 3.2TL. It retains the odd 90-degree angle, hence the need of a single balancer shaft. All 4 valves for each cylinder are driven by single overhead camshaft and VTEC mechanism. Because of the long stroke and lack of DOHC, this engine is not all that willing to rev compare with most competitor's V6s, although smoothness and quietness are impressive. Apart from long stroke, a 3-stage variable intake manifold is added to optimize torque across a wide range of rev.

Sadly, the big V6 is quite lack of power - maximum 210 hp is actually 15 hp less than the smaller 3.2 unit using by 3.2TL. As a result, it takes more than 8 seconds to reach 60 mph from standstill. Another disappointment is the use of 4-speed automatic instead of 5-speed auto. Of course, there is no sequential manual mode.

RL has plenty of room and comfort. What it lacks is a classy look, no matter interior or exterior. Considering it is no cheaper than a similarly equipped BMW 528i or Audi A6 2.7T, life is not easy for it.