Honda Accord (Europe / Japan) / Acura TSX

Debut: 2008
Maker: Honda
Predecessor: Accord Mk7

| | |
| --- | --- |
| | European Accord aims at premium cars, unlike American Accord. |

Since the late 1990s Honda has been producing two different Accords - a larger Accord for North America market and a smaller one for Japan and Europe. Although they share some vital components, such as suspensions, steering, electronics, gearbox and some engines, their similarities are no more than, say, a Volkswagen Passat relates to Golf. The American Accord is seen as a big car that most American families ask for. In contrast, the European Accord is more elegant, agile, efficient and seen as a contender in the league of BMW 3-Series and Audi A4 rather than mainstream family cars... at least in the viewpoint of Honda. As a result, Honda sells it in the USA as Acura TSX to take advantage of its premium image.

Nevertheless, until now few people are convinced that the Accord or Acura TSX is a match for German premium cars. No matter driving dynamics or packaging, it is still closer to mainstream family cars than premium cars. To raise the game, this time Honda did a lot of improvement to the new car...


| | |
| --- | --- |
| | Styling is more elegant than its American sister |

First of all you will notice that it is considerably larger than before - 60 mm longer overall, 35 mm longer in wheelbase and 80 mm wider. The emphasis here is not interior space - as head and legroom are virtually unchanged, only shoulder room is significantly increased - but to provide better handling. The much wider tracks and 5 mm reduction of height enhance cornering stability. A stiffer chassis also helps. Torsional rigidity has been increased by 15 percent thanks to the use of more high-strength steel and structural reinforcement. The retuned double-wishbone / multi-link suspension has improved geometry and new mechanical adaptive dampers.

Not so great news is the use of electrical power steering instead of hydraulic one. Although it is claimed to be developed from the one used in NSX, and it works better than most electric systems on the market, it still fails to match a hydraulic or electro-hydraulic steering for communicatiing with the front tires. Nevertheless, it incorporates a new function called "Motion Adaptive". When the car senses instability, say, excessive oversteer under braking, its electric motor exerts a torque to the steering to assist correcting the oversteer. As the assistant torque acts as a supportive role, it will not override the driver control like BMW's Active Steer.


| | |
| --- | --- |
| | Acura TSX differs mainly in the design of front grille |

On the road, the new Accord has both ride and handling improved over its predecessor. Its ride quality is especially superb, smoothing out the irregularities that would have unsettled Audi A4. The wide tracks result in flat cornering. Steering agility is also pretty good. However, to say the Accord matching BMW 3-Series in dynamics is overstated - its front-wheel drive chassis will never allow that. Even in the front-drive field it still lags behind Mazda 6 and Ford Mondeo, because the Honda trades some sporty handling with ride comfort. The numb steering is also a reason.

The new European Accord is about 70 kilograms heavier than the car it replaced. This extra weight offsets the slight power gain of its three engines and results in unchanged performance, sadly. Base engine is still the 156-horsepower 2.0-liter DOHC i-VTEC (though now complies with Euro 5 emission standard). The 2.4-liter DOHC i-VTEC with twin-balancer shafts gains 10 horsepower thanks to higher compression (from 10.5:1 to 11.0:1), lighter intake valves, revised cam timing and smoother exhaust. Still, 201 horsepower and 172 lb-ft of torque is not enough for a compact premium car these days. A Ford Mondeo 2.5ST runs a turbocharged five-cylinder engine good for 220 hp and 236 lb-ft. Comparatively, the Honda's short of low-down torque makes it feel slower than its 0-60 mph figure (est 7.5 seconds) suggested. On the positive side, the Honda engine is smooth and free-revving, and the light-clutch / slick gearchange of the 6-speed manual / seamless shift of the 5-speed automatic are as good as you would expect for a Honda.


| | |
| --- | --- |
| | To say the Accord matching BMW 3-Series in dynamics is overstated... |

The final engine is the 2.2 i-DTEC (what a misleading name as it has no relationship with VTEC) turbocharged diesel engine. Now it features piezo multi-injection and Honda's innovative exhaust cleaning technology to comply with the most stringent US Tier II Bin 5 emission standard without resorting to urea addictive like Mercedes' Bluetec. It produces 150 horsepower and 258 lb-ft of torque, 10 hp and 7 lb-ft more than before. Nevertheless, it is not the best diesel engine in the class. The German has some engines producing more power from less capacity yet being more frugal. Besides, the Honda diesel engine produces more vibration at low rpm. Japanese still trails European in diesel technology.

The Japanese car also trails German for design and packaging. Although the European Accord looks more stylish and elegant than its American sister, it does not stand out from the mainstream crowd and the rest of Honda's lineup. Inside, the cabin employs generally high-quality materials, but the design is busy and the overcrowded center console is a nightmare for ergonomics. Rear seat space could be a disappointment beside Ford Mondeo, as it won't accommodate people over 6 feet tall.


| | |
| --- | --- |
| | The overcrowded center console is a nightmare for ergonomics |

The European Accord is not a bad car, far from it. The problem is, in our eyes it has no areas particularly outstanding. To a premium car this is a serious problem. Without a strong image, a premium price tag won't be easily acceptable.
The above report was last updated on 13 Apr 2008. All Rights Reserved.
Acura TSX V6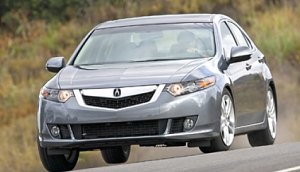 Acura TSX, or the European Honda Accord, is a likable car. It is a well-rounded package, offering good handling, ride, build quality and style. At the same time, its slick-shifting 6-speed manual gearbox and high-revving VTEC four-pot engine give it an unusual character. However, people in the United States always call for more power and torque. Honda America also thinks the Acura needs a V6 engine to justify its premium market positioning and compete with the likes of Infiniti, Lexus, Audi and BMW. In mid-2009, they introduced the V6 TSX.

This 3.5-liter SOHC V6 comes straight from Acura TL. It is not exactly the latest technology - no direct injection or continuous variable cam phasing, for example. Power boosting technology is limited to the well proven cam-lobe-changing VTEC mechanism. The 5-speed automatic gearbox is also far from new. Nevertheless, you can't complain for lack of firepower, because this combo delivers 280 horsepower and 254 pound-foot of torque, powerful enough to register 6 seconds flat in 0-60 mph sprint and induce some torque steer if you push it in corner without mercy. The transmission, however, is a tad slow, and its throttle blip on downshift is not quite enough to match rev. This make the powertrain less satisfying than it looks on paper.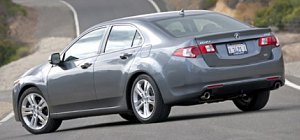 Predictably, the V6 and auto tranny puts an additional 120 kg to the TSX, and the majority is located at the wrong side. To compensate, the front suspensions get stiffer springs and retuned dampers. Brakes are marginally uprated to cope with the extra weight. The wheels are enlarged to 18-inch items, shod with 235/45 tires instead of the regular 225/50. Otherwise, the TSX is mostly unchanged.

On the road, the heftier nose does take some edge away from the TSX's handling. It hasn't ruin the handling, but you can feel the car steers with less eagerness. Torque steer is not an issue unless you pretend to be Sebastien Loeb. However, the front-drive Acura never feels as agile or adjustable as the rear-drive BMW or Infiniti. Keep it light and less powerful, its disadvantage is not that obvious. Pump it to 280 horses and burden its nose with a V6, it can no longer hide its Accord basis. Therefore our recommendation is still the 2.4 engine with manual gearbox.
The above report was last updated on 30 May 2010. All Rights Reserved.
General remarks


Accord 2.0

Accord 2.4 / Acura TSX

Accord 2.2 i-DTEC

Layout

Front-engined, FWD

Front-engined, FWD

Front-engined, FWD
Chassis

Steel monocoque

Steel monocoque
Steel monocoque
Body

Mainly steel

Mainly steel
Mainly steel
Length / width / height
4725 / 1840 / 1440 mm
4725 / 1840 / 1440 mm
4725 / 1840 / 1440 mm

Wheelbase
2705 mm
2705 mm
2705 mm

Engine

Inline-4

Inline-4
Inline-4, diesel

Capacity

1997 cc

2354 cc
2199 cc

Valve gears

SOHC 16 valves, VVT

DOHC 16 valves, VVT
DOHC 16 valves

Induction

VIM

-
VTG turbo

Other engine features

-

-

CDI

Max power

156 hp / 6300 rpm

201 hp / 7000 rpm

150 hp / 4000 rpm

Max torque

142 lbft / 4100 rpm

172 lbft / 4500 rpm

258 lbft / 2000 rpm

Transmission

6-speed manual

6-speed manual
6-speed manual
Suspension layout

F: double-wishbone
R: multi-link

F: double-wishbone
R: multi-link
F: double-wishbone
R: multi-link
Suspension features

-

-
-
Tyres front/rear

205/60R16

225/50R17

215/60R16

Kerb weight

1412 kg

1484 kg (US: 1540kg)

1540 kg

Top speed

134 mph (c)

141 mph (c)

132 mph (c)

0-60 mph (sec)

8.7 (c)

6.7*

8.8 (c)

0-100 mph (sec)

-

18.0*

-

Performance tested by:
*C&D


Acura TSX V6





Layout

Front-engined, FWD





Chassis

Steel monocoque





Body

Mainly steel





Length / width / height
4725 / 1840 / 1440 mm




Wheelbase
2705 mm




Engine

V6, 60-degree





Capacity

3471 cc





Valve gears

SOHC 24 valves, VVT+L (VTEC)




Induction

-





Other engine features

-





Max power

280 hp / 6200 rpm





Max torque

254 lbft / 5000 rpm





Transmission

5-speed automatic





Suspension layout

F: double-wishbone
R: multi-link





Suspension features

-





Tyres front/rear

235/45WR18





Kerb weight

1660 kg





Top speed

-





0-60 mph (sec)

6.1* / 5.9** / 6.0***





0-100 mph (sec)

15.6* / 14.6** / 15.1***





Performance tested by:
*C&D, **R&T, ***MT