Cadillac STS

Debut: 2004
Maker: General Motors
Predecessor: Cadillac Seville (1998)


So far, Cadillac's revival plan is going on quite well. The stream of new cars like CTS, SRX and XLR are leagues above their predecessors in terms of engineering and desirability. But Roman was not built in one day. It will take years of consistent performance to change the customers' view, so every new launch will be vital to Cadillac. This is especially true to the new STS, Cadillac's top luxurious car.

We used to call it "Seville" while the suffix STS was reserved for the sporting model of the Seville range. Now to put it in line with other Cadillac models, Seville is renamed to simply STS. By coincidence or not, the new STS really emphasizes on sporting character. The most obvious sign is the discard of the front-drive G-platform and opt for the rear-drive Sigma platform. This platform is shared with CTS, SRX and the future Holden Commodore. Its chassis rigidity and fine handling has been demonstrated in the CTS already. In the flagship STS, the re-engineering concentrated on enlarging it to accommodate V8 power and a larger cabin and to improve noise insulation. A lot of sound-deadening materials, double glazing windows and triple-sealed doors are employed to insulate the cabin from noise sources. As a result, the STS matches European luxurious saloons for quietness.


Like other American cars, the STS offers a lot of metal and space for relatively little money. Price-wise, it competes with the high-end Mercedes E-class. Size-wise, it matches S-class in all dimensions. It measures just below 5 meters in length and has a 2957mm-long wheelbase. By tape measure, the interior head and leg-room are really close to a short-wheelbase S-class, but strangely, car testers did not find it as spacious. This might be due to the shape of the seats or the intrusive transmission tunnel. If you look for limousine level of space, STS could be a disappointment.

The trimming is not completely convincing either. American journalists praised it for real woods, alloy and leather, but isn't it every luxurious car should have these materials? compare with European offerings, the STS cabin looks rather bland and lack of elegance. Everything is big - big piece of dashboard molding, big center console, big instrument panel, big transmission tunnel…. a sharp contrast to the fine detailing approach of European cars.

The same problem is found at the exterior design. To me, STS is not the best example of the "Art and Science" styling theme - it works best in the concept car Imaj, Cien and Sixteen, all have radical shapes and sharp details. Unfortunately, in the fear of losing loyal customers, Cadillac has softened the sharp edges in STS and results in a rather compromised shape - it looks neither eye-catching nor elegant. More chromed details like the Sixteen could bring back the glorious feel of the pre-war Cadillac, but it did not do that. Now the STS looks under-styled, under-detailed like Infiniti Q45. Frankly speaking, I prefer the styling of the outgoing Seville.


The Sigma is not the most sophisticated platform for a luxurious car. It was upgraded from a middle-size platform, unlike Mercedes / BMW / Audi / Jaguar / Lexus etc. which develop a dedicated platform for their luxurious cars. Inevitably, there is some compromises in chassis and suspension design for the lower price models. In place of its rivals' air suspensions, the Cadillac employs magnetic adaptive damping by Delphi, GM's component division. Theoretically, using electromagnetic field to alter viscosity of damping fluid, hence damping rate, is a clever idea. But the European and Japanese experts are not fools and they know what advantages and disadvantages the Magnetic Ride Control has. Drive a STS equipped with this optional feature and you will know - it limits body movement successfully, but it pays the price in ride quality. No matter in comfort or sport mode, the ride is stiffer than a luxurious saloon ought to have. Undoubtedly, air suspension is still a better solution.

However, if you could put up with the un-luxurious-car-like ride, you are likely to appreciate the sporty character of the STS. Its all-aluminum, 4.6-liter 32-valve Northstar V8 has been serving the Seville since 2 generations ago. Now added with continuous variable valve timing at all 4 camshafts, it generates 320 horsepower and 315 lbft of torque. But its basic character is unchanged - strong, eager and sounds great to ears. Not as refined or frugal as some rivals, but that is hardly a concern to the STS drivers. What they care more is how quick the car accelerate - it takes just 6 seconds flat to 60mph, beating all other rivals. Another engine, a 255hp 3.6-litre 24-valve V6 came from CTS (we have talked about it in that report), also provides remarkable performance compare with its V6 rivals. Both engines use GM's 5-speed automatic to transmit power to the rear wheels. It would have been better to have 6 or 7-speed automatic like its rivals, but the GM unit shifts smoothly and flawlessly such that it should not be a negative point.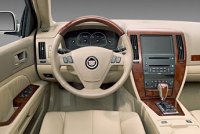 The Sigma-based STS handles leagues better than the outgoing Seville. We used to criticize the torque steer of Seville - it was the world's most powerful front-wheel drive car. The new car is totally different. By letting the rear wheels to do the job of transmitting power, the front wheels concentrate on changing direction, the STS finally matches European rivals for handling. Its chassis is neutrally balanced. Body roll is limited by the firm suspensions. Strong grip enables high cornering speed. It is quite a surprise to see such a big improvement in handling, albeit in the price of ride comfort. The only disappointment is the lack of steering feel. It is accurate and weighty enough, but feedback nothing from the front wheels. This prevent it from really matching BMW 7-series, Audi A8, Mercedes S-class and Jaguar XJ in driver appeal.

The change of character in STS shows exactly the path Cadillac is going. Obviously, it has chosen the same route as BMW rather than Lexus. In some ways it is even more hardcore than BMW, daring to sacrifice comfort for better handling. It has quite a few flaws though. A glorious design and some fine tuning to the suspensions and steering will solve most problems. Before then, it can be only seen as an alternative choice to the various excellent cars in luxurious segment.
The above report was last updated on 4 Aug 2004. All Rights Reserved.
STS-V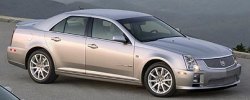 After the Corvette-engined CTS-V, I almost thought the flagship STS-V would be powered by the mighty LS7 V8 from the new Corvette Z06. Luckily, Cadillac understood that STS-V needs not only power but also luxury-car refinement to justify its US$75,000 asking price. Therefore it decided to start from the Northstar V8.

The all-aluminum V8 retains its sophisticated valve gears - quad-cam, 32 valves and dual continuous VVT. To prepare for the increased internal stress and heat, it has its cylinder walls thickened. That reduced engine capacity to 4371cc. Then, an Eaton Roots-type supercharger was bolted onto the V-valley together with its integral air-to-water intercooler. It raises max power to 469 ponies at 6400 rpm and max torque to 439 lbft at 3800 rpm. That's more than Audi S6 and S8, not far behind BMW M5 and Mercedes CLS55 / E55 AMG. A respectable specific output 107 hp per litre actually beats the supercharged AMG. The supercharged engine transmits its power to an upgraded automatic gearbox with 6 forward gears and manual control.

The power delivery is much more refined than the Corvette-engined CTS-V yet provides plenty of low down torque to pull the 1950 kg machine. A delicious exhaust note and lack of supercharger whine is a surprising quality for an American engine. The automatic gearbox also shifts smoothly, but its response is rather slow, no matter at auto or manual mode.

In straight line, STS-V is not as quick as BMW M5 and Mercedes CLS55 AMG. For example, C&D magazine found them 0.4 seconds quicker to 60 mph and 1.6-2.0 seconds quicker to 100 mph. This is not a surprise, as its rivals are smaller and significantly lighter. However, any big luxury sedans capable of doing 0-60 under 5 seconds should be respected, shouldn't they?

Like its little sister, STS-V has been tested extensively in the USA as well as Germany's Nurburgring ring, on which 8:31 was recorded. This resulted in a lot of chassis improvements, such as pizza-size Brembo disc brakes, quick steering ratio, a front suspension tower bar and the engine mounted 0.5-inch lower than the regular car. Nevertheless, the suspensions are set only 15% stiffer than the standard STS in order to preserve a good ride quality.

On the road, the STS-V is not as keen a driver's car as M5 and CLS55. Although steering feedback is spot-on, the whole car feels more softly sprung and less tightly controlled than the German cars. More like Jaguar S-Type R, it does not want to sacrifice ride comfort for handling. A roomy cabin and automatic transmission support this character.

The real problem is how many people will pay so much money to buy an American car when there are more exciting offerings from European prestige brands at roughly the same price. Cadillac needs 1,000-2,000 customers a year to justify the development costs.
The above report was last updated on 15 Feb 2006. All Rights Reserved.
2007 facelift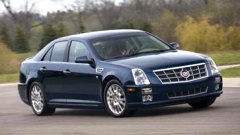 Sales of Cadillac's flagship STS has been slow. One of the reasons is that it doesn't have the elegant design and build quality to match its European and Lexus rivals. To make life easier, GM decided to give it an early facelift in 2007. Outside, the STS gets a more prominent grille and more chromed parts (e.g. door handles, door sill and boot lid lining) to deliver an upmarket image, while fake air extractors have been added to the front fenders to imply higher performance. Not much changes can be found in the cabin, but the driver should notice the adoption of speed-sensitive variable ratio steering, which quickens the steering at low speed and especially helpful to parking, and a Volvo-like blind spot warning system, which lights up a warning icon located at the side mirrors if something enter the blind spots.

However, these minor modifications can hardly lure buyers from its higher quality and more technological advanced rivals. Therefore this time GM shifts its focus to the cheaper V6 model. The previous 255hp 3.6-liter DOHC V6 has been substantially upgraded to 302 horsepower, thanks to the addition of direct injection which allows 11.3:1 compression. Now it is only 18 horses short of the Northstar V8, and the car is around 100 kilograms lighter. Moreover, now the V6 gets the same 6-speed automatic transmission as the V8, so performance should be very close. We expect most sales will shift to the V6. It might also steal some sales from the smaller Mercedes E-class, BMW 5-Series and Lexus GS.
The above report was last updated on 10 May 2007. All Rights Reserved.